21 Fun Baby Shower Games That Don't Suck
No more lame baby showers! Keep your guests and the parents-to-be entertained with these fun baby shower games that don't suck! Read on for all of our fun game ideas.
Your friend is expecting – What an exciting time! One of the most exciting things about preparing for the birth of your first child is the baby shower.
Baby showers are a fun way to pamper the soon-to-be mama (and maybe papa!) and get together with your close friends.
But there's a lot of planning associated with throwing a baby shower. Classic décor is a must – balloons, a banner, a diaper cake, streamers, cake… (don't forget to ask the mama-to-be about the theme!).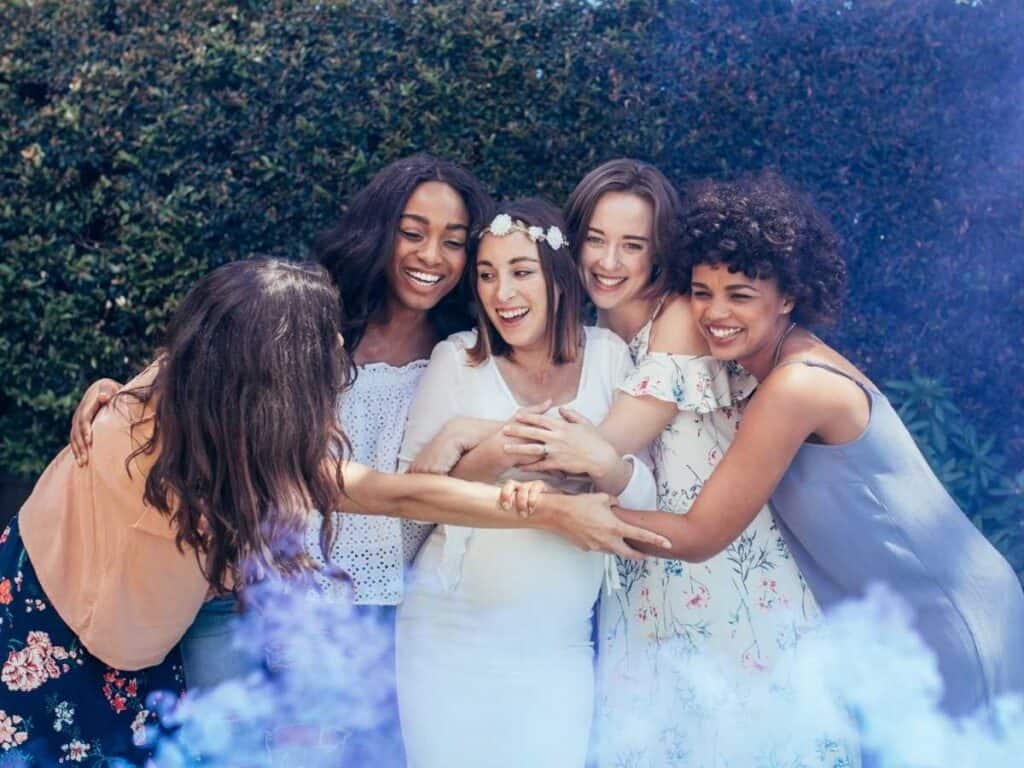 Now what to do with your baby shower guests? There are always classic games, such as baby shower bingo, which seems to be a fan favorite and an essential ingredient for a baby shower in order to keep people busy and engaged when the new parents open gifts.
Then, you've got your hilarious baby shower games, guaranteed to bring on lots of laughs. We have put together a list of some of the best baby shower games so your party guests will be talking about your baby shower weeks after.
Whether it's ladies only, or you're in need of some co-ed baby shower games, we have you covered!
This post may contain affiliate links. If you make a purchase, I may earn a small commission at no extra cost to you. As an Amazon Associate, I earn from qualifying purchases. Read more about these links in my disclosure policy.
Related: The 10 Best Places to Host a Baby Shower
Traditional Games
You've probably played these fun games if you've been to a few baby showers and these games are staples! Here are some traditional baby shower game ideas for you:
What's in the Bag?
Gather up 5-10 (or more) useful baby items (e.g., pacifier, baby bottle, diaper rash cream, etc. – so mama can keep them after) and put them inside of a diaper bag. The first person gets a turn to guess what's in the bag only by reaching in and feeling around (no peeking!) before passing it to the next person.
Guests write their guesses on a piece of paper and the guest with the most correct answers wins the game.
Don't say "baby"
This is a great way to get your guests to interact – it doesn't matter if you're best friends, family members, large groups, or even guest lists where the guests may not know each other.
Give your guests a pin at the beginning of the shower (clothespins, diaper pins, or maybe some first baby items, like pacifiers on a necklace for mama to take home after.)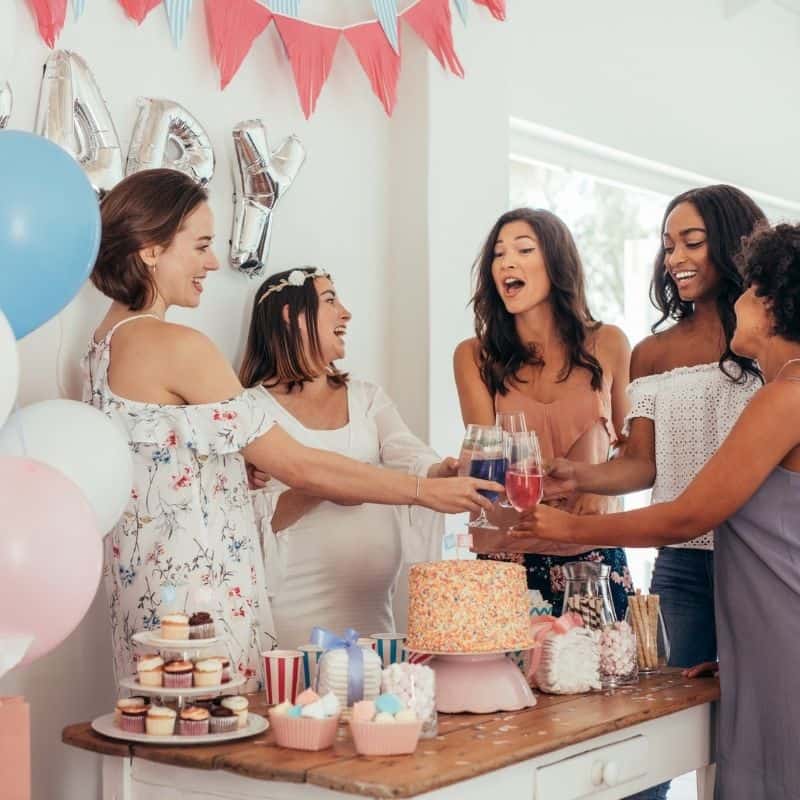 Now it's time to mingle! Anytime a guest says the word baby, the guest who hears the forbidden word gets to take their pin.
Guests are welcome to try to get other people to say "baby" in conversation too! There's nothing related to baby shower etiquette that says a little friendly competition isn't allowed!
The guest with the most pins at the end of the shower wins.
Decorate a diaper
This one isn't exactly a "game" but is always fun, and is one we did at my sister's baby shower. Have a stack of diapers and a cup of Sharpie markers. Each guest can write a funny note or encouraging message on a diaper.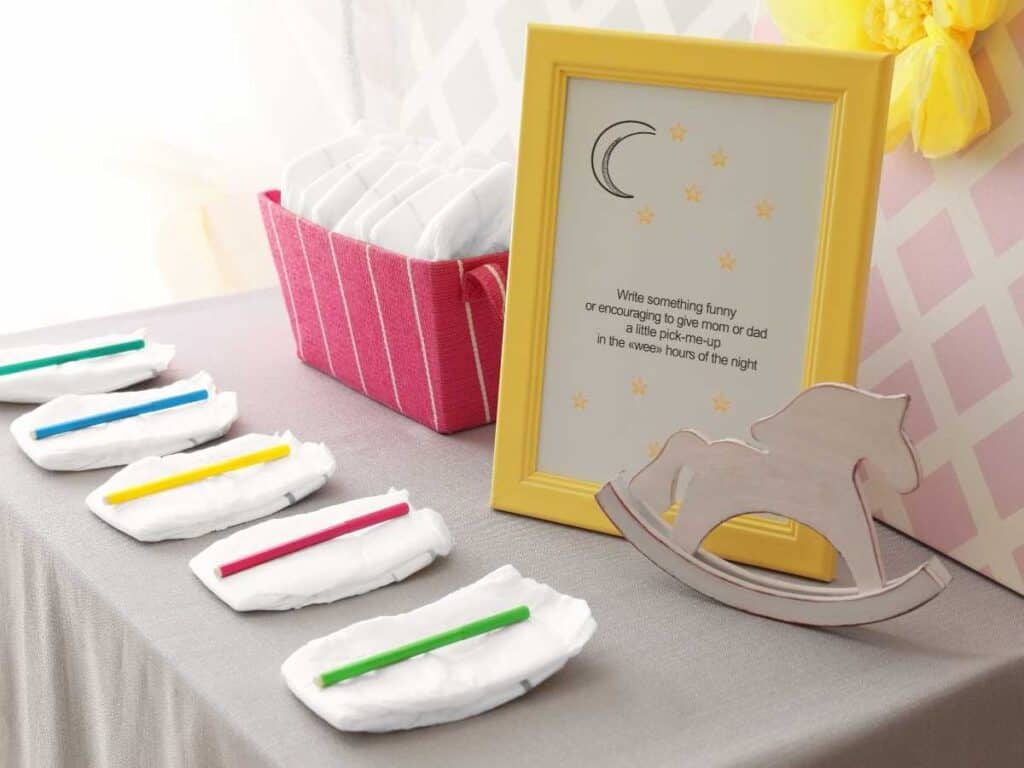 This will make those middle-of-the-night diaper changes much more pleasant for the new parents once baby arrives!
Related: The best overnight diapers for babies and toddlers
Decorate a onesie
Another activity instead of a game, but still a fun thing for baby shower guests to do! Set out some white onesies, some fabric markers or paint, and maybe some stencils. Each person can decorate a onesie with a message for the new baby!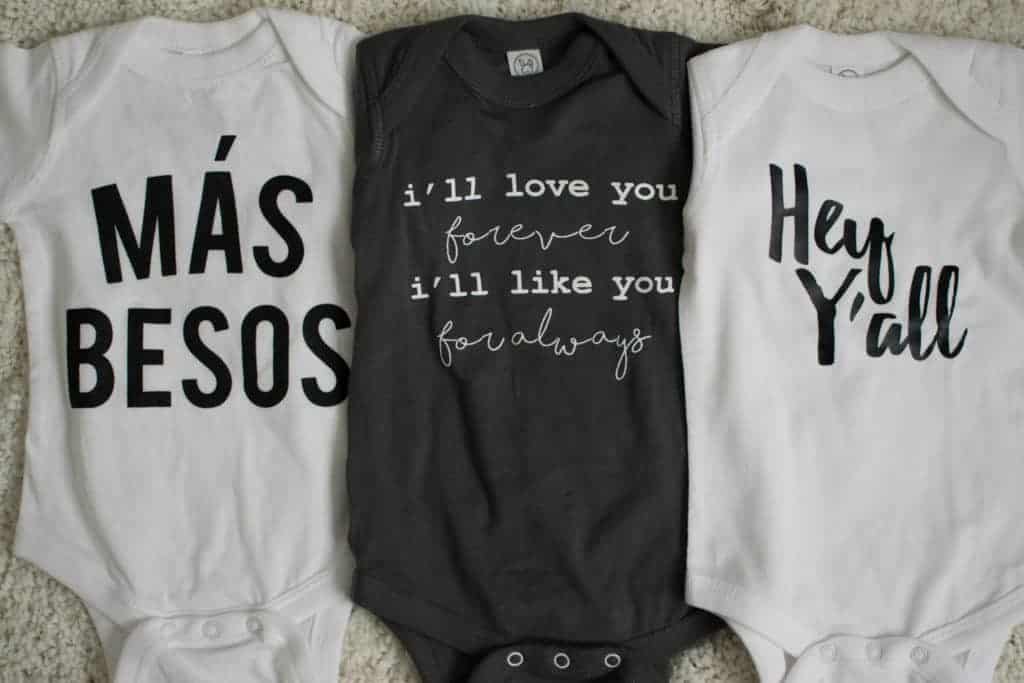 Show off the fun designs by hanging them from a clothesline and roll the onesies up after to make a nice gift basket for the expectant parents.
Diaper Raffle
Ask each guest to bring a pack of diapers. When they arrive, have them write their name on a card. At the end of the party, draw a name to see who wins!
Plus, this is an easy, fun way for mama-to-be to start collecting much needed diapers.
Guess the Bump
The cute game you always see at traditional baby showers – let each guest cut off a piece of yarn they think is the size of mama's baby bump. The closest guess wins!
Name that poo!
This is one of those gross games that's absolutely necessary since we all know that babies love to leave their parents special gifts (quite often too!).
Smash up some chocolate candy bars in a few diapers and let guests vote what kind of "baby poop" is in each dirty diaper. They can smell, touch, taste… if they can handle it!
Guess that Baby Food
Buy jars of baby food from the store, remove the labels, and replace them with numbers (make sure you write the number on the back of the removed labels, so you know the answers!). Your guests can smell and taste the different foods to see if they can guess it – the person who guesses the most correct wins!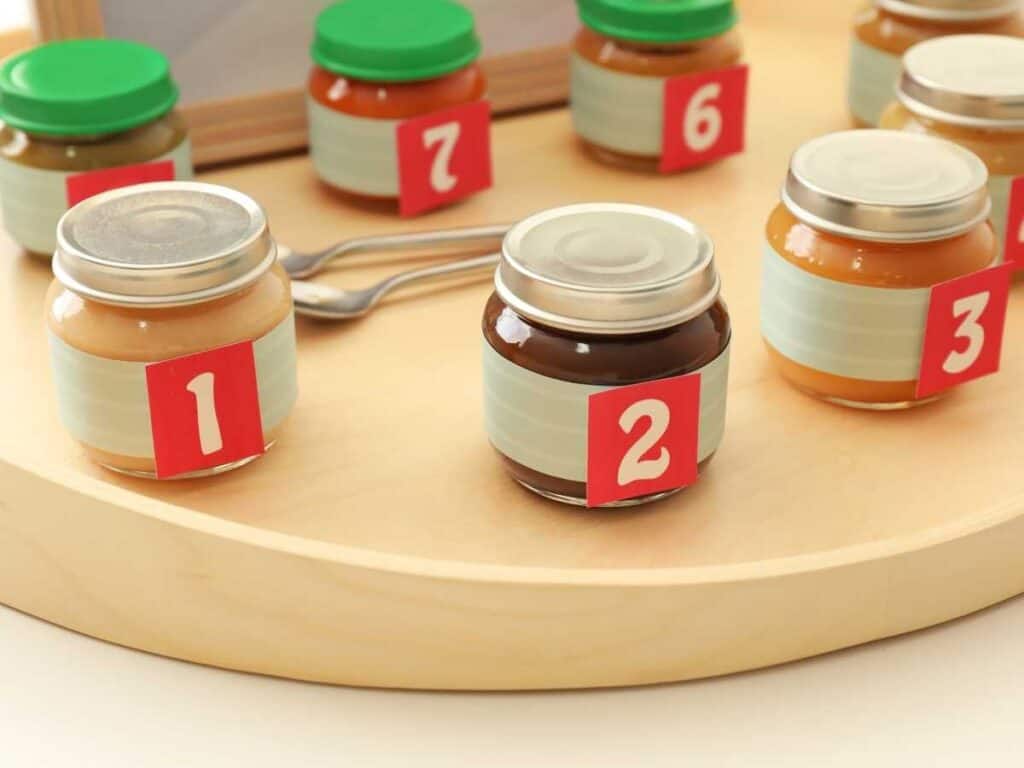 If you want to try out a fun game where you'll get lots of laughs, pair up your guests, blindfold them, and have them try to feed each other before they guess the flavor! Just make sure you're not playing on carpet… or make sure you choose a lucky guest of honor to stay and clean up the mess.
Printable Baby Shower Games
Sometimes we just don't have time to run to the store and get of bunch of items when we're already focused on getting baby shower gifts. I get it! Here are some modern baby shower games you can print at home:
Baby Trivia
I don't know about you, but I love trivia questions! Divide up into teams and let the competition begin! We have a list of baby trivia questions here to help you get going!
Guess that Nursery Rhyme or Guess that Children's Book
Test your guests' knowledge of various nursery rhymes through a printable game quiz or say a few words and see who can guess the nursery rhyme the fastest! Here are a few below to get you started.
If you've got a competitive bunch, you could always play the nursery rhyme and when the rhyme or music stops, give the point to the first team who shouts out the right answer!
Here a moo, there a moo, everywhere a moo moo (Old McDonald Had a Farm)
How I wonder what you are! (Twinkle Twinkle Little Star)
Went up the hill to fetch a pail of water (Jack and Jill)
Yes sir, yes sir, three bags full (Baa Baa Black Sheep)
Here's a printable version on Etsy, or you can order a similar one from Amazon if you don't want to deal with printing.
Guess the Children's Book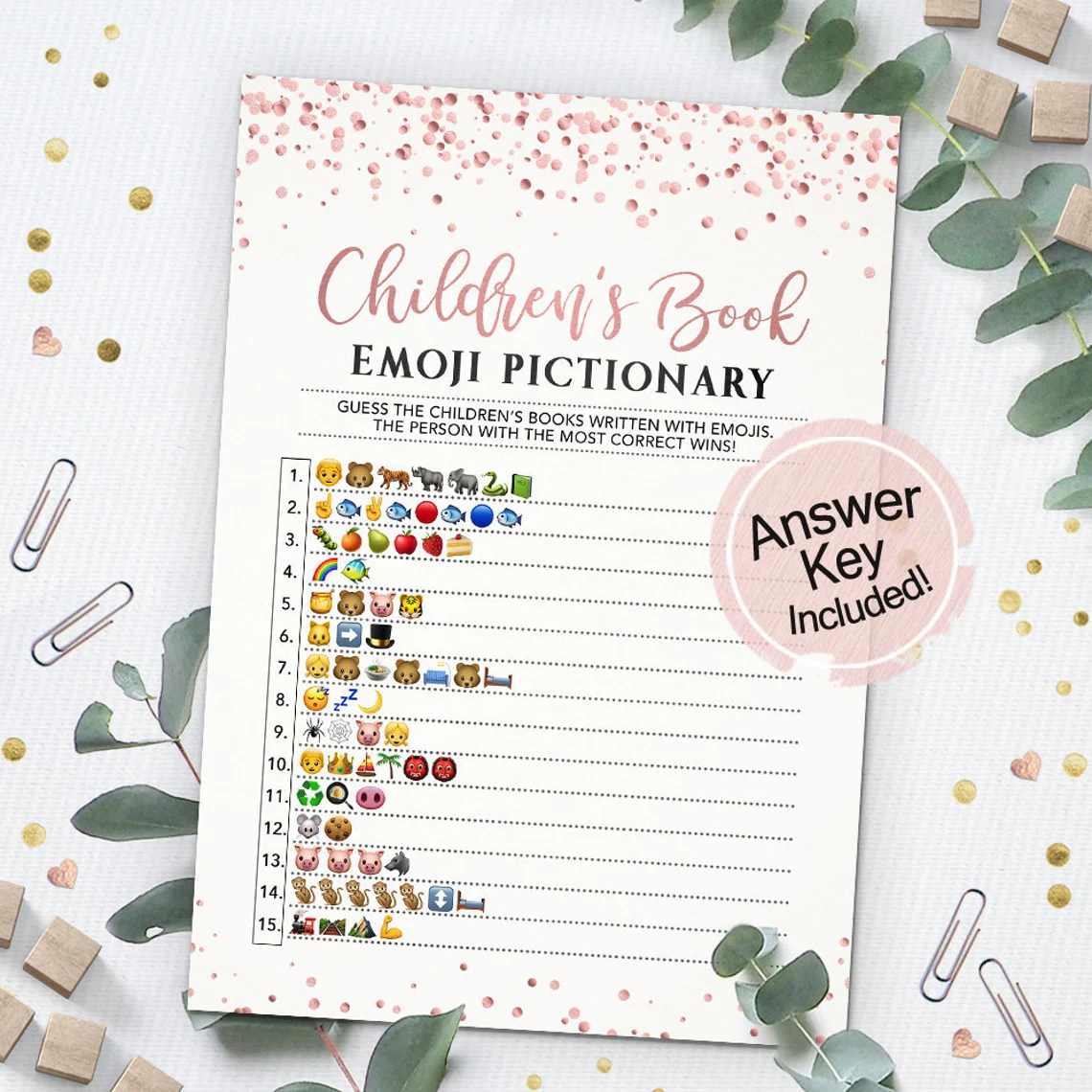 Try out this emoji children's book quiz and see if your guests can figure out book titles when only given a string of emojis. This is a great game for people who like puzzles and word games!
There's also a printable emoji nursery rhyme version on Etsy too! Or order this emoji children's book quiz template from Amazon.
Baby Name Race
Have your guests write down a baby name that starts with each letter of the alphabet. Whoever finishes first wins! And who knows? Maybe the new parents will find their new baby's name on that list!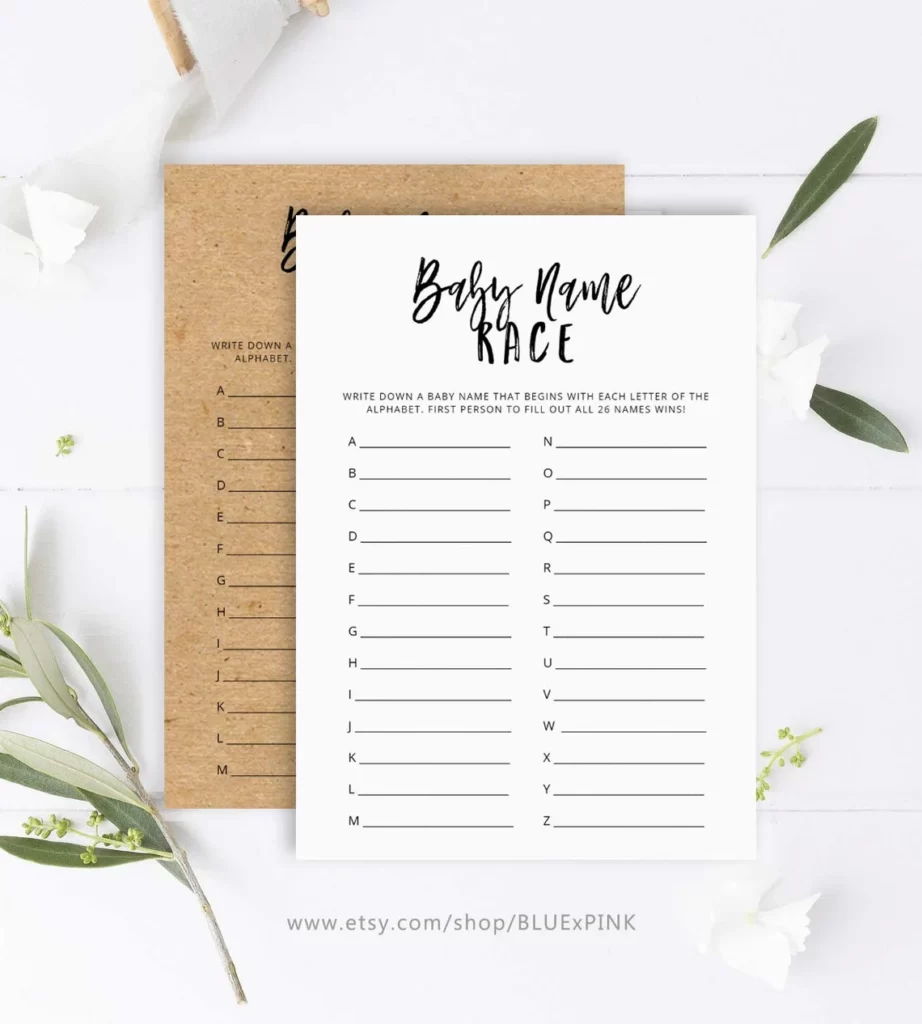 Here's a baby name race printable on Etsy (super affordable), and a non-printable baby name game available on Amazon.
Fun Co-ed Baby Shower Games
Co-ed baby showers are becoming more popular – It did take two to make the baby, so might as well celebrate them both! Here is a list of baby shower games that will be fun for all the guys and gals:
Toilet Paper Diapers
Split up into teams of two (or more) on each side of the room. One person will be the model and their teammate(s) will have to make the best toilet paper diaper within a given time limit.
This game is guaranteed to be a lot of fun!
Ice Ice Baby
Buy some miniature plastic babies and freeze them with water in an ice cube tray. Drop the ice cubes into drinks as the guests arrive (this might even be an incentive to be the first guest if alluded to in the invitation…).
The first one to yell "ice, ice baby!" after their ice cube melts completely is the winner!
Baby Shower Scattergories or Jeopardy
Divide up into teams to play Scattergories or Jeopardy (game play is similar for both). Each team will need to work together to either (1) come up with baby-related words starting with the letter(s) given within the time limit. The team with the most words wins!
Or (2) test each team's baby knowledge as they try to earn points in a game of Jeopardy. The team earns points based on their correct answers.
You can choose how a team will win – first team to 1000 or maybe the team with the most points after 4 rounds.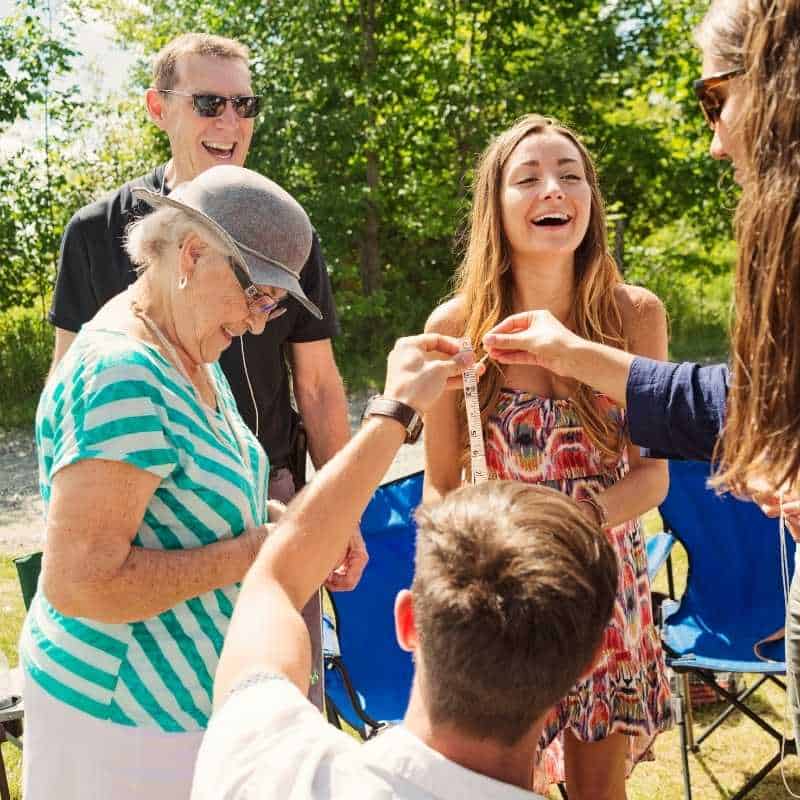 Suck it Up
Guests will have the best time with this minute to win it style game. Give each player a nasal aspirator, some marshmallows, and a baby bottle and see who can get the most marshmallows into the baby bottle in a minute using only the nasal aspirator.
If you're having a winter shower, you can swap out the baby bottle for a cup of cocoa so guests can have a yummy drink after the game is over!
Change that Baby
Split your guests up into teams of two, as long as you have enough baby dolls for each pair. Each guest will use only one hand each (i.e., one person in the pair can use their left hand, while their partner uses their right hand) to work together to put a diaper (and onesie or other baby clothes if you want) on a baby doll.
Want to make it even harder? Blindfold them! This is a good baby shower game to see how talented people truly are and, if some guests don't want to participate, this would still be a hilarious game to watch – putting a diaper on with two hands while watching is hard enough!
Related: The Best Gifts for a Baby Shower
Virtual Baby Shower Games
Planning a virtual baby shower can be tough, but here are a few different games you can play to get your guests involved, These games are always great for an in person baby shower too:
Baby Shower Bingo
Who doesn't love a little bingo? Plus, this is a great printable game that can easily be emailed to guests for a virtual baby shower.
Grab some bingo daubers and create or buy some baby-themed bingo cards that include baby-themed vocabulary! Here is a great example of Baby Shower Bingo on Amazon.
Baby Shower Mad Libs
This word game is an easy way to get all your guests involved when having a virtual baby shower. The rules are just like regular mad libs – the host (or whoever will end up reading the mad libs) will prompt each guest to list a word based on the given part of speech (noun, adjective, number, etc.), then read the entire story aloud.
You're bound to get some laughs and giggles after hearing about one of the "best showers ever" or "advice for a new mom".
Guess Who?
For this fun baby shower game, ask each guest to send a baby photo when they RSVP or to bring a baby picture when they come (alternatively, you can use celebrity baby pictures). Guests can vote who all the different people are from each picture!
This is a great game for an online baby shower too – your guests can write their guess on a piece of paper or white board to hold up on screen. Have the host tally the number of correct votes!
A few final tips
These baby shower activities and games will be a hit and guarantee your guests have a good time! In addition to the various games, here are a couple more to tips think about as you prepare for the big event:
Keep it simple! Go with paper plates and cutlery, but also dress it up a bit! Check out this set that I absolutely LOVE.
Don't forget the baby shower prizes! You can always give gift cards but we have tons of great ideas for prize winners.
Also, don't forget the party favors (also called return gifts these days)! At my BFF's baby shower, she knew she was having a girl and the favors were little pink nail polish bottles with a tag that said "It's a girl thing!" Loved it!
Have a plan for the games: There are plenty of different ways to sprinkle in the various comes; you just want to make sure to have an idea of how you want the flow of things to go.
Have a good time! Take a moment to enjoy and partake in the excitement!