17+ Best Baby Shower Prizes To Win
A new baby is certainly a reason for celebration and showering mom with gifts for her little one is a lot of fun. To keep things interesting for attendees, baby shower games have become a popular activity at many baby showers. Games need prizes and you'll want to award your guests the best baby shower prizes.
Guest's aren't going to expect you to spend a lot of money on baby shower prizes but that doesn't mean they have to be lame! Award prizes that your guests will love and use and that won't end up tossed in the trash.
We've gathered up a collection of inexpensive prizes and some great DIY projects so your guest will be proud of their loot. You (and your guests) will love these ideas that we think are the best baby shower prizes they can win!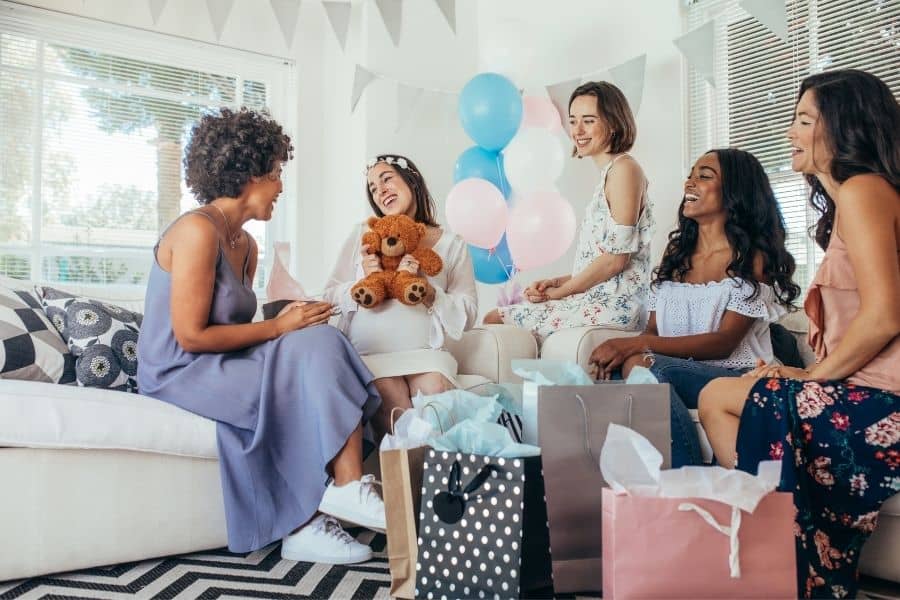 This post may contain affiliate links. If you make a purchase, I may earn a small commission at no extra cost to you. As an Amazon Associate, I earn from qualifying purchases. Read more about these links in my disclosure policy.
Baby Shower Prizes and Favors
Are prizes and favors the same thing?
No. Favors are usually given to every guest while prizes are a little more expensive and are given to baby shower game winners of individual party games. Favors are usually valued at less than $5 each while prizes are often in the $5 to $20 range.
You will probably need both for your baby shower so we've included items that can be used as both prizes or favors in this list.
Babies Are The Bomb
Bath Bombs will make your baby shower guests bubble and smile. There is nothing more relaxing than a warm bath for both babies and adults. Grab a set from LOVEandSHEA.
Rosé Gift Basket
Gift baskets are always a hit, and this Rosé Gift Basket baby shower prize will be the one all your guests are fighting for. A basket full of all the pretty pink things – like body wash, sugar scrub, shower gel, and lotion – is perfect for celebrating baby girl. You might check out Bath and Body Works for lots of pink items, or grab some goodies from the Victoria's Secret Pink line.
A few swaps and you can create a cute baby boy basket or even a gender neutral party theme.
Baby Bottle Bath Salts
This simple bath salt favor is perfect for handing to each of your guests. Grab your favorite bath salts and pour them into blue baby bottles, pink baby bottles, or white baby bottles. Tie a pretty ribbon around the bottle and you have a fun prize or party favor that family members and friends will love! So cute!
Movie Night Gift Basket
Grab a popcorn tub, movie theater candy, popcorn and a fun DVD to make a movie night gift set that one lucky winner will love to take home. Grab the free printable from the DIY Mommy to make this great prize even more special.
Lip Balm
You can't beat cheap baby shower prizes that combine two of my favorite things: consumable items and puns! Let your guests know they are truly what makes a baby shower a success and these lip balm favors and prizes are totally adorable. Print out these cards from DianaMarieStudio at home and attach your favorite flavor of EOS lip balm.
Bow Magnets
Thank your party guests for their attendance with a set of bow magnets to celebrate the little lady or little man. These magnets are simple, affordable and useful.
Bun In The Oven Gift Basket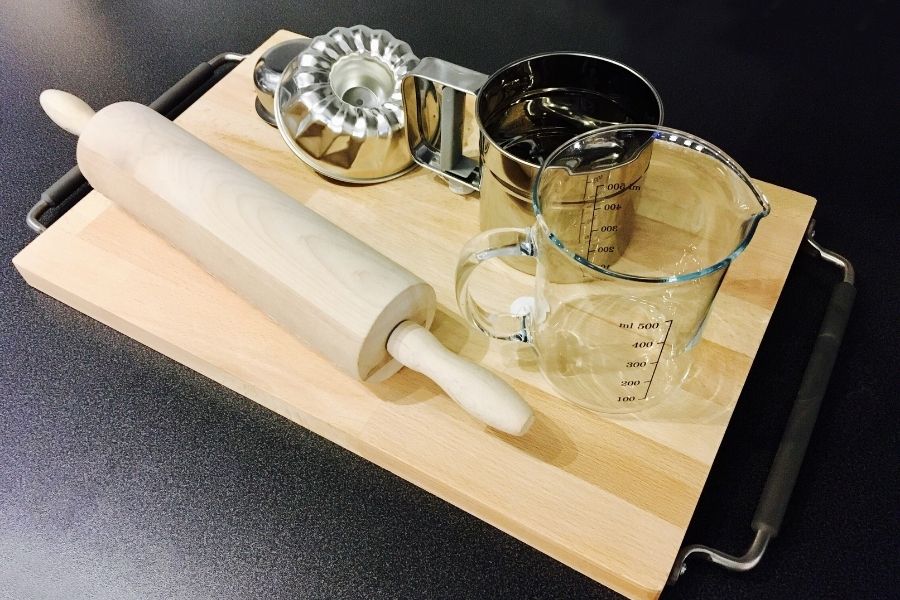 Celebrate your bun in the oven with a gift basket full of things needed for baking. A rolling pin, baking sheets, measuring cups, cookie cutters and more are just what you need for a baking gift set that makes a great baby shower prize.
A Baby Is Brewing
If you're looking for personalized baby shower favors, this is a great gift idea that will "perk" you up! Brew up something delicious with these Baby Is Brewing coffee bags that are perfect for holding loose leaf tea or coffee beans.
Your friends will smile every time they brew their morning cuppa!
Cookie Jar Baby Shower Prize
A mason jar filled with tasty homemade cookies is the perfect baby shower prize. Customize it with a personalized tag from That's What Che Said printed on your Cricut.
Manicure in a Mason Jar
Cute and completely usable, your guests will love this pretty in pink manicure in a mason jar. Make your own with a colorful nail file, pink nail polish, etc – or save time and grab a few from ICinCT on Etsy.
From Our Shower To Yours
A spa day gift basket is the perfect baby shower gift for a lucky prize winner. Load up a basket with handmade soaps, shower scrubbies, hand lotion, and attach an adorable "From Our Shower to Yours" tag for a fun and playful gift.
When She Pops
This fun baby shower prize gives your guests a good laugh and something to celebrate with when baby finally arrives. Add tiny bottles of your favorite liquor or mini bottles of champagne and a customized tag from InkHeartPaper.
Garden Gift Bag
Give a playful nod to your growing belly with a gardening baby shower prize set. A garden tool set paired with some customized seed packets is an easy gift that will get everyone excited about the baby in bloom.
Watch Me Grow
Succulent plants and herbs are wonderful baby shower prizes because the recipient can cherish the gift for years to come. Pick up some succulent pots from the Dollar Store and some little plants to make a great small gift that can also double as baby shower decor on the tables!
Add a "Watch Me Grow" plant marker with baby's name and due date and plant care instructions on the back.
Tumblers
Tumblers make great party favors and awesome prizes because they can be used over and over again. Download a colorful tag to fit the theme and colors of your shower.
Barefoot Wine
This great idea was what I used for door prizes at my sister's baby shower a few years ago. Barefoot Wine is the perfect shower prize because the tiny footprints on the bottle look like baby feet! Sooo stinking cute!
Add a customized tag and your guests will love this unique baby shower favor and prize.
Gift Cards
Don't be afraid to use gift cards as prizes for the winners of baby shower games. Giving gift cards ensures the recipient gets something they can use and they look cute tucked into a diaper-shaped cardholder.
Give gift cards on their own or pair them with any of the prize or gift basket ideas we shared above.
Which of these baby shower prize ideas do you like best?