Children's Books for Speech Therapy Support at Home
If your child is in speech therapy and you're looking for ways to support their progress at home, these children's books for speech therapy may help! This article was written with help from a licensed speech therapist who I used to work with.
Children's books are truly wonderful and one of my favorite topics to discuss! Reading with your child allows you to spend quality time with them while supporting their speech and language development in a variety of ways. The best part is that your child won't even know that they're learning along the way since reading and listening to you read can be an enjoyable experience.
But there are thousands of books out there…which books should you read? There's no right answer, but I'm here to share some of my best suggestions to help you get started.
I've accumulated a lot of books over the years and so I put together a list of some of my favorite books for young children. These books are great for parents looking to read more with their child or support their speech and language development, and can be useful speech therapy books for toddlers!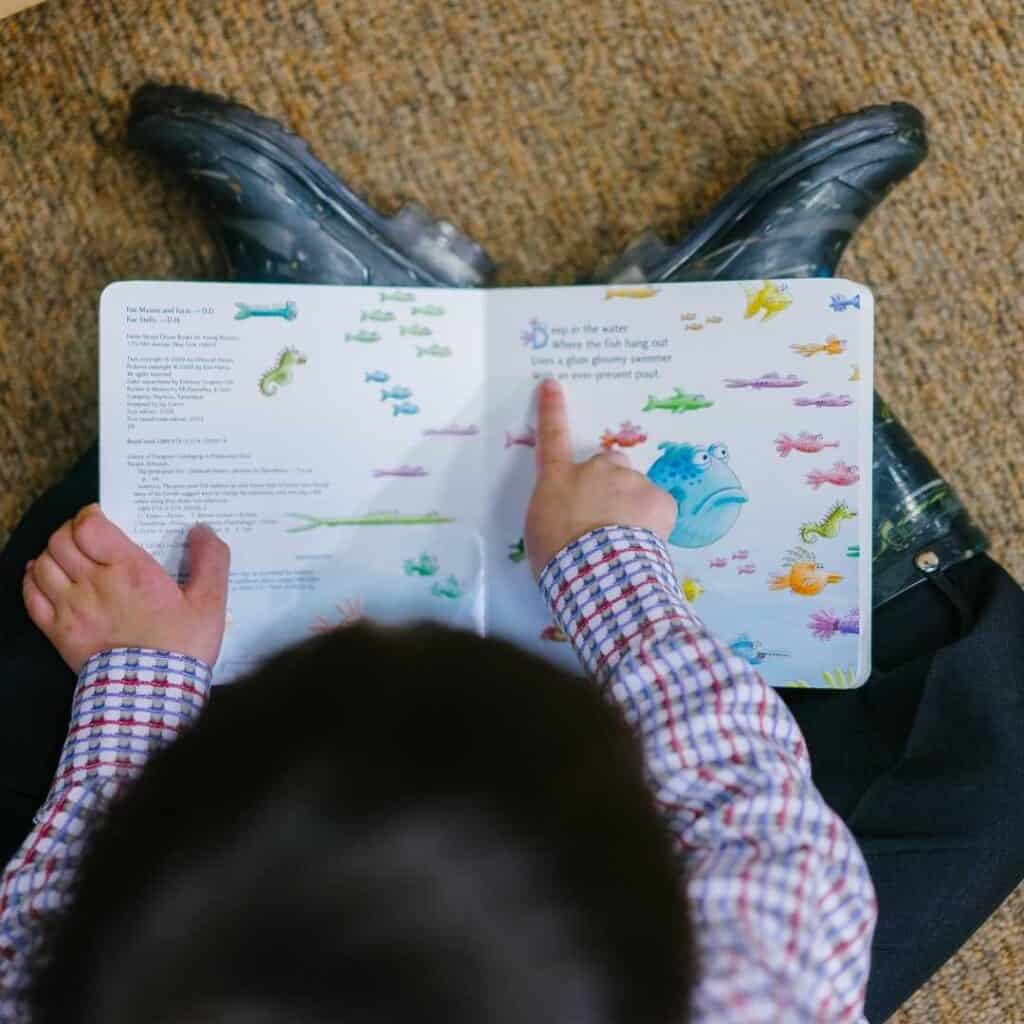 This post may contain affiliate links. If you make a purchase, I may earn a small commission at no extra cost to you. As an Amazon Associate, I earn from qualifying purchases. Read more about these links in my disclosure policy.
What is speech therapy & how do they use books?
Speech and language therapy is a type of therapy provided by a speech-language pathologist that can support a child's speech and language skills (among other things) due to a delay, disability, or difference, such as language disorders or speech disorders.
Speech therapists often incorporate books to build a number of communication skills and hit a variety of speech targets during therapy sessions. Some specific targets include:
Vocabulary (exposure and teaching of common and new and different words)
Comprehension; answering questions
Inferencing
Perspective Taking
Sequencing
Recalling and retelling
Phonemic and Phonological Awareness (e.g., rhyming, connecting sounds)
Using longer utterances
Understanding directions
Identifying the main idea
Figurative Language
Non-verbal language cues (e.g., facial expressions)
Speech sounds within natural contexts (e.g., auditory bombardment of individual sounds or articulation targets)
Books can also help support increasing your child's attention span, imagination, and understanding of new concepts and expectations around them. Keep reading to take a look at my list – these book suggestions would all be great speech therapy books for toddlers and young children.
Pro Tip #1: As many of our readers are already aware, prior to this phase of my life, I was a full time special educator and I LOVED when it was time to target specific goals around reading. Not only did I get to build my student's skills to become independent readers, but I saw countless kids fall in love with reading.
I was lucky enough to be in a position to introduce all sorts of children's literature, and it was the best gift to see them ignite their love of reading. One piece of advice I would like to convey to my readers is that there are so many great activities that align with the books I'm sharing. So, you can continue to make learning fun while also getting crafty with your littles!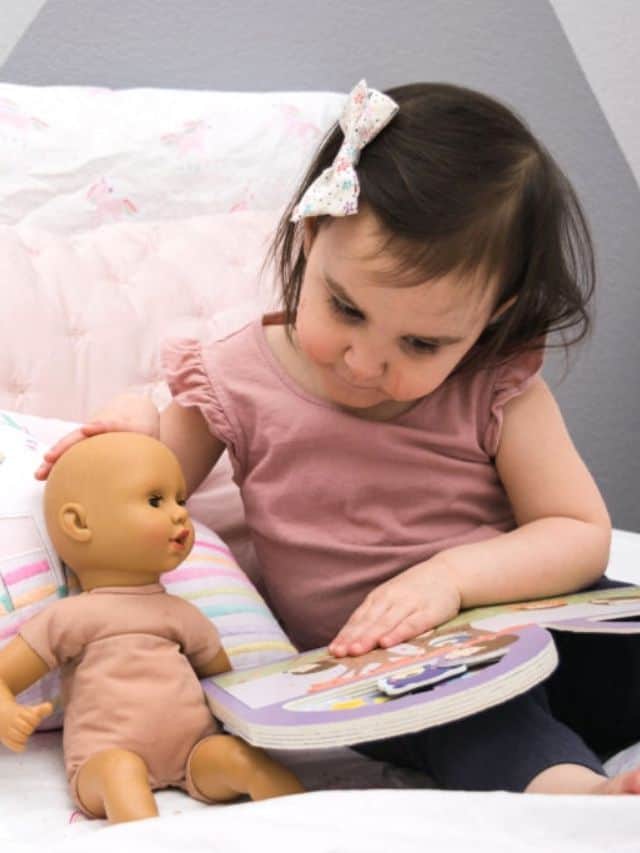 Suggestions for reading a book with your child
Whether there are specific language goals you're working towards or general reading skills, these suggestions can help you get the most out of your time together with books.
Sit together
This seems self-explanatory but we felt it should be included. The first step to reading with your child is to try to have your child sit on your lap and look at the book with you or facing you (so they can see your face, facial expressions, and the book).
It's completely ok if your child can't sit through the entire book! As you continue to read with your child, they will be able to sit through books for longer periods of time. If your child doesn't seem to enjoy reading books with you, search for books about topics they enjoy.
Repetitive text
For young readers, look for books with repetitive text (such as the Old Lady series). Books with repetitive text allows your child to participate more when reading.
Let them help
Try pausing mid-sentence and/or pointing to pictures to see if your child will help you "read" the book by saying phrases they know or naming pictures.
Make your voice fun
Use your voice to make the book more interesting! Using inflection and tone can help your child understand the meaning of the story and to keep your little one engaged.
You can also emphasize onomatopoeias, like "BOOM" or "CRASH" to engage your child's interest and increase participation while reading (and add some of your own in along the way!). 
Get creative
Use the pictures to expand on or make up your own story – it's ok to not read every word on the page! This can help support your child's imagination and creativity as they make up their own story.
I love wordless picture books for this reason; we often focus too much on the words on the page and wordless books allow each person to create their own characters, problems, and solutions.
They're also a great option for readers of all ages since there's no expectation for the child to focus on and read the words on the page. 
Go beyond the pages
The end of the book doesn't mean the experience has to be over! There are so many fun activities you can use to support continued learning, such as acting out the book.
It's also beneficial to re-read books and focus on different things each time (e.g., first words, next time a particular sound, then sequencing, etc.)
Pro Tip #2: Don't get too hung up on the recommended age range for each book, as you're the one reading it. You'll be able to get into a groove of how to adjust higher level books down to the level of a younger child. It's ok to not read ALL the words!
My Favorite Wordless Picture Books for Speech Therapy
Chalk by Bill Thomson
Goodnight Gorilla by Peggy Rathmann
Pancakes for Breakfast by Tomie dePaola
My Favorite Children's Books for Speech Therapy Support
Brown Bear, Brown Bear, What Do You See? By Bill Martin Jr. & Eric Carle is a classic book with repetitive language that also introduces colors and animal names.
The Old Lady series by Lucille Colandro are super silly, great stories that most little kids love! These classic books introduce unique vocabulary words (themed and seasonal/holiday) that you may not see elsewhere and phonemic awareness through rhyming.
These books are also great for early sequencing skills (check out these book companion in the TPT store that support sequencing with the Old Lady books). You can also get the entire book series here.
Swimmy by Leo Lionni is an ocean themed book that focuses on overcoming adversity through teamwork. about a little guy who overcomes adversity through teamwork; great for working on animal vocabulary.
The Bear series by Karma Wilson and Jane Chapman are great books for teaching rhyming, preparing for new experiences, and teaching new skills (e.g., saying thank you, understanding feelings).
Each book introduces new seasonal vocabulary words making this series perfect for any time of year. A couple of my favorites include Bear's Loose Tooth, Bear Feels Sick, and Bear Stays Up.
Speaking of bears, I also love Baby Polar Bears' Snow-Day by Michael Teitelbaum. This book is one of many examples of how to bring in vocabulary about science, the seasons, habitats, and animal vocabulary into a fun read that combines fiction and nonfiction.
Great read for a snowy day!
The Very Hungry Caterpillar by Eric Carle is another classic that supports new vocabulary, such as foods, colors, and counting, as well as sequencing through the life cycle of a butterfly. 
The Giving Tree by Shel Silverstein was one of my favorite books as a child and it's aged so well! I like to read this book around holidays, and we discuss giving without expectation. This book is great for all age groups.
Where The Wild Things Are by Maurice Sendak has detailed illustrations that are perfect for describing (the characters and settings) and using your imagination to create fantasies.
Goodnight Moon by Margaret Wise Brown is one of the best children's books for rhyming, repetition, describing, and teaching vocabulary.
Room on the Broom by Julia Donaldson is one of my favorite books that discusses the importance of friendship and being kind of others. 
A Bad Case of Stripes by David Shannon talks about being yourself and not worrying what others think of you – such an important topic for children! This book is good for colors, patterns, and talking about likes and dislikes.
The Shine-A-Light Books series are one of the best series for vocabulary, such as body parts, gardens, transportation (one of kids' favorite things!), etc. 
Caps for Sale by Esphyr Slobodkina is one of the lesser known books that finds its way to my favorites list not only because of how much I love the incorporation of rhyming, but the illustrations are really captivating! Plus, my kids love this book about monkey business!
I came across this picture book box set by Margaret Wise Brown, where I love each book for a different reason. You're able to target a variety of concepts like numbers, actions words, and nursery rhymes (great for phonemic awareness!).
Happy reading! 
Don't miss this list of the funniest books to read aloud to your kids!