53 Funny Children's Books to Read Aloud with Your Kids
Parents all know the importance of reading with their kids, but reading the same old books can get boring. To make reading time fun for everyone, add in some funny children's books that will get you giggling!
The books listed here are all funny children's picture books that both kids and adults can smile about. From funny board books for babies and toddlers to children's books with funny titles — and even some funny children's books for adults, this huge list of book suggestions cover all age readers!
Funny Books Encourage Reading
For kids who don't love reading yet, humorous books are a great gateway to literacy. There's almost no greater motivation than a book that you know will stir up a good belly laugh!
Whether your child is a proficient reader or just learning how books work, reading to and with your child helps to strengthen those literacy skills.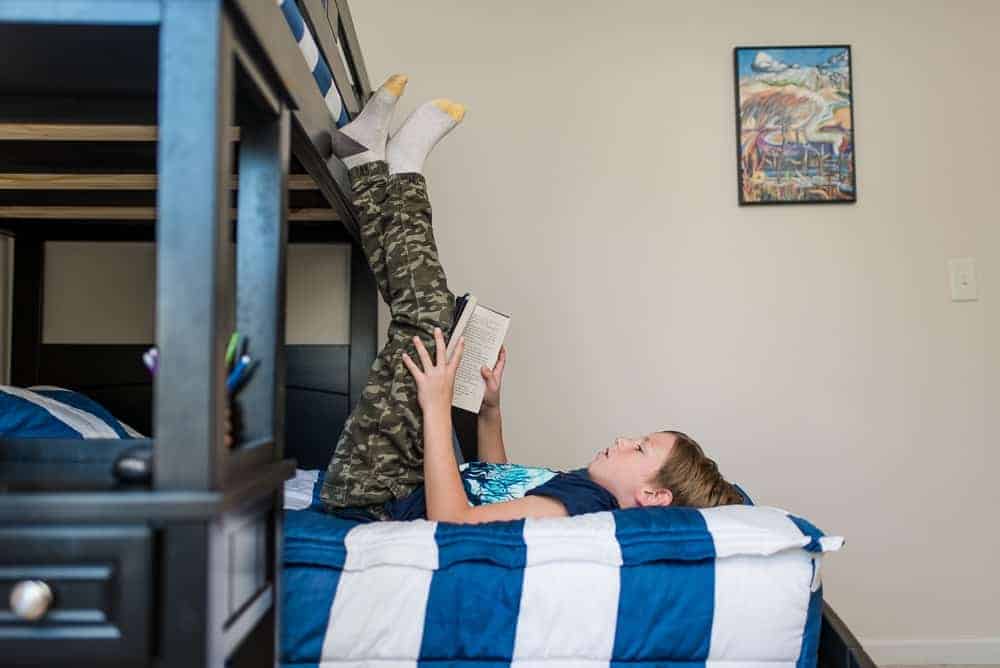 Silly books with ridiculous characters and potty humor may seem like the farthest thing from educational reading. But it's actually the opposite! Just having a fun book that your child enjoys reading is key to reading development. It keeps them coming back for more!
Think about it – Do most adults reach for Wuthering Heights when they want to relax with a book? Not likely. We like to read books that are enjoyable, and kids love that escape too.
This post may contain affiliate links. If you make a purchase, I may earn a small commission at no extra cost to you. As an Amazon Associate, I earn from qualifying purchases. Read more about these links in my disclosure policy.
53 Funny Books for Kids (and Adults)
Sorted from youngest readers to oldest, these are my most recommended funny books for kids. My own children contributed to this list, so rest assured that there are kid-approved books on this list and not just teacher/mom recommendations!
Funny Board Books for
Babies and Toddlers
A Little Stuck by Oliver Jeffers – The board book version of the longer book "Stuck", this silly story tells of Floyd and his kite that gets stuck in a tree. He throws everything at it to try to get it down – including a ladder and a whale. Your kids will wonder what he will try next!
Dinosaur vs the Potty by Bob Shea – A silly story of a dinosaur who wants to do everything except… use the potty. Fun to laugh at, and also to teach potty training toddlers what NOT to do!
Everything is Mama by Jimmy Fallon – Mamas everywhere will identify strongly with this book. The follow-up to Jimmy Fallon's DADA book, MAMA is another short and sweet book. Mama tries to teach little one a new word, but all that is ever said is "mama." Scarily realistic, but kids love it.
I Love You, Stinky Face by Lisa McCourt – This one has been read to my children so much, it's now falling apart. A little silly and a little sweet, this book asks what would a mama do if her child ended up in outrageous situations – including having a stinky face. Best read with silly voices, it's a quick bedtime favorite.
Moo, Baa, La La La by Sandra Boynton – Sandra Boynton is one of my favorite toddler authors, and we own many of her board books. This one is a silly animal book that will have your little ones correcting you as you read and giggle together.
Toot by Leslie Patricelli – Our family first read Leslie Patricelli's Potty book – but the Toot book is a family favorite. Everybody toots, even Mommy! (Gasp!) This is a book older siblings can enjoy reading to the younger ones.
Vegetables in Underwear by Jared Chapman – Clearly, potty humor is a hit in our house. Underwear always brings on a giggle, but seeing veggies in underwear is even more hilarious. Lots of opposites and rhyming words to appeal to readers young and old alike.
Funny Picture Books
(Preschoolers and Up)
The Alphabet from A to Y with Bonus Letter Z! by Steve Martin and Roz Chast – I mean, it's Steve Martin. Of course this book is funny! Absurd alliterations to give your child a vivid vocabulary, parents will enjoy reading this book multiple times.
Bob, Not Bob! by Liz Garton Scanlon – "To be read as though you have the worst cold ever." Your kids won't be able to stop laughing during this book, especially if you really read it like you're stuffy! The perfect funny book for read alouds.
Chewy Louie by Howie Schneider – If you've ever had a puppy this book will be hilarious – or maybe not. Chewy Louie eats EVERYTHING, much to his family's shock and horror. Kids will laugh as they see bite marks all over the pages of this silly book.
The Day the Crayons Quit by Drew Daywalt – Kids can identify with a group of friends who just can't get along – but what happens when your crayons just decide to quit? You'll laugh over the crayons' conversations, but this book also opens up the door for serious talks about cooperation.
Dog Food by Saxton Freymann – Dog Food has been passed down through my kids for 19 years and is still fun to read! Light on words, the pictures tell the story. Parents will get the puns while the kids identify the fruits and veggies used to make these adorable pups.
Don't Blink by Amy Krouse Rosenthal – A bedtime book in disguise, Don't Blink is a fun interactive book that your child won't want to finish! If they blink, they have to turn the page. You can't help the giggles as each blink gets them closer to the end of the book – and bedtime!
Don't Let The Pigeon Stay Up Late by Mo Willems – It's almost impossible to pick a favorite book from the Pigeon series, but this is in the top 3 for sure. That naughty Pigeon tries his best to convince you to let him stay up late. Will it work? (PS – check out Mo Willems' site for fun Pigeon games and activities!)
Dragons Love Tacos by Adam Rubin – Dragons love tacos, but you know what they hate? Spicy salsa. This quick book is best read with silly voices – just make sure you DON'T get any spicy salsa near it!
Goodnight Goon: A Petrifying Parody by Michael Rex – For the kid who loved Goodnight Moon but doesn't want a "baby book" at bedtime. Goodnight Goon is a silly parody that your child will want to read all year long – not just at Halloween!
Grumpy Monkey by Suzanne Lang – This book will be funny for your kids to read, but also helpful when talking about processing emotions. Read along as Jim Panzee (seriously) has a meltdown, no matter what his friends do to help!
How I Became a Pirate by Melinda Long – I'm not sure which is funnier – the story or the pictures! Melinda Long and David Shannon make this book entertaining from cover to cover. Read it in a pirate voice and put those scurvy kids to bed – or tell them they'll have to walk the plank!
I Will Chomp You! by Jory John – You'll notice Jory John a LOT on this list. He has writing funny children's books down to a science! Parents and kids will giggle as the dinosaur tells them not to read the book or he will chomp them. But… will you keep reading?
If You Give a Mouse a Cookie by Laura Numeroff – An older book that is still super popular, the Mouse books are a fun way to introduce cause and effect. And really – what's a mouse doing trimming his hair anyway? If you love this book, make sure to check out the rest of the "If You Give a…" series for more silly stories.
The Monster at the End of This Book by Jon Stone – Ok I'm showing my age with this one. Originally published in 1971, this book has been funny for longer than I've been alive! Silly old Grover is sooo scared to see the monster at the end of the book – but your kid won't be able to stop from turning the page!
No, David by David Shannon – David Shannon's beloved character is a must on any funny children's book list. Kids will laugh as David is super naughty – and parents will laugh because they know their child has experienced a "David moment" here and there!
Parts by Tedd Arnold – From the author of the "Fly Guy" series, this book tells about a kid who is suddenly disturbed by all the parts of his body that seem to be falling apart! Rhyming text and hilarious illustrations keep kids engaged and giggling.
<
Pirates Love Underpants by Claire Freedman – Underwear again for some laughs! These pirates are out looking for their "booty" – and the illustrations are sure to grab your attention as you read.
The Paper Bag Princess by Robert Munsch – Just go ahead and pretend almost every Robert Munsch book is listed here. The Paper Bag Princess is a classic story of girl power, and not your typical princess book. You'll laugh at the princess's antics while cheering her on.
Funny Books for Kids
(Elementary Age)
The Book With No Pictures by BJ Novak – Are you a fan of "The Office"? BJ Novak doesn't disappoint with his funny children's books either. Far from boring, this New York Times #1 Bestseller was a fast favorite with my elementary-aged son. You just have to read it to see why!
Click Clack Moo, Cows That Type by Doreen Cronin – Doreen Cronin is a funny children's book genius, and this is only one of her books that we love. When the cows go on strike and decide to type a letter to the farmer, you can't help but laugh at their antics! If you love this one, be sure to check out her other books as well.
Creepy Pair of Underwear by Aaron Reynolds – What would you do if your underwear started glowing in the dark and doesn't want to let you get rid of it? That's a great question to ask your kids after you finish laughing at this book!
Do Unto Otters by Laurie Keller – A book of manners on a funny children's book list? YES, especially when the book is written by Laurie Keller. A great message with funny chatter. (Parent tip: I read a condensed version of the story with my 3 year old, and let the older kids read all the extra conversations on the page. It works perfectly!)
Giraffe Problems by Jory John – Another book by Jory John, Giraffe Problems is a funny follow-up to Penguin Problems. Can you guess what's making the giraffe self-conscious? This zany comedy is great for older preschoolers as well as elementary ages.
I Need a New Butt by Dawn McMillan – Any book with BUTT in the title is going to cause the giggles. But when you realize your butt has a crack, you need a new one! Follow up this book with I Broke My Butt (the cheeky sequel).
I say OOH You Say AAH by John Kane – A fun and interactive book that makes for a perfect read aloud. This book will make your kids want to pay attention so they can follow along – that is, if they can even talk through their laughs!
I'm Not Bobby by Jules Feiffer – This book brings back great memories for me. One of my autistic students loved to read I'm Not Bobby – and he taught me that it's best read with a fun voice full of expression! Kids can identify with wanting to pretend they don't hear mom and dad calling them for dinner – funny for them, not so much for us.
Interrupting Chicken by David Ezra Stein – Parents know how IMPOSSIBLE it is to read a story to our kids without being interrupted – which is what makes this book so funny! After the laughter, it makes a great example for what NOT to do during a story. Laughs and lessons all in one.
Lady Pancake and Sir French Toast by Josh Funk – A silly story about friendship, this "food fight" will have you wanting to read it again and again. The illustrations are great, and you'll be looking for more of Josh Funk's funny tales after this!
P is for Pterodactyl by Raj Haldar & Chris Carpenter – Kind of embarrassing, but I totally bought this book for myself and just pretended it was for my son. It is SO FUN to read, and is the funniest children's alphabet book ever. Every upper elementary teacher needs this!
Sam & Dave Dig a Hole by Mac Barnett – A 2015 Caldecott Honor Book, Sam & Dave Dig a Hole is a hilarious story where the readers are in on a joke. The clever play between words and pictures will keep a smile on your face to the very end – and then back again.
Scaredy Squirrel at Night by Melanie Watt – Gosh, Scaredy Squirrel is just a great series – it makes it difficult to pick just one book to share here! Not your typical bedtime book, this quirky squirrel will be a family favorite for sure.
The Scrambled States of America by Laurie Keller – Written in a conversational tone, this book is a geographical giggle on paper. If you ever wanted to make learning the states fun – this is how you do it. Lots of silliness as the states have personalities, but you can't help but learn as you read! Perfect for K-5 (and even beyond).
Skippyjon Jones in the Dog House by Judy Schachner – I think I love reading Skippyjon Jones aloud more than my students and kids loved it! This silly cat who pretends he's a Chihuahua is on another loco adventure. Fun for introducing a little Spanish vocabulary while you read!
The Stinky Cheese Man and other Fairly Stupid Tales by Jon Scieszka – Kids will love the ridiculous illustrations as much as they'll love the silly tales. This Caldecott Honor book puts a fun twist on well-known stories like The Ugly Duckling… who grew up to be a really ugly duck. Prepare for the kids to howl at this one.
The Teacher from the Black Lagoon by Mike Thaler – Another oldie but goodie – The Teacher from the Black Lagoon is a must-read for any school-aged kid. When rumors get out of hand, this teacher becomes a total monster! Definitely silly, not so much scary.
Warning: Do Not Open This Book! by Adam Lehrhaupt – Why is it when we tell kids NOT to read a book, they immediately do the exact opposite?
Well there you go. Don't buy this book. No really. I'm sure you shouldn't read it. Wait, no, stop… no don't laugh either…
We Are In a Book by Mo Willems – Our favorite "Pigeon" author, Mo Willems, captures kids' attention once again with his Elephant & Piggie series. This time they realize they are being watched – by you, the reader! Interactive fun to be had time and time again.
We Don't Eat Our Classmates by Ryan T. Higgins – The sassy dialogue and tongue-in-cheek humor will have you and your kids chuckling as you read about this dinosaur's debacle. We all want good friends, but what happens when they are delicious?!
Who Swallowed Harold? by Susan Pearson – If you ever thought poetry had to be boring, think again. This book is full of quick and witty poetry that will have your kid begging for more. A favorite poem in our house: Do Goldfish Pee? (Potty humor for the win – again.)
Funny Children's Books
for Adults
Fair warning here: These are NOT picture books I recommend you purchase and give to your child. Not without previewing them first.
I also want to call to attention that they are funny children's books FOR ADULTS. They are not appropriate for every child or even every family. They include adult humor.
Some older children may be ok to read them, and only you as the parent can make the decision to allow that or not. I'm including these books here as a reference for families who enjoy off-color humor, mildly scary/graphic content, and somewhat PG-13 material.
With that said, here they are:
All My Friends Are Dead by Avery Monsen and Jory John – A little sad and a lot funny, this book is full of dark and dry humor and little text. Super easy read and good for a chuckle. A little morbid, but you'll die laughing. Oh wait. Now you're dead too.
Do You Want to Play With My Balls? by The Cifaldi Brothers – If you have the mind of a 12 year old, this book is for you. So inappropriate, which makes it so funny that you won't be able to breathe while reading it. Makes a perfect gift for new parents. They can read it to a toddler at bedtime and the kid won't even know the difference.
Go the F to Sleep by Adam Mansbach – Clearly NOT a book for children, this has become a popular book for tired parents everywhere. Great baby shower gift from seasoned parents to newbies. And if you can't tell from the title, the story is full of the F-word. Just so you can't say I didn't warn you.
Goodnight iPad, by Ann Droyd – A modern twist on Goodnight Moon, this book shows how ridiculously attached we are to our modern conveniences. Fun for Boomers and Millennials everywhere.
K is for Knifeball: An Alphabet of Terrible Advice by Avery Monsen and Jory John – Another book of dark humor from the authors of All My Friends Are Dead. Not appropriate for school, but a hilarious twist on the ABC book for families who enjoy jokes that you feel kind of bad for laughing at.
Monsters Eat Whiny Children by Bruce Eric Kaplan – This book is actually written for children, but should be previewed in advance. Parents everywhere can agree (come on, admit it) that there's at least ONE moment when we want to tell our kids that monsters eat whiny children. And here's your chance. Not too scary, but requires a sense of humor.
The Very Thirsty Vampire by Michael Teitelbaum – That's not blood in is glass. It's wine. A fun twist on The Very Hungry Caterpillar, this parody appeals to adults with demented humor (as well as older children who know why their parents drink).