24 Books About Families for Preschoolers
Families come in all shapes, sizes, and colors and children love learning about their own families and learning about others. Preschool children commonly study different types of families and these 24 books about families will help you to introduce your children to a diverse range of family units.
This post may contain affiliate links. If you make a purchase, I may earn a small commission at no extra cost to you. As an Amazon Associate, I earn from qualifying purchases. Read more about these links in my disclosure policy.
My Family: Love and Care, Give and Share – Families may all look different on the outside but being a family means the same no matter how it looks.
We Belong Together – In a kid-friendly, accessible way, this book explores the ways that people can choose to come together to make a family by showing one perspective on the adoption experience. We Belong Together is about sharing your home and sharing your heart to make a family that belongs together.
The Great Big Book of Families – This book explores all different types of families and how they are all different, yet similar. Explore different family makeups, traditions and celebrations.
The Family Book – Each family is special and unique in its own way. This book encourages kids to ask questions about their own families.
Heather Has Two Mommies – Heather's favorite number is two. She has two arms, two legs, two pets—and two mommies. When Heather goes to school for the first time, someone asks her about her daddy, but Heather doesn't have a daddy. Then something interesting happens. When Heather and her classmates all draw pictures of their families, not one drawing is the same.
Me and My Family Tree – Families can be big or small but how is everyone related? This can be confusing for children and this story, along with kid-friendly illustrations helps kids understand how they fit into their family tree.
Two Homes – At Mommy's house, Alex has a soft chair. At Daddy's house, Alex has a rocking chair. In each home, Alex also has a special bedroom and lots of friends to play with. But whether Alex is with Mommy or with Daddy, one thing always stays the same — Alex is loved.
Yes, I'm Adopted – "Yes, adoption makes me special, it means that I am loved…" This brightly colored children's book illustrates how adoption is brought about by love. Written from a child's point of view, the rhyming verse takes you through an adoption journey from start to finish. It is perfect for anyone, young or old, whose life has been blessed by adoption.
A Grandfamily for Sullivan: Coping Skills for Kinship Care Families – Many children are being raised by grandparents or other relatives for various reasons. This book helps children to explore how cope with the situation.
b
A Tale of Two Daddies – A Tale of Two Daddies is a playground conversation between two children. The boy says he heard that the girl has two dads. The girl says that is right–she has Daddy and Poppa. True to a child's curiosity, practical questions follow: "Which dad helps when your team needs a coach? / Which dad cooks you eggs and toast?" To which she answers: "Daddy is my soccer coach. / Poppa cooks me eggs and toast."
The Tripsies and Me – The babies are coming! The babies are here! This sweet book written in rhyme format tells of a family waiting for and welcoming their three little blessings. Read our full review of The Tripsies and Me for a closer look!
And That's Why She's My Mama – What is a Mama? A mama is someone who is always there for you. She makes you your favorite food, takes you to the park, and kisses your boo-boos better. Some mamas didn't hold you in their belly, but they will forever hold you in their hearts. Mamas come in all different shapes, colors, and ages, but they all have one thing in common. They love you! Enjoy the multiple characters in this children's story which explores the loving tasks of what makes a mama.
My Family, Your Family – Makayla is visiting friends in her neighborhood. She sees how each family is different. Some families have lots of children, but others have none. Some friends live with grandparents or have two dads or have parents who are divorced. How is her own family like the others? What makes each one great? This diverse cast allows readers to compare and contrast families in multiple ways.
What Does a Family Look Like? – explains that every family is unique and special. It is not always who you live with that is important, rather what you do together. A foundation of kindness, sharing and caring builds a strong and loving family. We love all the diversity shown in this book from the Your Buddy Boodles series.
I've Loved You Since Forever – I've Loved You Since Forever is a celebratory and poetic testament to the timeless love felt between parent and child. Fair warning to parents – this one may make you get teary-eyed while you read it to your little one.
A Family is a Family is a Family – When a teacher asks the children in her class to think about what makes their families special, one child is worried that her family is just too different to explain. As her classmates describe who they live with and who loves them — family of every shape, size and every kind of relation — the child realizes that as long as her family is full of caring people, her family is special.
Mixed Me! – Mike has awesome hair. He has LOTS of energy! His parents love him. And Mike is a PERFECT blend of the two of them. Still, Mike has to answer LOTS of questions about being mixed. And he does, with LOTS of energy and joy in this charming story about a day in the life of a mixed-race child.
Stella Brings the Family – Stella's class is having a Mother's Day celebration, but what's a girl with two daddies to do? It's not that she doesn't have someone who helps her with her homework, or tucks her in at night. Stella has her Papa and Daddy who take care of her, and a whole gaggle of other loved ones who make her feel special and supported every day. She just doesn't have a mom to invite to the party. Fortunately, Stella finds a unique solution to her party problem in this sweet story about love, acceptance, and the true meaning of family.
In Our Mother's House – Marmee, Meema, and the kids are just like any other family on the block. In their beautiful house, they cook dinner together, they laugh together, and they dance together. But some of the other families don?t accept them. They say they are different. How can a family have two moms and no dad? But Marmee and Meema?s house is full of love. And they teach their children that different doesn?t mean wrong. And no matter how many moms or dads they have, they are everything a family is meant to be.
We Are Having a Baby! – For every little person who is going to be a big brother or big sister, this wonderful journey begins with the happy news that baby is on the way and ends with a sweet bundle of joy. This book is perfect for helping boys and girls prepare emotionally for the arrival of a new sibling.
Growing Into a Family: A Kid's Guide to Living in a Blended Family – Families blend together for a variety of reasons. Regardless of why it happens, creating a blended family is a process of transition that takes time, patience, humor, compassion, and a whole lot of conversation.
One Family – This playful, interactive book shows how a family can be big or small and comprised of people of a range of genders and races.
Being Adopted is Super-Duper Special! – This book lovingly explains what "being adopted" means and why having a forever family is so wonderful. Another heart-warming story from Christine Burger, this book would be perfect for a child who is adopted or even for helping your preschooler understand what adoption means.
Fred Stays With Me – Sometimes I live with my mom. Sometimes I live with my dad. But Fred stays with me.Told from the point of view of a young child whose parents are divorced, Fred Stays with Me follows a girl and her dog, Fred, from one parent's house to the other's, giving her a sense of continuity and stability.
More book lists you may like:
Christmas Chapter Books for Kids and Families
Multicultural Picture Books For Kids
Pin these 24 Books about Families for Preschoolers to Pinterest to save them for later.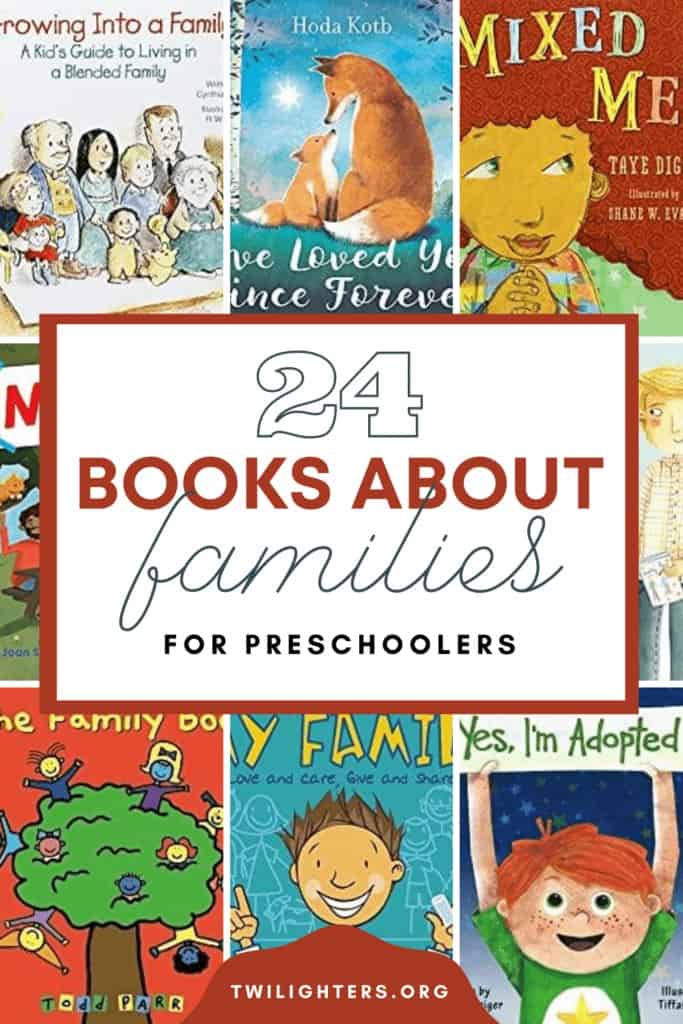 Did we miss a book you love? Tell us about your favorite book about families in the comments!