12 Best Multicultural Picture Books For Kids
Multicultural picture books are a great way to expose young children to different cultures around the world. It's also important for children of different cultures and colors to see characters that are similar to them. We have compiled a list of some of our favorite picture books that represent a variety of differences for your young readers to enjoy!
This post may contain affiliate links. If you make a purchase, I may earn a small commission at no extra cost to you. As an Amazon Associate, I earn from qualifying purchases. Read more about these links in my disclosure policy.
Top Multicultural Picture Books for Kids
Festival of Colors by Surishtha and Kabir Sehgal
Festival of Colors teaches about the Indian festival Holi. Siblings Mintoo and Chintoo gather flowers that they can make into powders and celebrate with their friends, family, and neighbors on forgiveness and friendship.
The Big Buna Bash by Sara C. Arnold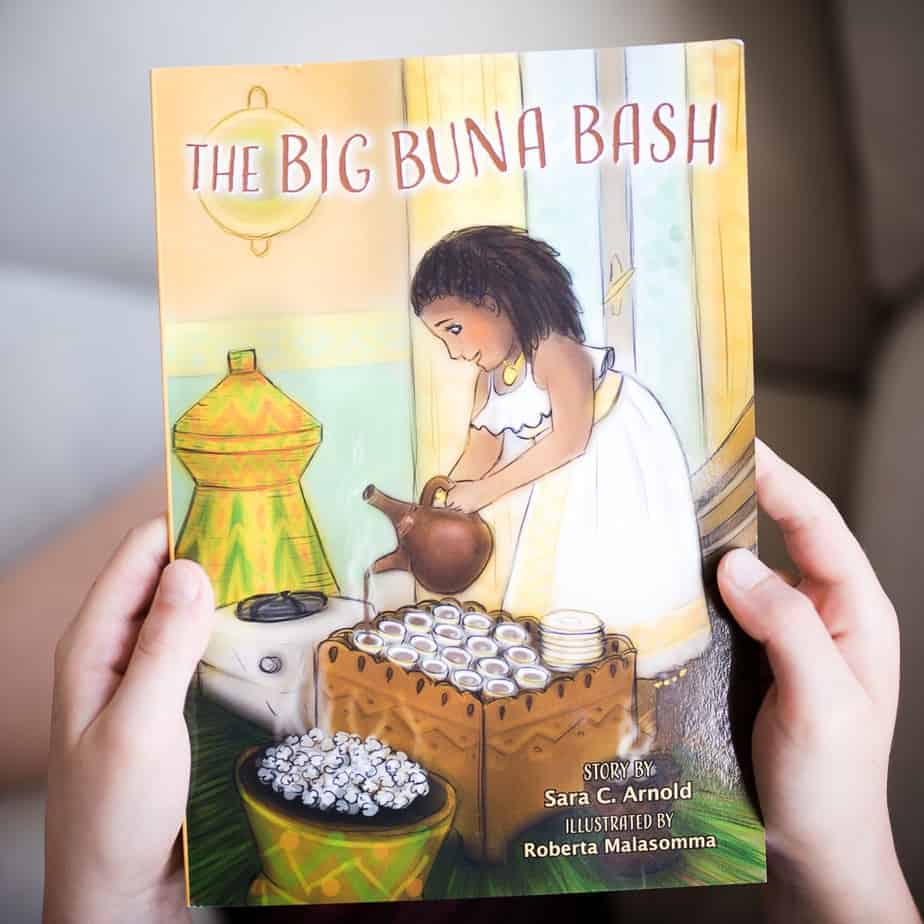 The Big Buna Bash by Sara C. Arnold portrays Almaz and how she celebrates her culture, even when it's different from the other kids' in her class. Despite being teased and made fun of for her differences, she hosts a big buna bash (a coffee party) to show her classmates her culture. Through her, children can learn how to respond to adversity and teasing as well as discover a new culture.
You can read our full review of The Big Buna Bash here!
I Am Enough by Grace Byers
I Am Enough by Grace Byers is a beautifully written poem about loving who you are, being kind to others, and respecting differences. Pair this one with Byers' follow-up book I Believe I Can – an affirmation for boys and girls of every background to love and believe in themselves.
I Am Mixed! by Maggy Williams
I'm Mixed! by Maggy Williams explores how children identify themselves at a young age. It follows the perspective of a girl who can identify as black, white, or mixed yet chooses to embrace her multiracial heritage. Children reading are encouraged to do the same and embrace their appearance without having to choose.
A Different Pond by Bao Phi
A Different Pond by Bao Phi follows the relationship between father and son and cultures old and new. As they both fish in a pond in early-morning Minneapolis, Bao's father tells him of another pond in their homeland Vietnam.
This honest and moving story has been named a must-read for our times and was a 2018 Caldecott Honor Book.
All Are Welcome by Alexandra Penfold
All Are Welcome by Alexandra Penfold is a warm and welcoming story, pun fully intended, that follows a school where children in hijabs, yarmulkes, patkas, and baseball caps all play together and are friends. The whole community gathers to grow and learn each other's traditions while celebrating the Lunar New Year.
This heartwarming story teaches children that they have a safe place in their school, no matter what.
Dreamers by Yuyi Morales
Dreamers by Yuyi Morales is a story of family and what migrants bring with them when they leave their home. Yuyi brought her son with her when she left her home in Xalapa, Mexico to live in the US, but she also brought her passions, her stories, her hopes, and her dreams. As they make their home in the public library, where they can learn English and understand the new language, the story reminds us that everyone is a dreamer and brings their gifts with them wherever they roam.
Winner of the Pura Belpré Illustrator Award and a New York Times / New York Public Library Best Illustrated Book of 2018.
Get Up, Stand Up by Cedella Marley
Get Up, Stand Up original song by Bob Marley and adapted by Cedella Marley teaches children to "get up, stand up" against teasing and instead spread messages of peace and love. By standing up with love in the face of hate, kids learn to spread truth and make things right for themselves and others.
Happy In Our Skin by Fran Manushkin
Happy In Our Skin by Fran Manushkin paints the color of a baby's skin to be beautiful, no matter what color it is. As everyone grows, their skin does too, allowing them to enjoy life and make each person one of a kind. This playful story allows children to learn and discover that it is wonderful to be just who you are.
Same, Same But Different by Jenny Sue Kostecki-Shaw
Same, Same but Different by Jenny Sue Kostecki-Shaw follows two pen pals: Elliott from America, and Kailash from India. Both love to do similar things, even if their worlds are different – children today are the same! Everyone does similar things in life, even if their worlds may be different. Same, same, but different.
This Is How We Do It by Matt Lamothe
This Is How We Do It by Matt Lamothe depicts the everyday life of seven different children around the world. While they may be doing different activities – freeze tag vs jump rope, for example – the shared rhythm of their days, and the world, unites them and makes them similar.
Children may learn about different traditions and experiences they may not share, but are encouraged to view them as just a different rhythm in life.
What We Wear by Maya Ajmera, Elise Hofer Derstine, and Cynthia Pon
What We Wear by Maya Ajmera, Elise Hofer Derstine, and Cynthia Pon celebrates the many different ways we dress around the world. What we wear can reflect our identities and how we express ourselves as individuals. Regardless of the diversity in what we wear, we are all special and beautiful in our own ways – this is a trait everyone has in common.
---
Have you read any of the multicultural picture books on our list? Which ones are your favorites, or what books should we include that we may have left out? Please comment below and let us know!