18 Christmas Chapter Books for Kids and Families
While there is never a bad time to encourage your children to read, Christmas time is an especially great time and these Christmas chapter books are perfect for developing a healthy reading habit.
The weather has cooled, the days are shorter and kids are likely spending more time indoors. It's easy to fall into bad habits of playing video games and watching TV to pass the time.
But time spent reading is critical for brain development and helps kids to learn perspective, problem solving, empathy and piques creativity and imagination. Increased vocabulary is just the cherry on top.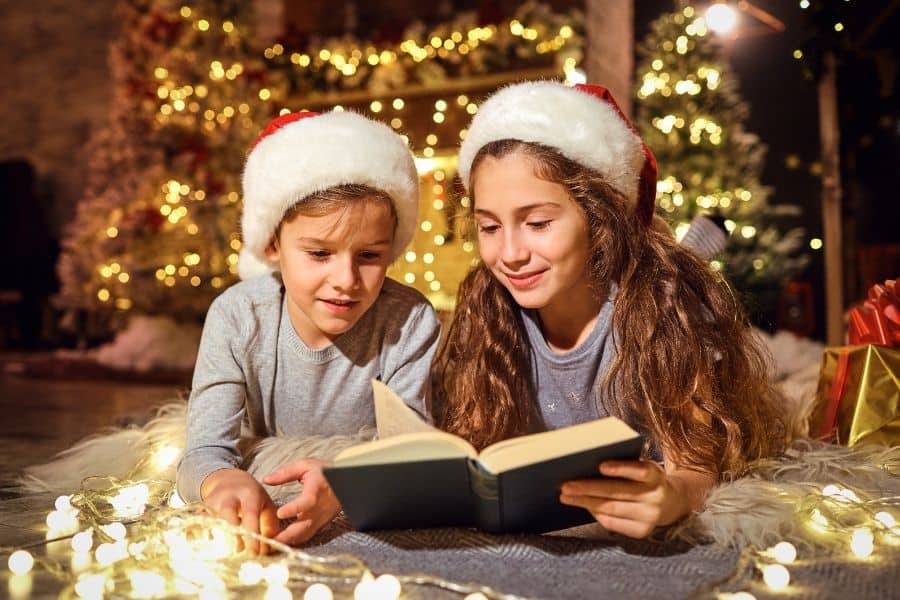 Encouraging Children To Read with Christmas Books
Good reading habits are often built young but it's never too late to make some improvements. This time of year, the magic of Christmas is all around us. It's the perfect subject to excite a child's interest in reading.
Involve Your Child – Grab this list of Christmas themed chapter books and sit down with your child. Discuss each book and make a list of several that sound interesting.
Choose a Family Read-Aloud – Select a book that would be great for a family read aloud. Even older children benefit from being read to and 10-15 minutes reading together as a family next to the Christmas tree can be a wonderful bonding time.
Make a Quiet Reading Choice – Help your child choose one or two that he can read independently.
Create a Reading Nook – A cozy Christmas reading nook with pillows, blankets and some twinkle lights is perfect for cuddling up with a book.
Encourage Re-reading – Did your child love your family read-aloud of The Best Christmas Pageant Ever? Encourage them to reread their favorite Christmas story independently.
Discuss – Talk about the theme, the main character, and how they feel about the book.
Model – Select your own books to read so your child sees how important reading is.
This post may contain affiliate links. If you make a purchase, I may earn a small commission at no extra cost to you. As an Amazon Associate, I earn from qualifying purchases. Read more about these links in my disclosure policy.
Christmas Chapter Books
Grab your local library card because it's time to get some books! This list of 18 Christmas chapter books includes some great individual choices and a few that are perfect for a whole family read-aloud.
Do you have a favorite Christmas chapter book that we missed? Let us know in the comments.
For some great picture books to read this Christmas season, check out this list of 25 Christmas books for kids!