27 Best Books for 2 Year Olds that Toddlers Love
Two year olds are at such an exciting age. They learn at a rapid rate, taking in everything around them. Their personalities are developing quickly as well, and books are a great way to help them learn and process new information. Here we are sharing our 27 best books for 2 year olds that toddlers (and parents) love.
This post may contain affiliate links. If you make a purchase, I may earn a small commission at no extra cost to you. As an Amazon Associate, I earn from qualifying purchases. Read more about these links in my disclosure policy.
How to find the best books for 2 year olds?
Just as 2 year olds have their own individual personalities, they also have their own preferences when it comes to books. What one child loves, another may have zero interest at all.
But for parents, grandparents, and educators who may be shopping for the best books for 2 year olds, these tips can help:
Board books
The thick covers and pages make it easy for small fingers to manipulate. It also makes it more difficult for children to rip or destroy if they handle their books too roughly. Paper pages can be easily torn, which is why we tend to read those with adult supervision.
Interactive books
Books with flaps or moving parts are exciting for a child to interact with while reading. Text that asks questions or even books that encourage movement (such as yoga books) are fun to read as well.
Rhyming or repetitive words
Young children love books that are written with rhyming or sing-song text. Those with repetitive words are interesting to 2 year olds because they love the predictability.
Bright colors and simple illustrations
Much like how babies love bright, vivid colors, these same colors are very attention-grabbing for 2 year olds as well. Simple illustrations prevent 2 year olds from being overwhelmed, so they follow along with the story and pictures more easily.
Simple text with some new vocabulary
Too many words can cause 2 year olds to loose interest quickly. A few words on each page helps to keep their interest. Don't be afraid of introducing new vocabulary though! Even 2 year olds can learn about quantum physics.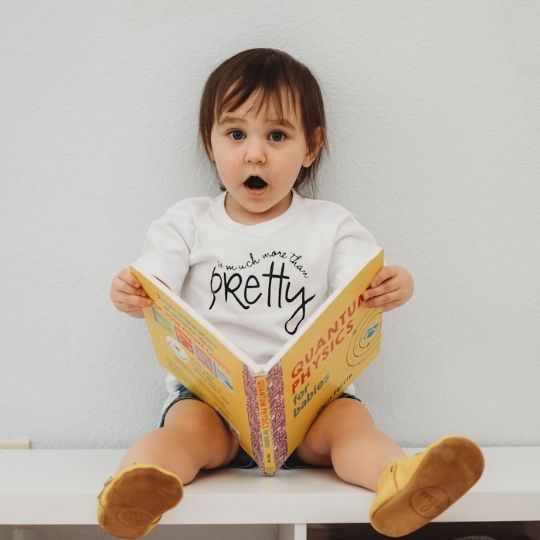 Themes and topics of interest
This will vary with each child, but they are more likely to enjoy books with characters or animals that interest them. Different themes of interest are a great place to start as well, such as books about bugs or books about outer space.
How do you read with a 2 year old?
Often, 2 year olds are happy to "read" books independently! However, it is still important for parents or other caregivers to read with toddlers daily. Here are some suggestions to make reading with a 2 year old fun and successful:
Let your 2 year old choose the book.
Toddlers and preschoolers love having a feeling of control and independence, and this is an easy way to allow them to make a choice in their day.
Allow repeated readings.
While it can be tough for mom or dad to want to read Go Dog, Go for the 23rd night in a row (that book gets longer each time you read it), repeated readings are actually very beneficial for young learners! They learn more and more about the text and story each time, building a foundation for learning to read later on.
Encourage them to participate with repetitive or predictable text.
Two year olds feel a sense of success or accomplishment when they correctly "read" a word or page in a book. Letting them say a word or phrase that they can predict in the story is an excellent pre-reading skill. (For example, check out One Duck Stuck in the list below.)
Let your 2 year old "read" the pictures
While most 2 year olds aren't ready to read actual words yet, they can often "read" the pictures in a story. Especially when they have read a book so many times they know it by heart.
Ask them to read to you and let them use the pictures to remember how the story goes. (It's totally ok if they don't get it right.)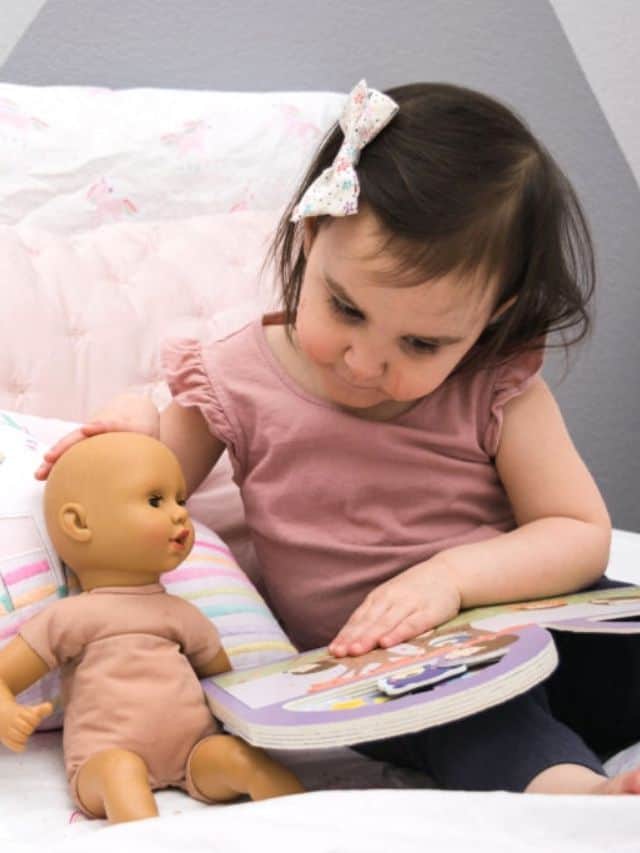 The Best Books for 2-Year-Olds – Our Favorites
With four children of my own (and the youngest a freshly-turned 2 year old), I've found quite a few books that 2 year olds seem to love. Here are some of our favorite children's books – both classics and new books – that your 2 year old will love too!
Best Story Books for 2 Year Olds/Best Books Overall
Brown Bear, Brown Bear, What Do You See? by Bill Martin Jr.
This classic predictable book is a favorite among children and parents everywhere. Kids love the predictable text and familiar animals, as well as the bold artwork of Eric Carle.
Brown Bear teaches colors, rhyming, and animal names. Your two year old will quickly learn what comes next, and will enjoy pointing to each animal as you read the last page.
We highly recommend checking out other books by Bill Martin Jr and Eric Carle too!
Press Here by Herve Tullet
Press Here is a fun, interactive book for toddlers who wish they had a tablet or phone to play with. Each page instructs the reader to follow a different direction – with a new result each time!
Press Here teaches children cause and effect, counting, and colors.
Where's Spot by Eric Hill
Another of our favorite interactive books for 2 year olds, Where's Spot keeps kids engaged with boldly colored illustrations and hidden flaps to lift. Your 2 year old will love chiming in with every "no" as you read together.
Where's Spot is also great for teaching spatial concepts, such as "inside" and "under."
Peekaboo Morning by Rachel Isadora
Peekaboo Morning is a great book to start your day, or end it at night! Your 2 year old will love this boldly illustrated book as they follow along finding each family member (and the beloved bunny). Our family is happy to include this diverse board book in our collection so that our children grow up learning that differences are beautiful.
Where the Wild Things Are by Maurice Sendak
This Caldecott Medal winner belongs in every child's library. Moms and 2 year olds everywhere will identify with Max's story of mischief and love in Where the Wild Things Are.
While this wild story tends to cause too much of a rumpus at bedtime, it makes for a great book to read in the daytime when we can become wild things ourselves!
Nelly Gnu and Daddy Too by Anna Dewdney
From the author of the Llama Llama series comes Nelly Gnu and Daddy Too. This silly tale shares the adventures of a little girl and her dad as they go about their day together. We love that this book shows how dads can be involved with their children, as well as showing non-traditional gender roles in families.
Love Makes a Family by Sophie Beer
Love is more than just a word. Love is all the things we do, and love makes a family. It doesn't matter what your family looks like or who is in it, it just matters that you love one another. A great book to show diversity and differences within families.
One Duck Stuck by Phyllis Root
My oldest child received One Duck Stuck when attending preschool 16 years ago, and this book has been a family favorite ever since! You and your child will enjoy the rhyming words and how the excitement builds as the animals attempt to help the duck get unstuck. Don't be surprised if you hear "help help, who can help" the next time your kiddo gets stuck somewhere!
You're Two by Shelly Unwin
You're Two is the perfect book for a 2nd birthday gift! One of THE best books for 2 year olds, this book celebrates everything about the number two. Two thumbs up, two arms for cuddling, and so on.
Raindrop, Plop by Wendy Cheyette Lewison
Raindrop, plop! This springtime rhyming story shares the fun that's possible only on a rainy day. Your 2 year old will have fun counting up and down, and will enjoy the details on each page.
An added bonus – you and your little nature enthusiast may find yourself on an adventure the next time it rains. Grab your rain boots!
A Little Stuck by by Oliver Jeffers
From the author of the book Stuck, A Little Stuck is a hilarious tale that will have your little one giggling from cover to cover. Floyd tries everything to get his kite out of a tree, even throwing an orangutan! Definitely too funny for a bedtime book in our house, but we all love it.
Check out more Funny Books for Kids here!
Best Learning Books for 2 Year Olds
Chicka Chicka Boom Boom by Bill Martin Jr
Another favorite from Bill Martin Jr, Chicka Chicka Boom Boom can be found in almost every preschool and elementary school in the US! Follow the exciting story of the ABCs as they race up the coconut tree and fall back down. With vibrant illustrations and a song-like rhyme, this is a story that will be enjoyed for years to come.
Y by Larry Baum
Finally, a book that your 2 year old can read! Part of The Bo Books series, Y is a simple book that tells a story through pictures more than it does words. Actually, there are no "words" at all – only letters! By combining bold letters (that represent words like "why" and "bee"), early readers can experience success with reading as they discover the relationship between letters, sounds, words, and the meanings they represent.
For our full review of Y and The Bo Books, click here!
Counting Kisses by Karen Katz
Counting Kisses is one of our best books for 2 year olds, but we loved reading it even when our children were babies. It teaches numbers and counting, and what is better to count than all the kisses between a mom and a baby?
Potty by Leslie Patricelli
Potty first joined our home when my daughter began potty training two years ago. Now it is my 2 year old son's favorite book to read while he goes potty!
The simple text and illustrations are attention-grabbing, and your 2 year old will enjoy doing the potty dance along with the character. Prepare for hearing "tinkle tinkle toot" at every potty time going forward, but it's well worth it.
Little Blue Truck by Alice Schertle
Your 2 year old may only see a fun story with a blue truck and farm animals. But with your guidance, Little Blue Truck can teach so much more about life, kindness, and perseverance. Not just for little kids, this is a great book for students graduating high school.
How Do You Say I Love You by Hannah Eliot
How do you say I love you? It may sound the same in different languages, but the words always mean the same thing! Great for introducing other languages to your young child (the perfect age for it!).
Best Vocabulary Books for 2 Year Olds
First 100 Words by Roger Priddy
Our family has loved this book, and all the others in the series! First 100 Words has fun pictures that children as young as 1 year old can identify as they learn to talk. Your 2 year old will recognize familiar items and will expand his vocabulary while learning new things.
Quantum Physics for Babies by Chris Ferrie
I honestly had no idea what quantum physics were before we read this book, but now I can say I know a little! Start STEM early with these fun books with simple illustrations that expose children to difficult subjects in a basic way. Part of the Baby University Board Book Set.
Baby Loves Coding by Ruth Spiro
Introduce your 2 year old to STEM topics in a developmentally appropriate way with the Baby Loves Science series. We like the Baby Loves Coding book because my husband works in the IT field, and this book provides a way for Daddy to talk about his job with the little ones. Be sure to check out the other titles too!
ABC Universe by the National Museum of Natural History
You may be surprised how much your 2 year old will learn from an ABC book about space! My 2 and 3 year olds love to read about stars and planets, and my 3 year old daughter frequently tells us she wants to be an astronaut and take a trip to the moon! ABC Universe will help them communicate their thoughts with the proper words, and may spark a love of science at an early age.
Opposites with Frank Lloyd Wright by Mudpuppy
While Opposites also fits into our list of best learning books for 2 year olds, it is great for teaching new vocabulary to help toddlers communicate. It entertains young readers while introducing the concept of opposites, teaching words such as round/pointy, bright/dark, and city/nature using Wright's famous works.
Opposites is the follow-up to the Mudpuppy board book bestseller My First Shapes With Frank Lloyd Wright.
Best Bedtime Stories for 2 Year Olds
Goodnight Moon by Margaret Wise Brown
Goodnight Moon is first in our list of best bedtime stories for 2 year olds because I've read it so many times that I can recite it with my eyes closed. This classic bedtime book is an absolute must for every family.
The Going to Bed Book by Sandra Boynton
Sandra Boynton is one of our favorite children's book authors, and this book is in our top 10! With the same familiar silliness as Boynton's other books, The Going to Bed Book makes the perfect bedtime story for 2 year olds (and every other age too).
Follow along with the animals' bedtime routine as your little one winds down for sleep too. We haven't yet figured out why the animals exercise after showering, but we love the book anyway.
Guess How Much I Love You by Sam McBratney
Another book I bought almost 20 years ago, Guess How Much I Love You is an incredibly sweet story of the love between a parent and child. While this is a treasured favorite in my home, I'll admit that it is sometimes difficult for me to read without choking up at the very end. Definitely one to keep forever.
Where do Diggers Sleep at Night? by Brianna Caplan Sayres
If your little one loves trucks and tractors and everything in between, then they will love Where do Diggers Sleep at Night! Read about diggers and dump trucks as the various vehicles – and your little digger – prepare to sleep.
I Love You, Stinky Face by Lisa Mccourt
I bought this book for my son on a whim about 10 years ago. I had no idea how much we would actually love it! I Love You Stinky Face is perfect for winding down your day and reassuring your 2 year old how much you love them – even when they might be a little monster sometimes.