29 Unique Read Across America Activities for All Ages
There's one question that parents and teachers everywhere ask: how can I motivate a child to love reading? Growing a reader isn't always easy, and it can take a lot of support and guidance. Because of that, educators have developed ways to make reading fun – and these Read Across America activities are perfect for motivating readers of all ages!
This post may contain affiliate links. If you make a purchase, I may earn a small commission at no extra cost to you. As an Amazon Associate, I earn from qualifying purchases. Read more about these links in my disclosure policy.
What is Read Across America?
Read Across America is an initiative that began in 1997, created by the National Education Association (NEA). It is recognized annually on March 2, which is also the birthday of Dr. Seuss.
Schools across the nation participate by observing the unofficial "holiday" with a variety of activities. Some schools choose to extend the day into a Read Across America Week. NEA also considers the month of March to be National Reading Month.
While reading is important all year long, the goal of Read Across America is to spend a day celebrating reading, motivating kids to read and experience the joy books can bring.
Dr. Seuss Day
Read Across America coincides with the birthday of Theodore Geisel, also known as Dr. Seuss. Because of this, many educators choose to celebrate Dr. Seuss Day by reading his books and doing fun Dr. Seuss activities in the classroom.
While Dr. Seuss is a very popular choice for Read Across America Day, it isn't the only one! Read Across America can be celebrated with any book that children (and adults) love to read.
"Unless someone like you cares a whole awful lot, nothing is going to get better. It's not."

Dr. Seuss
Read Across America Activities
Through a variety of activities and events, we can show kids just how great reading can be! Here are some of my favorite activities for Dr. Seuss Day and Read Across America.
Activities for Preschoolers
Preschool reading typically focuses on print awareness, familiarity with a variety of print materials, and vocabulary expansion. Preschoolers also develop reading skills such as letter/sound identification, rhyming words, and early handwriting.
These activities expand on preschool literacy in such a fun way that little ones don't even realize they are learning!
Horton Hears a Who Craft (from Navigating Homeschool)
This activity is great for preschoolers but can be enjoyed by older kids as well. After reading Horton Hears a Who, have fun creating your own flower with a speck to protect! Lots of valuable lessons for kids to learn with this book.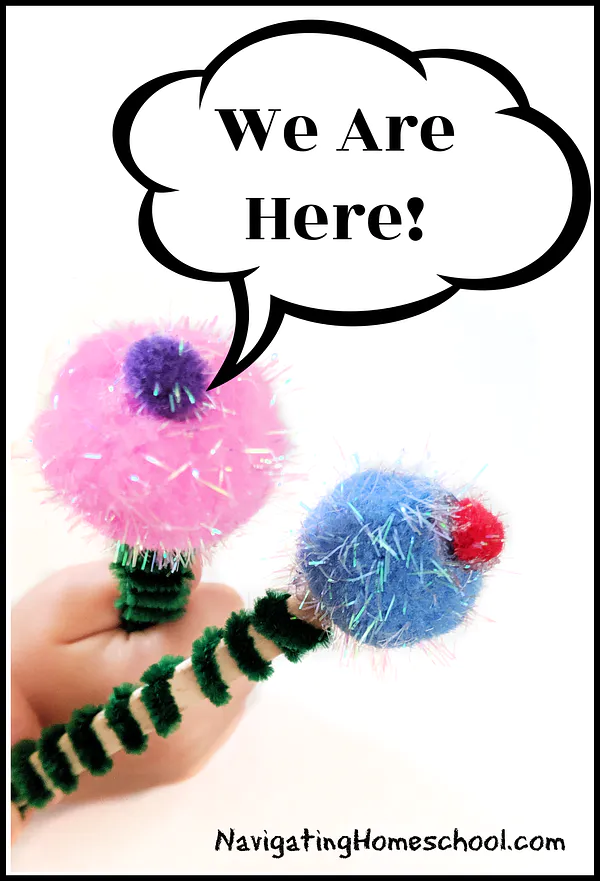 Pete The Cat Banana Craft (from Sarah Titus)
My kids love Pete the Cat books, and this banana craft is a great activity for Pete's Big Lunch! Kids will love snacking on bananas as they read, too!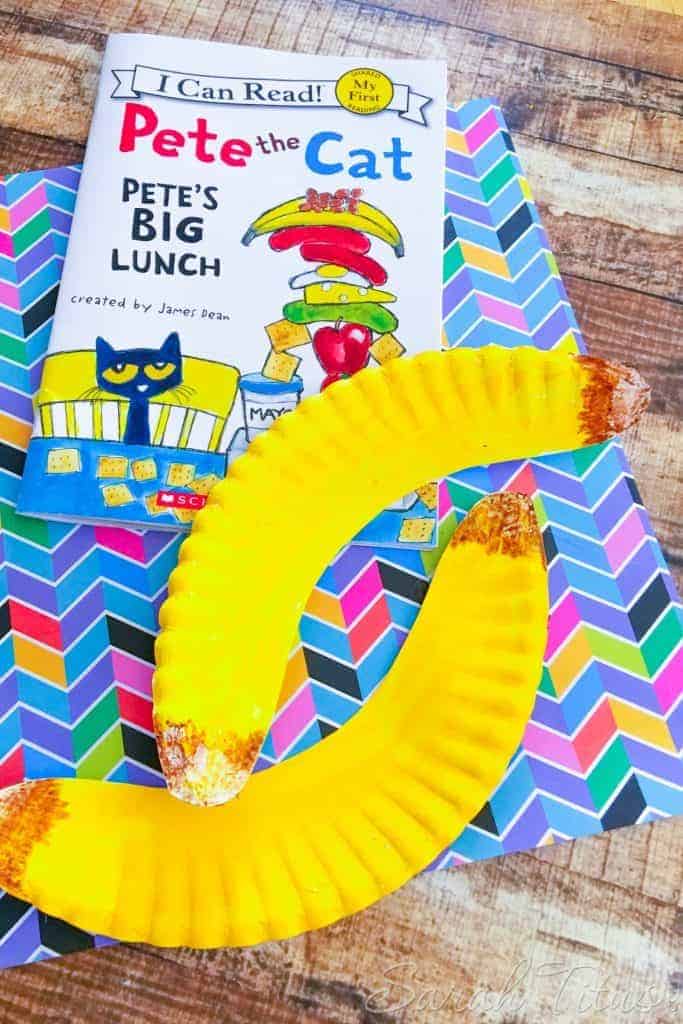 Fox in Socks Paper Bag Puppet Craft (from Simple Everyday Mom)
Print the fox template to create a Fox in Socks puppet for each child. After creating the puppets and reading the Fox in Socks book, you can use the puppets for an interactive lesson.
If the kids hear you say a pair of words that rhyme, they use their puppet to say "yes." If the words do not rhyme, the puppet has to shake his head "no." Great for checking understanding!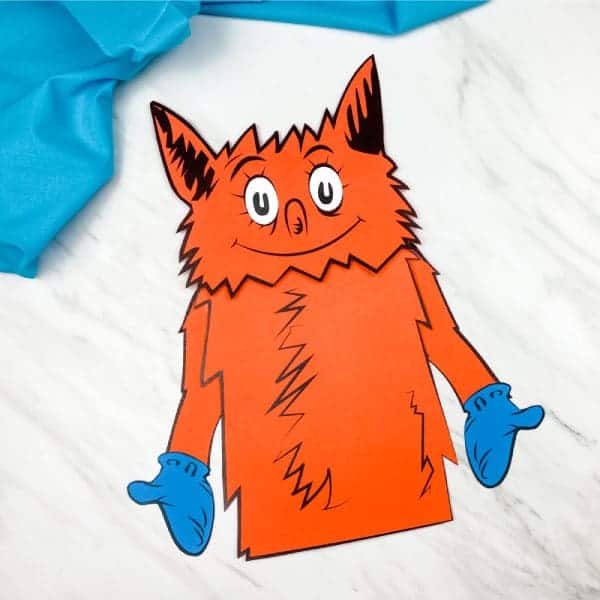 Have an ABC Party! (from Amanda Seghetti Blog)
Round up a variety of ABC books like Chicka Chicka Boom Boom, Arf Buzz Cluck, and A is for Apple. After reading books, play with different types of ABC activities – alphabet magnets, foam letters (get them damp and stick them on the windows), and alphabet puzzles.
Want to get active outside? Take sidewalk chalk and let the kids write as many letters as possible! Practice writing names, the alphabet, or try to copy words from a favorite book. (If it's a really nice day out, use a water squirter to write letters on the sidewalk too!)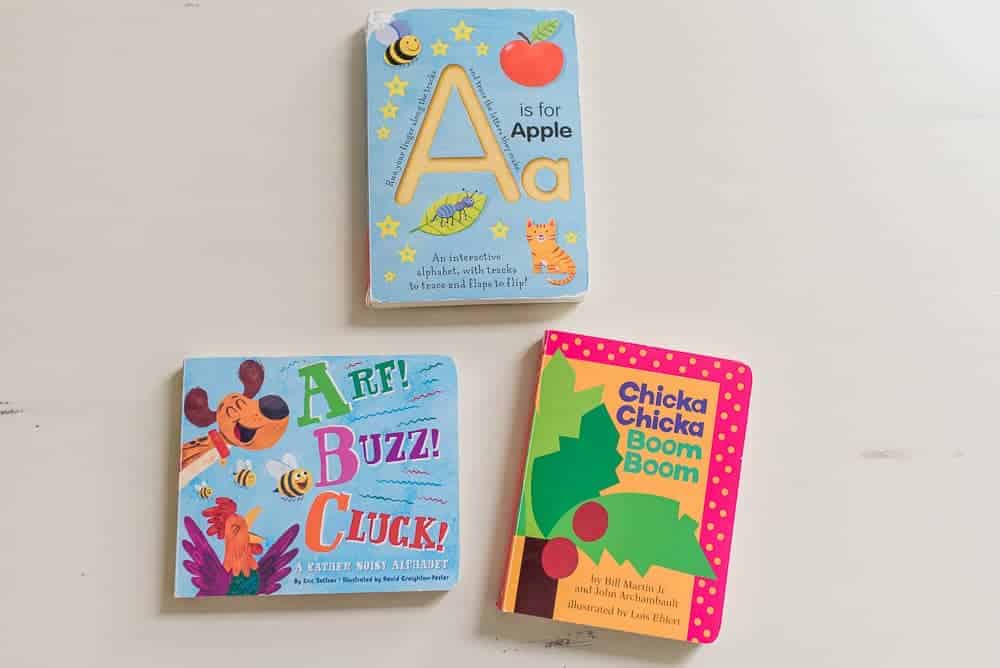 Read Across America Activities for Elementary School
In elementary school, kids are learning to turn letters and sounds into words, sentences, paragraphs, and more. They are understanding meaning from what they read.
Due to challenges with these rapidly growing skills, it can be easy for kids to get discouraged and learn to dislike reading. By providing support and a positive learning environment, we can help to keep kids on the path toward becoming successful readers.
Wear Dr. Seuss Hats While Reading (free printable from Simple Everyday Mom)
Print and wear The Lorax, Thing 1 & Thing 2, or Horton while you read your favorite Dr. Seuss books! Fun for any age, really.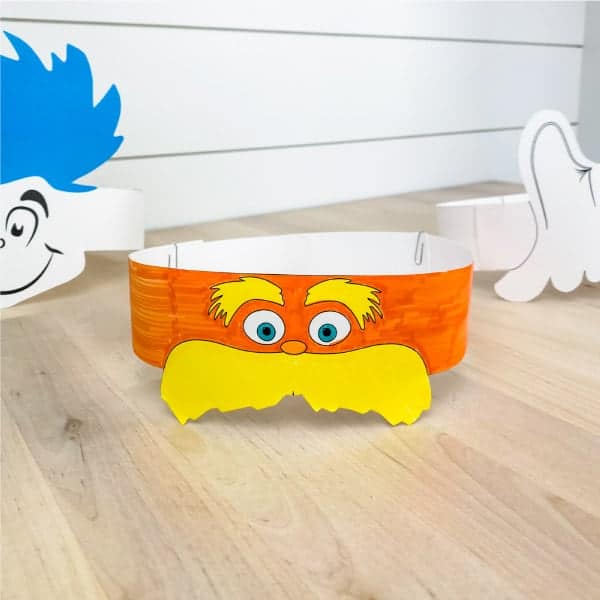 Dr. Seuss Super Reader Certificates (from California Unpublished)
Celebrate reading with this free printable reading log, punch cards, and Super Reader certificate kit. Kids love positive reinforcement!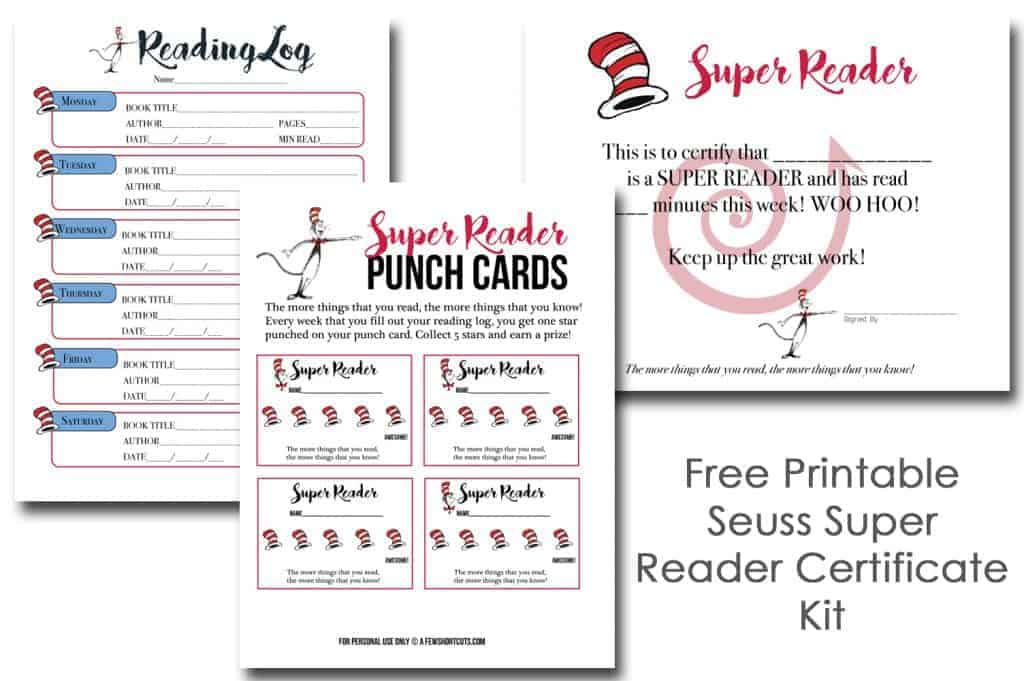 One Fish Two Fish Red Fish Blue Fish bag toppers (from The Suburban Mom)
Print these bag toppers and attach to a yummy treat for kids to snack while reading. Also can be used as a bookmark!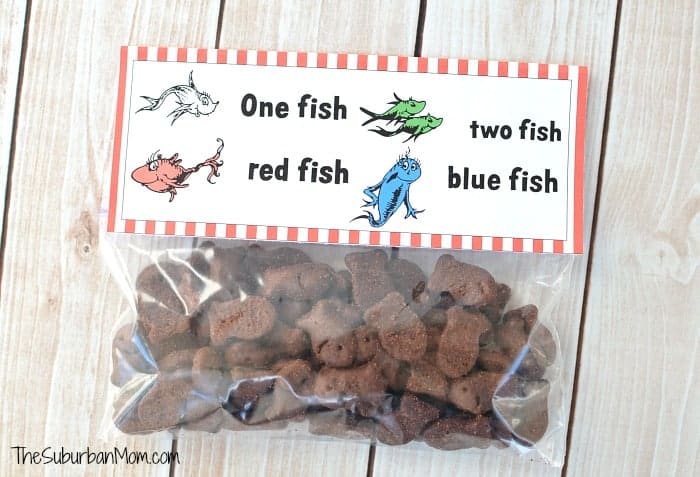 Activities for Middle School Read Across America Day
Even middle grade readers can enjoy Read Across America Day!
The Lorax Handmade Shirts and Treats (from Tonya Staab)
Print these fun t-shirt transfers and help students create a cool shirt. It not only quotes a favorite book but reminds middle schoolers of an important message! They can "wear" their mustache pops while devouring a good book.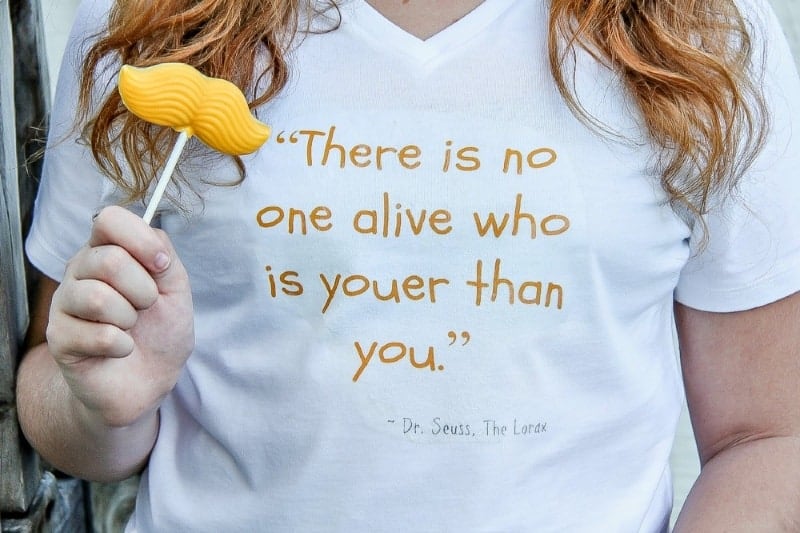 Not able to print and iron? Pass out stencils and permanent markers for students to create their own quotable tees.
Color Changing Galaxy Lemonade (from In The Kids Kitchen)
This delicious Galaxy Lemonade was made to pair with STEM-focused book Sanity & Tallulah. However, it can easily be a refreshing beverage served along with any book having a planetary focus!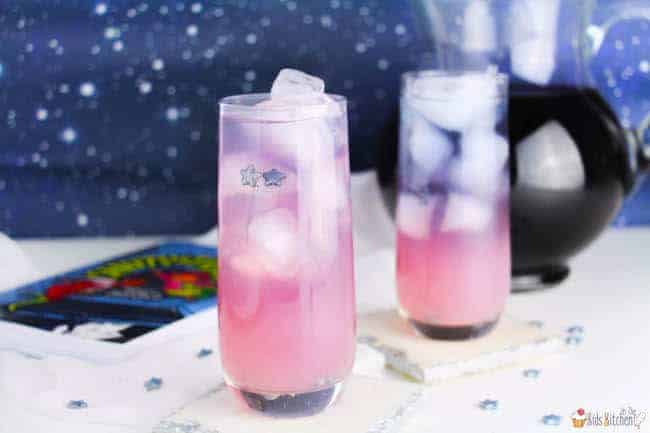 Percy Jackson Word Search (from The Soccer Mom Blog)
We've had Percy Jackson book lovers in my house for the past 10 years, and these books are still as popular as ever. Percy struggles with dyslexia, an issue that many students also deal with today. Print this word search for kids to enjoy after reading the books!
Read Across America Activities for High School
While high school students typically have solid reading skills, there are still ways for them to participate in Read Across America Day.
Have students act out a scene from their favorite Dr. Seuss book or other book. For a fun twist – have them perform as if the character was written by Shakespeare.
Use computer programs to create a teaser trailer for a book, to encourage classmates to read it. No spoilers!
Sharing is caring! Take a field trip to the elementary school and share your love of reading with the younger kids. They are always in awe of the "big" high schoolers, and the older students really enjoy it too.
Start a Little Free Library in the community. Have students donate books and set everything up. Could be a great community service project!
Homeschool Activities for Read Across America
Read Across America isn't just a school-based activity. It's great for homeschooling parents too – and there are lots of fun activities that can't easily be done at school!
Cat in the Hat Cupcakes (from Hunny I'm Home DIY)
Read the Cat in the Hat book with the kids and then work together to bake some yummy cupcakes! Work on patterns, colors, and counting as you stack the bananas and strawberries to make the hat.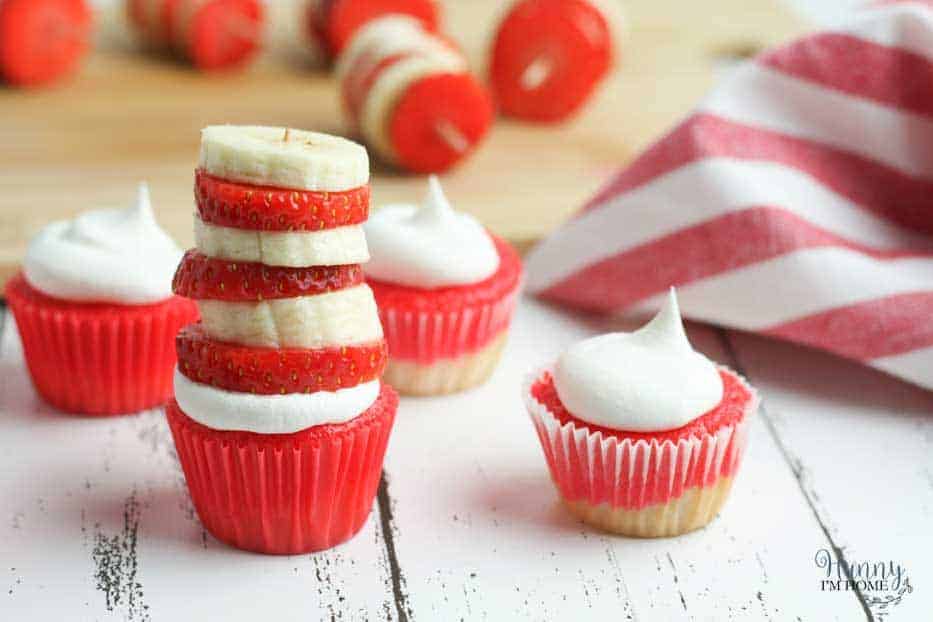 Green Eggs and Ham Snack and Activity (from Daily Momtivity)
Kids will want to eat these green eggs in a box, with a fox, in a boat and with a goat! After reading and snacking, there's a fun paint stamping activity that little hands will enjoy.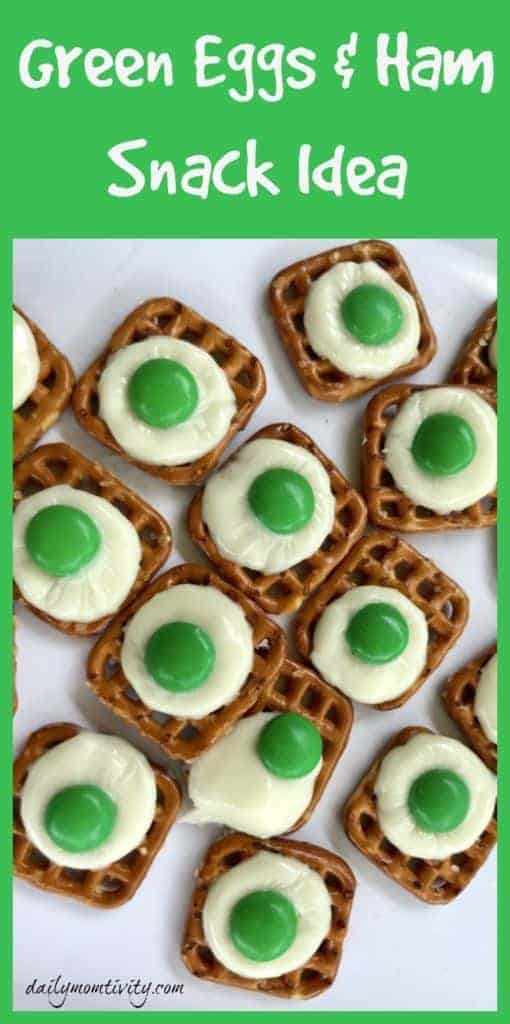 Lorax Felt Story Board (from Mod Podge Rocks!)
I included this activity in the homeschool section just because it may be a little more involved than elementary teachers have time for. Which is too bad, because it would make a great sequencing activity for primary readers!
This felt story board makes it easy for kids to change out scenes to match different parts of The Lorax story. Great for discussing characters, setting, and sequence of events after reading!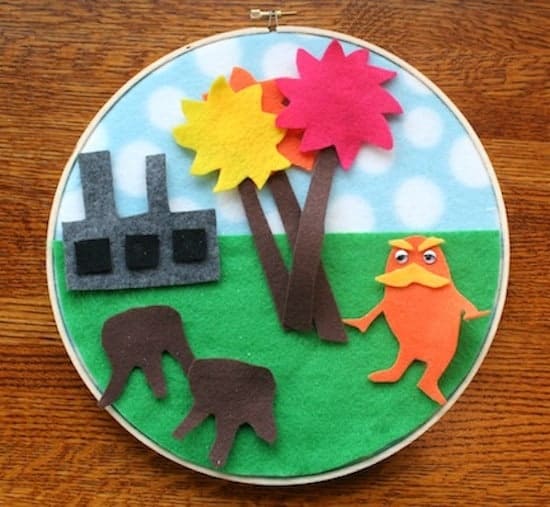 Book Bag Sewing Pattern (from Sew Simple Home)
There are SO many learning activities involved in sewing, and with this free pattern you and your kids can make a reversible book bag!
After you make your bag, head over to the library and fill it up with lots of new books to read!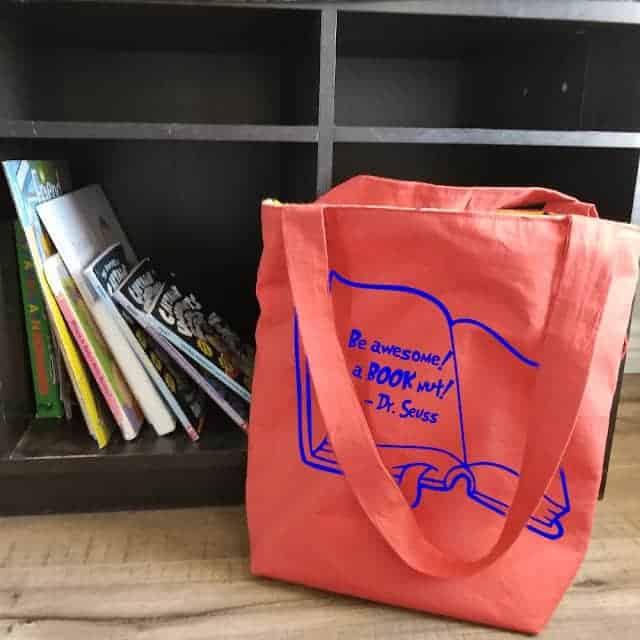 Read Across America Activities for All Ages
There are too many activities that just don't fit in one category, so I'm listing them all here:
Dress up as your favorite book character
Fox in Socks Day – wear wacky socks
Learn a new vocabulary word – use it as often as possible
Gather the funniest books you can find and encourage students to read and vote on a winner
Fill the room with all kinds of text – fiction, nonfiction, plays, poetry, joke books, magazines – and just read!
Get out of the classroom. Read outside. Read to a friend.
If you must stay inside, get out of your seat. Lie on pillows, beanbags, or the floor. Snuggle into a corner with a flashlight and read.
Invite community members in to read to the class- kids love police, fire fighters, and people they see on billboards! Even having the custodian or lunch personnel is fun.
Create a different ending or alternate point of view to a favorite story (similar to The True Story of the Three Little Pigs)
Teachers decorate classroom doors to represent a favorite book
Visit the library. Stay a while and read some books without judging them by their covers.
(and one of the most important ones) Moms, Dad, and Teachers – model reading for the children! The best way to encourage children to read is to show them that we enjoy it too!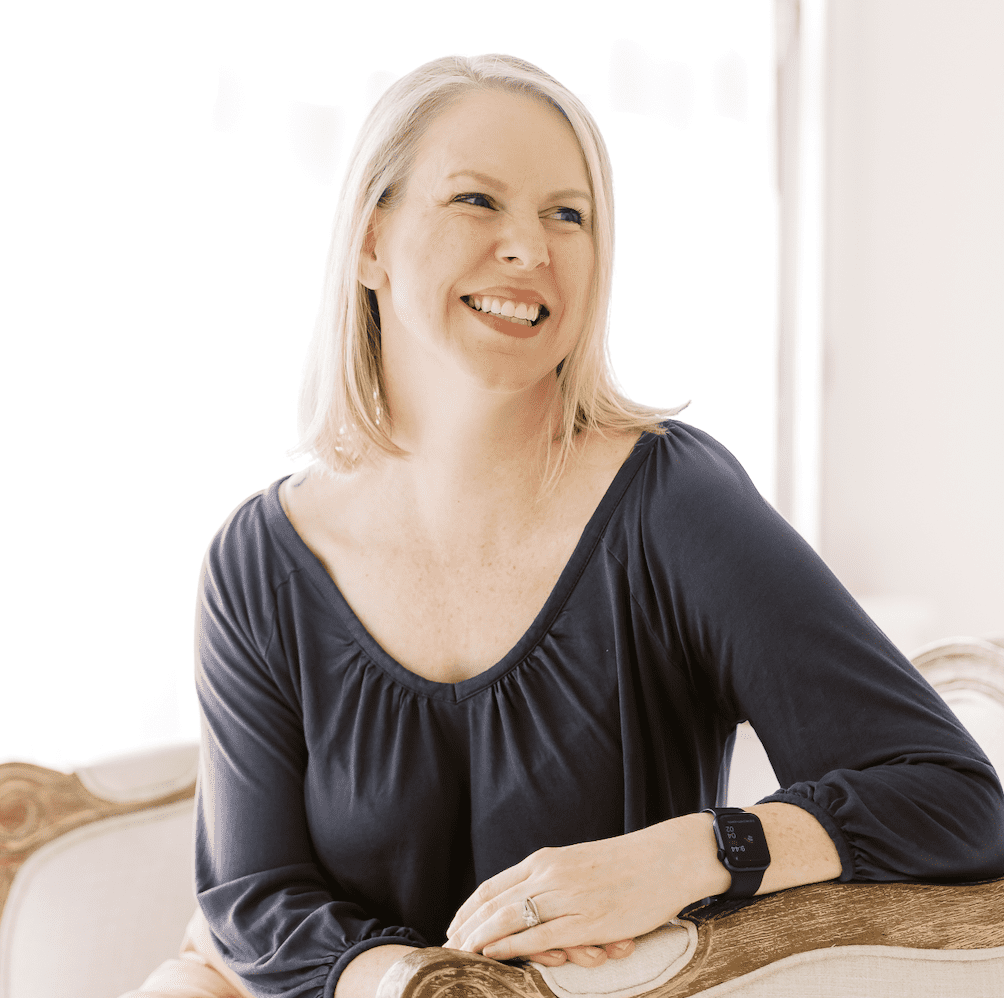 MEET THE AUTHOR
Amanda
As a mom of 4 kids (and the oldest of 4 kids herself), Amanda has over 30 years of parenting experience. A former special education teacher, Amanda has a Master's degree in Special Education and a second M. Ed. in Educational Leadership.
When she's not working, Amanda enjoys DIY projects, exercising, photography, and long walks through Target.
You can find Amanda on all social media at @parentingnestblog and @amandaseghetti