51 Groovy Show and Tell Letter G Ideas
I created all of my Show and Tell A-Z lists when I realized I was struggling to think of things for my preschooler to share each week. Here are all of my show and tell ideas for letter G – so you don't have to scramble at the last minute too!
Tips for Finding Show and Tell Items
When I try to think of items for show and tell, I try to go through various categories of things we have in our house:
animals
books
food/drinks (real or pretend)
TV/movie characters
family member names (to send a picture)
If all else fails, I send a foam letter from our bathtub toys or a letter from a wooden alphabet puzzle.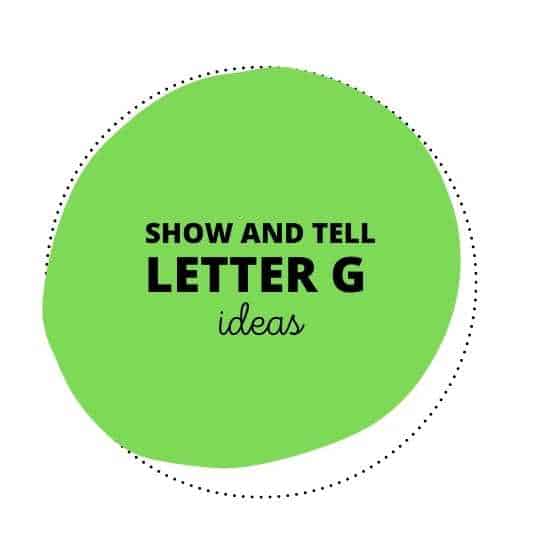 Ideas for Show and Tell Letter G
Here are all of my ideas for things that begin with G (that you may find in your home):
Animals that begin with letter G
You may have stuffed animals, plastic animals, or books with these creatures:
goose (maybe even Mother Goose)
gecko
goat
greyhound
giraffe
guppy
goldfish
gorilla
gator (it's a stretch, I know – but maybe you're a Florida Gators fan?)
Books that feature the letter G
Food and drinks that begin with the letter G
Check with your child's teacher before sending real food or drinks to school.
Goldfish crackers
grapes
grape juice
Gatorade
Ghirardelli chocolates
Garbanzo beans
Go-Go Squeez applesauce pouch
gingerbread cookies
gum
gummy worms or gummy bears
TV/Movie characters that begins with letter G
Goofy
Gekko (PJ Masks)
Gonzo (Muppet Babies)
Geo (Team Umizoomi)
Grover (Sesame Street)
Gambit (X-Men)
Common Names that begin with G (for photos of family members)
Grandma
Grandpa
grandparents
Greg
George
Gwen
Other possible words for show and tell that begin with G
Check your toybox or closets for these items:
gloves
gardening gloves or tools
gift or gift bag
gypsum (if you collect rocks and minerals)
gate (from toy farm set)
girl doll
ghost (check your Halloween decor)
garbage (use your own discretion here)
game
golf ball
golf tee
geranium
guitar (Loog kids' guitars are great!)
glasses
Georgia Bulldogs
gallon jug (like an empty milk jug)