61 Fab Show and Tell Letter F Ideas
I created all of my Show and Tell A-Z lists when I realized I was struggling to think of things for my preschooler to share each week. Here are all of my show and tell ideas for letter F – so you don't have to scramble at the last minute too!
Tips for Finding Show and Tell Items
When I try to think of items for show and tell, I try to go through various categories of things we have in our house:
animals
books
food/drinks (real or pretend)
TV/movie characters
family member names (to send a picture)
If all else fails, I send a foam letter from our bathtub toys or a letter from a wooden alphabet puzzle.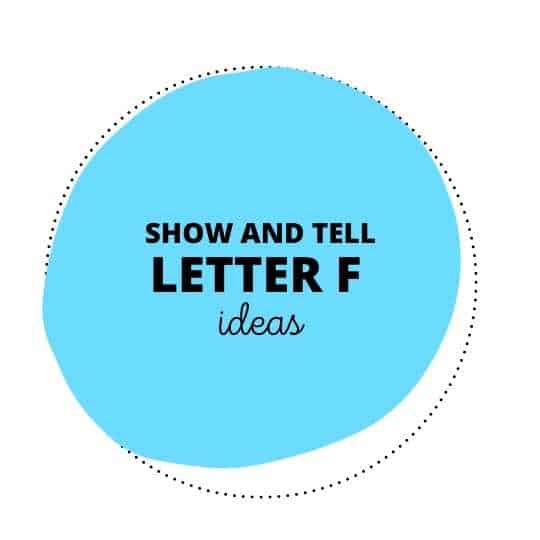 Ideas for Show and Tell Letter F
Here are all of my ideas for things that begin with F (that you may find in your home):
Animals that begin with letter F
You may have stuffed animals, plastic animals, or books with these creatures:
fox
fawn (baby deer)
fish
flamingo
frog
falcon (or the Atlanta Falcons)
Books that feature the letter F
Food and drinks that begin with the letter F
Check with your child's teacher before sending real food or drinks to school.
fish
fish sticks
Fruit Loops
Frosted Flakes
falafel
fries
Fanta
Fuji apples
fig
Fig Newton
fruit
TV/Movie characters that begin with letter F
Fozzie (Muppet Babies)
Flynn Rider (Tangled)
Lord Faquaad or Fiona (Shrek)
Fancy Nancy
Phineas and Ferb
Figaro (Minnie Mouse's cat)
Fix It Felix (Wreck It Ralph)
Flounder (The Little Mermaid)
The Flash
Forky (Toy Story 4)
Common Names that begin with F (for photos of family members)
Frank
Fiona
Felicity
Fred
Francis
family
friend
Other possible F words for show and tell
That really sounds bad, doesn't it? Haha oh well. Check your toy box or closets for these items:
frisbee
Frozen
France
flowers
fly
foot
fur
flashlight
fiddle
fan
folder
feather
fork
fidget spinner
football
fairy
firetruck
firefighter
flag
fountain
farmer
finger puppet