63 Marvelous Show and Tell Letter M Ideas
I created all of my Show and Tell A-Z lists when I realized I was struggling to think of things for my preschooler to share each week. Here are all of my show and tell ideas for letter M – so you don't have to scramble at the last minute too!
Tips for Finding Show and Tell Items
When I try to think of items for show and tell, I try to go through various categories of things we have in our house:
animals
books
food/drinks (real or pretend)
TV/movie characters
family member names (to send a picture)
If all else fails, I send a foam letter from our bathtub toys or a letter from a wooden alphabet puzzle.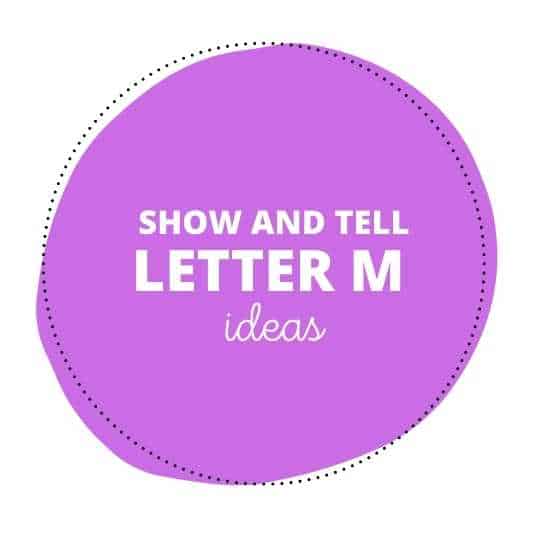 Ideas for Show and Tell Letter M
Here are all of my ideas for things that begin with M (that you may find in your home):
Animals that begin with letter M
You may have stuffed animals, plastic animals, or books with these creatures:
monkey
macaw
moth
mosquito
manatee
meercat
marmot
muskrat
mouse
moose
mule
macaroni penguin
Books that feature the letter M
Food and drinks that begin with the letter M
Celebrate the letter of the week with yummy snacks and drinks that start with that letter! Check with your child's teacher before sending real food or drinks to school.
muffins
mint
macadamia nuts
marshmallows
mushrooms
mandarin oranges
M&Ms
Milky Way
mango
maple syrup
melon
miso
molasses
milk
mozzarella
marmalade
TV/Movie characters that begin with letter M
Mailbox and Magenta (from Blues Clues)
Mickey Mouse
Minnie Mouse
Marshall (Paw Patrol)
Millie (Team Umizoomi)
Ming Ming (Wonder Pets)
Miss Piggy
Maleficent
Common Names that begin with M (for photos of family members)
Michael
Michelle
Morgan
Mason
Mom
Other possible M words for show and tell
Check your toy box or closets for these items:
mittens
muffin pan or paper muffin cups
mustache
mop
movie
mask
mug
man (plastic toy)
mom (from a Little People set or toy family)
moon
mat
mail
mud (really check with the teacher before sending mud to school haha! – but making mud could be a cool science/sensory activity)
map
magazine
magnolia blossoms or leaves (for you southerners)
miniature
Micro Machines
magnifying glass