80+ Super Show and Tell Letter S Ideas
I created all of my Show and Tell A-Z lists when I realized I was struggling to think of things for my preschooler to share each week. Here are all of my show and tell ideas for letter S – so you don't have to scramble at the last minute too!
Tips for Finding Show and Tell Items
When I try to think of items for show and tell, I try to go through various categories of things we have in our house:
animals
books
food/drinks (real or pretend)
TV/movie characters
family member names (to send a picture)
If all else fails, I send a foam letter from our bathtub toys or a letter from a wooden alphabet puzzle.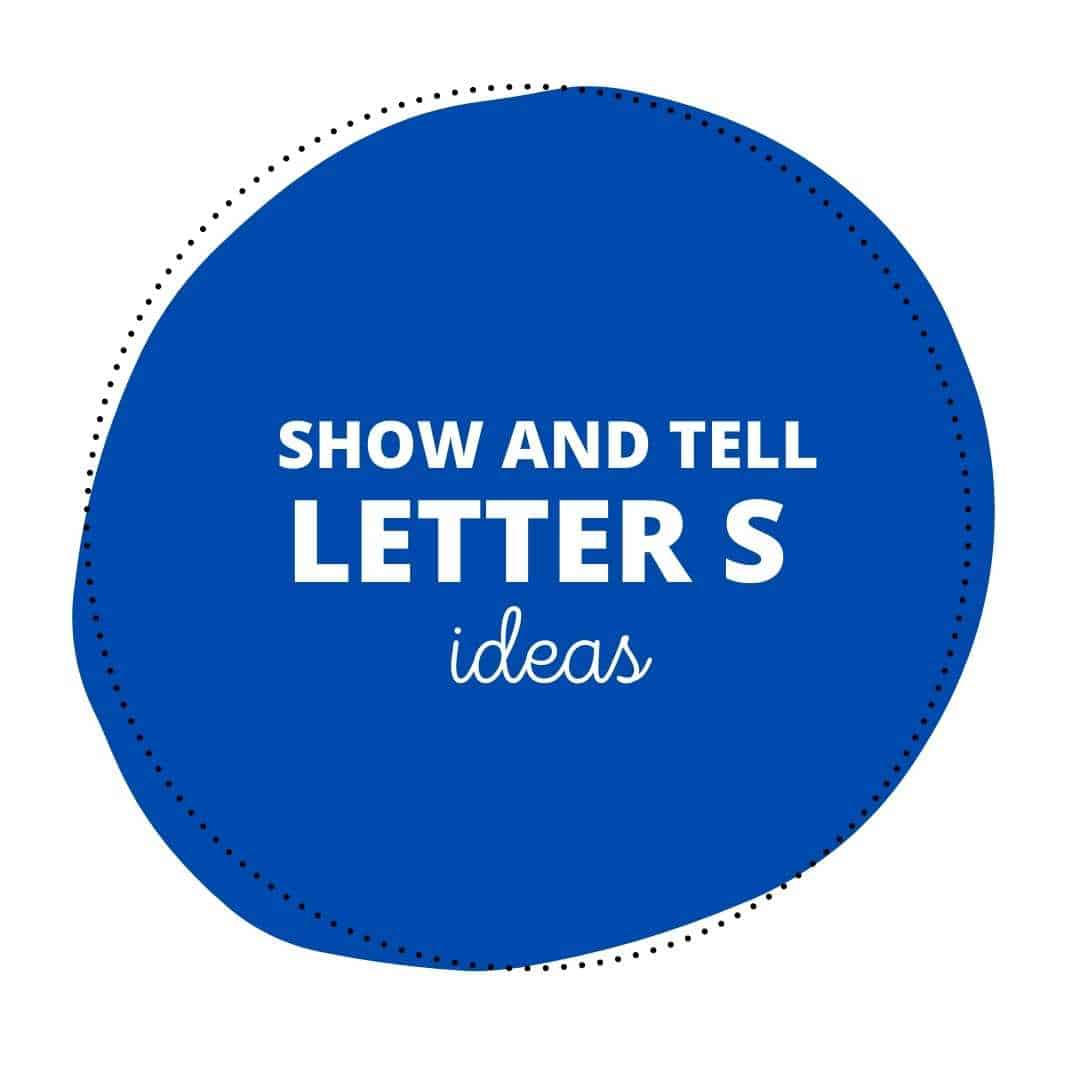 This post may contain affiliate links. If you make a purchase, I may earn a small commission at no extra cost to you. As an Amazon Associate, I earn from qualifying purchases. Read more about these links in my disclosure policy.
Ideas for Show and Tell Letter S
Here are all of my ideas for things that begin with S (that you may find in your home):
Animals that begin with letter S
You may have stuffed animals, plastic animals, or books with these creatures:
Snake
Snail
Squid
Sheep
Seahorse
Sloth
Skunk
Squirrel
Shrimp
Salmon
Sardine
Sea Star
Swan
Books that feature the letter S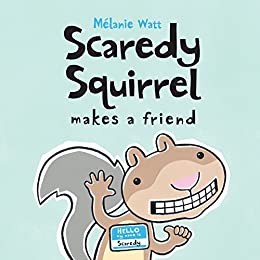 Food and drinks that begin with the letter S
Check with your child's teacher before sending real food or drinks to school.
Sprite
Sierra Mist
Salmon
Sausage
Salad
Strawberry
Sweet Potato
Soup
Salami
Sandwich
Squash
Syrup
Salt
Sesame seeds
Sunflower seeds
Sunbutter
Soy beans
TV/Movie characters that begin with letter S
WOW, there are a lot!
Snow White
Sven from Frozen
Sponge-Bob
Spiderman
Superman
She-Ra
Skye from Paw Patrol
Snoopy from Peanuts
Shrek
Shaggy from Scooby Doo
Scooby Doo
Sleeping Beauty
Sebastian from The Little Mermaid
Sofia the First
Stitch from Lilo and Stitch
Simba from the Lion King
Scrat From the Ice Age
Steve, Slippery Soap, Side Table Drawer, and Mr. Salt from Blues Clues
Shimmer and Shine
Names that begin with S (for photos of family members)
Sophia
Shaun/Sean/Shawn
Sherry
Shiela
Samuel
Sebastian
Scarlett
Savannah
Serenity
Sarah
Sawyer
Spencer
Santiago
Silas
Stephen
Seth
Shelly
Other possible S words for show and tell
Check your toy box or closets for these items:
Shoe
Sack
Stick
Sorry board game
Sticker
Star
Slinky
Submarine
Soccer ball
Seashell
Sunflower
Scissors
Seaweed
Scarf
Smiley face emoji
Seeds (birdseed or garden seeds)
Shirt
Seven card
Stress ball
Sponge
Super Hero
Sock
Sunglasses
Spoon
Soot
Sprinkles
Shaker
Sounds (make sound with an instrument maybe?)
Scarecrow
Spade (either the tool or a playing card)
See more toys that start with S here!
Get a head start on next week! See our full list of Show and Tell Ideas from A to Z here!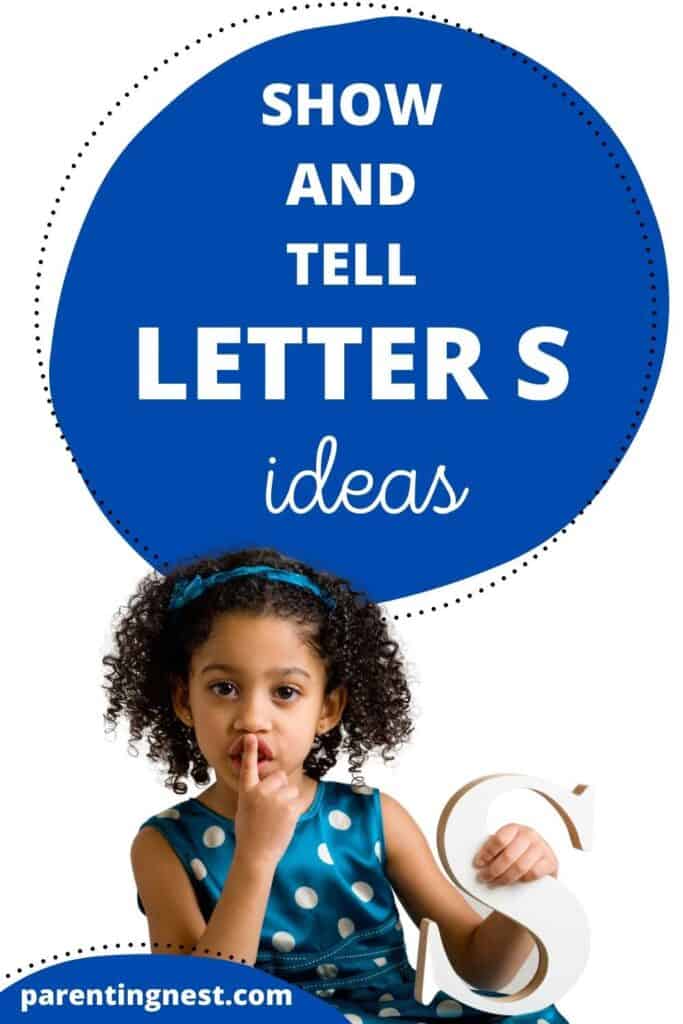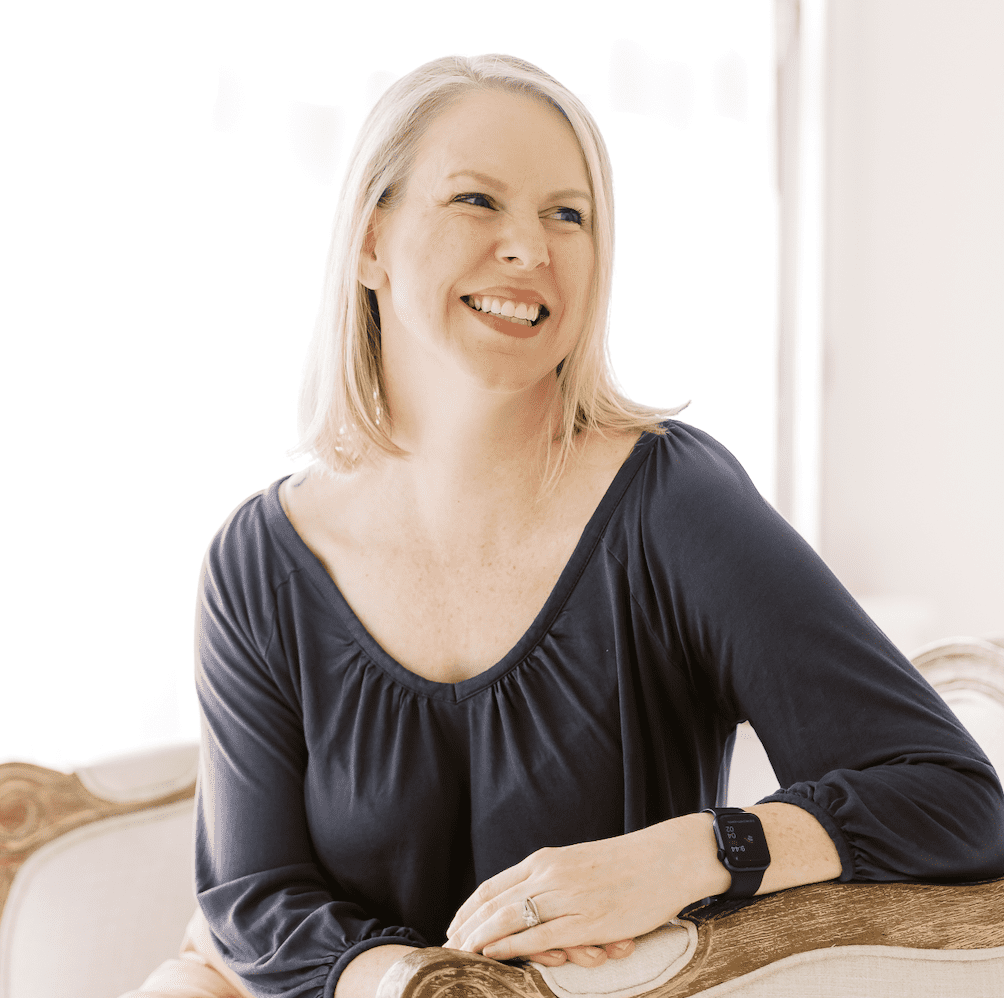 MEET THE AUTHOR
Amanda
As a mom of 4 kids (and the oldest of 4 kids herself), Amanda has over 30 years of parenting experience. A former special education teacher, Amanda has a Master's degree in Special Education and a second M. Ed. in Educational Leadership.
When she's not working, Amanda enjoys DIY projects, exercising, photography, and long walks through Target.
You can find Amanda on all social media at @parentingnestblog and @amandaseghetti