57 Handy Show and Tell Letter H Ideas
I created all of my Show and Tell A-Z lists when I realized I was struggling to think of things for my preschooler to share each week. Here are all of my show and tell ideas for letter H – so you don't have to scramble at the last minute too!
Tips for Finding Show and Tell Items
When I try to think of items for show and tell, I try to go through various categories of things we have in our house:
animals
books
food/drinks (real or pretend)
TV/movie characters
family member names (to send a picture)
If all else fails, I send a foam letter from our bathtub toys or a letter from a wooden alphabet puzzle.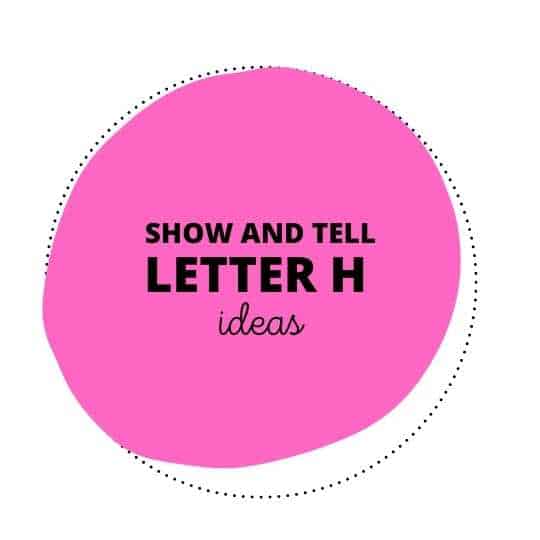 Ideas for Show and Tell Letter H
Here are all of my ideas for things that begin with H (that you may find in your home):
Animals that begin with letter H
You may have stuffed animals, plastic animals, or books with these creatures:
horse
hippopotamus
hamster
hedgehog
hawk (or an Atlanta Hawk)
husky dog
hornet (leave the real ones alone!)
hyena (also characters in The Lion King)
hummingbird
Books that feature the letter H
Harry Potter (not quite a preschool book, but kids love to carry around older siblings' big chapter books!)
A House for Hermit Crab by Eric Carle
Food and drinks that begin with the letter H
Check with your child's teacher before sending real food or drinks to school.
hamburger
hot dog
ham
honey
honey bun
honeydew melon
Hellmann's Mayo
Hershey's Chocolate
Honest Kids juice pouches
TV/Movie characters that begins with letter H
Hei Hei (Moana)
Hamm (Toy Story)
Han Solo (Star Wars)
Hissy (Puppy Dog Pals)
Homer Simpson
Hello Kitty
Hulk
Hannah Montana
Harry Potter
Hermione Granger (from Harry Potter)
Common Names that begin with H (for photos of family members)
Hannah
Hunter
Hayden
Haley (so many variations of that name, so I just picked one!)
Other possible words for show and tell that begin with H
Check your toybox or closets for these items:
heart
house
Hot Wheels car
Hatchimals
helicopter
helmet
hospital gown or bracelet (from toy doctor kit?)
hat
hula hoop
highlighter
hairbrush
headband
hair bow
halo
horn
hammer (a toy hammer, of course)
herbs
Hurricanes (University of Miami gear)
hexagon (from a shape puzzle)
hay