5 Best Bedside Cosleepers for Newborns
Being a mother is tough with all the responsibilities that come along with it. You need to be aware of your baby's demands without him even saying a word. The one thing your babies will ask for the most is to stay close with you throughout infancy. Well, the most you can do is to buy them the best bedside cosleepers available in the market.
A bedside cosleeper will save you from all the hassle of getting up to hold your baby. You can feed your newborn, play at any given time, easily change a diaper in the middle of the night – all within reach from your comfy beds. Sounds so peaceful right?
If you want to sleep close to your baby without sharing a bed, a cosleeper that attaches to your bed is what you need. Here are our top recommendations for the 5 best bedside cosleepers.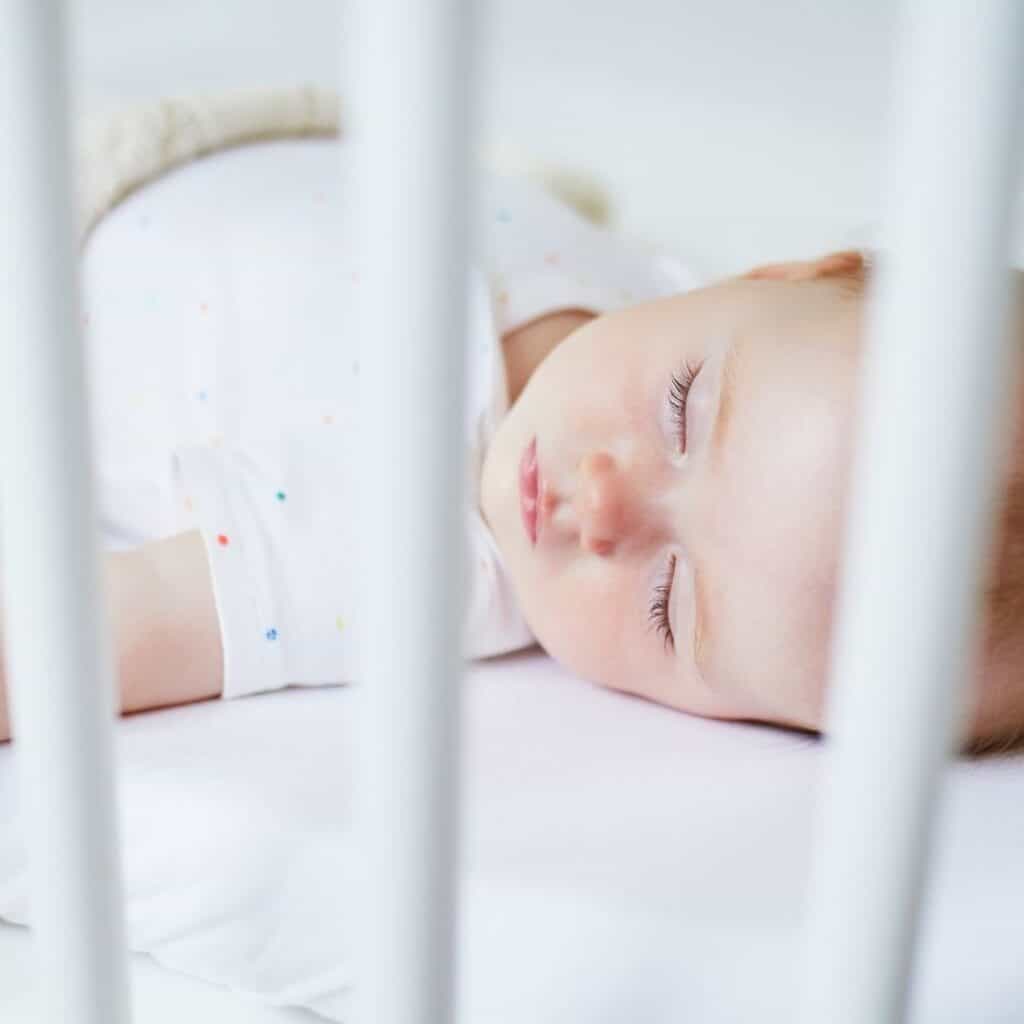 Make sure to check out our tips for cosleeping safely!
This post may contain affiliate links. If you make a purchase, I may earn a small commission at no extra cost to you. As an Amazon Associate, I earn from qualifying purchases. Read more about these links in my disclosure policy.
---
Mika Micky Bedside Sleeper Easy Folding Portable Crib
On a tight budget? This Mika Micky Bedside Sleeper Easy Folding Portable Crib would make the best choice for you among all the bedside cosleepers. It is sturdy enough to last for a longer period, which gives you the advantage of using it for other kids as well. It's a simple and inexpensive solution for all your concerns making it one of the best bedside cosleepers.
With dimensions of 37.5 x 24.5 x 6.3 inches, it bears the perfect size that fits in your bedroom pretty well. It easily moves through the doorways with the wheels rolling smoothly. The wheels also have a safety lock allowing you to keep the cosleeper safely in place.
The simple and straightforward zipping operation makes the assembly effortless. The side panel can easily be dropped down to be attached to the bed. And the safety straps add on to the security this portable crib has to offer. These fastening straps make it possible to attach or detach the crib with the bed. There is a stable bottom that can slide under your bed to keep your baby even closer to you.
You have seven options to choose from when adjusting the height, varying from 13 to 21 inches high. The two mesh sides offer maximum breathability, and the cozy mattress ensures both of you get peaceful sleep at night.
You might find the pads a little hard, so if that happens, we suggest you buy a separate mattress wedge to fit under the mattress.
The manufacturers recommend you discontinue using the crib when the baby is five months old, or when he weighs 33 pounds and as soon as your child learns to sit upright.
Pros
Easy to attach and detach
Two convenient side pockets
Adjustable height
Breathable
Cons
The mattress is not very comfortable so you may have to buy a separate cushion for under the mattress pad.
Possible suffocation hazard if the baby scoots over the non-mesh side.
---
Baby Delight Bedside Me Dreamer Bassinet & Bedside Sleeper
If you are looking for something with no added frills and complexities this simple yet aesthetically designed bedside cosleeper would be your finest selection.
The ultimate Baby Delight Bedside Me Dreamer Bassinet & Bedside Sleeper saves you from all the physical troubles of motherhood. It's solid structure, and beautiful grey color contrasts well with the house. Well, the features will impress you as much as the looks of this cosleeper. 
The quick transformation from a bedside cosleeper to a standalone bassinet is just outstanding. You can turn it into a bassinet and leave the baby in it for nap time. And when it's time to co-sleep at night, you can easily turn it back to a bedside sleeper.
It's dimensions are generous, around 37 x 22.5 x 30.8 inches when fully set up. With this much area, your baby will enjoy rolling inside his own private space. Not just the baby, but you will have fun playing with your child with the mesh walls that offer supreme visibility and breathability.
The six-point height adjustment system (18 inches on tallest settings) keeps this bedside cosleeper aligned with your bed. You can easily nurse, play, or just quickly check up on him without getting up from the comfort of your bed. In addition, the fastenable straps secure well with your bed, providing safe and comfortable sleep for your child.
Even though there are no wheels, this two-in-one bedside sleeper is very lightweight which makes it mobile and easy to carry around. The maximum recommended weight by the manufacturers is 40 pounds. Your kid can make the most of it only until he is six months old and starts to sit upright. But overall for the price, where most other bedside cosleepers lag, this one offers excellent value for the money.
Pros
Lightweight
Adjustable Height
Easy to assemble
Can function as a stand-alone bassinet too
Cons
It folds up but not to a convenient travel size
---
Milliard Bedside Bassinet Side Sleeper Portable Infant Crib
This dual functional Milliard Bedside Bassinet Side Sleeper Portable Infant Crib has two modes that you can switch on. This option allows you to turn this bedside cosleeper into a standalone bassinet in no time. 
Milliard portable crib has some fantastic features to offer that makes it one of the best bedside cosleepers. For safety, this bedside bassinet is lab tested and proved to meet all the US safety standards. Quick assembly will save you a lot of time and effort, as it only takes around 15 minutes to set it up without any tools.
This cosleeper allows you to adjust the height to keep your baby at eye level. It can align well with beds that are up to 31 inches high if you measure from the ground to the top of the adult mattress. On its lowest settings, it can side perfectly with a bed of 23 inches in height from the ground level.
The cover and the sheets are waterproof for quick and easy clean up, and machine washable too.
The side pockets attached to the crib keep all your newborn essentials close at hand. The dimensions are excellent, about 42.4 x 24.2 x 4.9 inches, you can even fit a year old child inside. However, the manufacturers recommend to use it till your child weighs up to 20 pounds, or up to six months.
Pros
Height Adjustable
Waterproof sheets
Inexpensive
Safe to use
Cons
No mesh sides
Sheet is waterproof but made up of plastic
---
HALO BassiNest Swivel Sleeper, Bedside Bassinet Premiere Series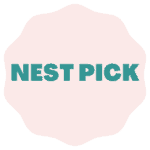 Who doesn't know about HALO that has been introducing newest and upgraded models in the market and always makes it to the top?
This HALO BassiNest Swivel Sleeper, Bedside Bassinet is the most advanced bedside bassinet with features that even the very best bedside cosleepers lack.
The waterproof, non-toxic mattress with the well-fitted polyester sheet makes cleanup easy and painless. It offers a huge space (dimensions: 37.6 x 18.1 x 10.8 inches) for your baby to toss around freely. The frame is strong and sturdy, keeping your baby secure and safe all night.
The HALO has something other cosleepers don't – the 360-degree swivel. With this feature, you can freely rotate the crib around and tend to your baby without making much effort. The storage pockets add on to the super handy features of this product.
Even though it doesn't have a zippered side panel, the patented sidewalls allow you to slightly lower them down when it's time to nurse the baby. You can set it straight back when the feeding time is up.
This bedside cosleeper easily adjusts to the bed heights ranging from 22 to 34 inches high. Just pull it over and check up on the baby at night without disturbing his sleep. And don't worry about the base; it is supportable and slides under the bed keeping your kid even closer and safer.
As if that wasn't enough, the soothing center puts your child to sleep with sweet dreams. This soothing center offers:
Four soothing sounds
Two levels of gentle vibrations
Nightlights and floor lights
The HALO is a step ahead of all the best bedside cosleepers, which is why we named it a Nest Top Pick! It will cost you a little more, but we assure you it will be worth every penny.
Pros
Has a soothing center
Adjustable height
Swivels to keep your child closer
Easy assembly
Cons
More expensive than the others
Heavier weight
Conclusion
So you see how a bedside cosleeper is a necessity, especially for a mom recovering from cesarean. You can take care of your child without any security concerns. These were the best bedside cosleepers that are currently on the market. All the features, brilliant designs, and easy assembling provide a peaceful environment for your kids to sleep in.
Before buying a bedside cosleeper for your newborn, keep a few things in mind. The bed frame should be strong and sturdy to hold your baby plus the weight of the mattress itself. Any adjustable parts must have safety locks, and it shouldn't be wobbly when you place your child inside.
Really, it's all about security and comfort for both you and your child. So make sure you get a bedside cosleeper that is equipped with all the essentials and doesn't compromise on quality.
Hopefully our research helps to make the decision easier for you, and we hope that you have a clear understanding of all the best bedside cosleepers to choose from. Happy parenting!