Best Bassinets For Twins | Twin Bassinet Reviews
Blessed with newborn twins but clueless about your next move for a bedside sleeper or bassinet? Don't worry, we have got you covered.
We understand how difficult it can be to raise the twins physically as well as financially. And well, let's not even mention how hard it is to put a child to sleep. With the twins, it can be a parent's nightmare. Well here is a tip: for you to sleep in peace, first your newborn babies must first go to sleep.
To help you as a new parent out, we have found and reviewed some of the best bassinets for twins (so you don't have to!). Of course there are single bassinets out there, but why buy separate bassinets when you can get a great option made specifically for twins?
With five great options to fit your budget, you'll all be able to rest well at night!
This post may contain affiliate links. If you make a purchase, I may earn a small commission at no extra cost to you. As an Amazon Associate, I earn from qualifying purchases. Read more about these links in my disclosure policy.
Many of these items are available with Amazon Prime's fast free shipping (often arriving in just one or two days!). If you're not already a Prime member, you can get a 30-day FREE trial of Amazon Prime here!
---
The 5 Best Twin Bassinets for Twin Babies
Baby Trend Go Lite Twins Nursery Center
This twins playard designed bassinet is the perfect solution for your 12-30 pound infants. Let's highlight the features of this Baby Trend Nursery Center bassinet and see if it really is one of the best bassinets for twins.
The removable rock-a-bye styled bassinet allows you to remove either of the bassinets. For example; when you need to feed one kid while the other sleeps.
The plush fabric makes sure that your child gets the maximum ventilation possible throughout the day. Moreover, the bassinets are covered with a canopy protecting from the sunlight. You don't need to worry about carrying it when going around. The handle attached to the basket is solely installed for a comfortable carriage.
With dimensions, 46 x 30.3 x 49.2 inches the Baby Trend Twin Nursery Center can easily fit babies 35inches tall weighing up to 30 pounds. Additionally, the flip away changing tables is a good option for diaper/clothing changes. The changing table can fit a child of 15 pounds or a four-month-old kid.
The size of the portable bassinet is enough for a three-month-old or a baby weighing up to12 pounds. The bassinet also includes two soft toys for a little playtime or for distracting your child from crying.
How do I travel with it? Simple.
The easy one-hand locking mechanism and the wheels with brakes allow you to move it from place to place. Moreover, the easy to reach storage pockets can hold your parenting essentials without you worrying about things getting lost.
Your little ones can now sleep peacefully with the electronic music technology. This electronic music center has two different styles to choose from - gentle music or nature sounds - along with volume control and different levels of vibration.
Turn on the night light, adjust the volume, play the music or soothing sounds, and both you and your child can now enjoy the sleep-filled nights.
Pros
Mesh Sides
Carry Handle
Parent Organizer
Storage areas
Wheels for easy travel
Removable bassinets
Simmons Kids By the Bed
Check Price on Amazon
Check Price on Walmart
We earn a commission if you click this link and make a purchase at no additional cost to you.
Simmons Kids By The Bed City Sleeper Bassinet for Twins
The z-shaped pattern of this bassinet makes it one of the best bassinet options for twins by Delta Children. With the wheels underneath, you can easily slide the base under a bed keeping your children closer to you in the middle of the night.
Your kids are safe and remain comfy in the mesh walls and 1-inch thick mattresses. The airy mesh sides induce breathability, and the mesh divider or netted wall in the middle provides a clear view of your babies. Moreover, the polyester sheets are removable, meaning you can easily wash them in a machine.
Simmons Kids By the Bed City Sleeper has the safest option for parents to keep the twins in contact all along the night. This extra security comes from the five adjustable height mechanism.
Ranging from 32.5 to 38.25 inches, you have five separate options to go with, according to your needs. The varying heights make this twins bassinet a perfect fit for mothers who have to feed the kids and take care of themselves after a C-section.
This is a great bassinet for twins aging up to five months, considering the dimensions of 30 x 30 x 38.25 inches. Manufacturers don't really recommend using this for kids above five months' age, as that would only make it uncomfortable for them to sleep in.
All in all, this bedside bassinet is a safe choice for parents, and the customer reviews have turned out to be good overall, keeping the price in mind. The easy assembling, the ample storage side pockets, the high quality, and the sturdy base deliver value for the offered price.
Pros
Machine Washable
Convenient to use
Adjustable heights
Z-shaped stylish profile
Check Price on Amazon
We earn a commission if you click this link and make a purchase at no additional cost to you.
Nest Pick
Graco Pack 'N Play Playard with Twins Bassinet
Graco has been doing rounds by introducing the best bassinets for twins at affordable prices. This Pack 'n Play Playard with bassinet is no different than its sibling products. The simple design makes it easy to assemble the whole playard with the bassinet.
Your babies can enjoy the comfortable sleep with the quilted mattresses separately included inside each bassinet. These cozy mattresses are 41 inches long and 28.5 inches wide, perfectly fitting inside and spacious enough for your kids to roll over from one side to another.
There are a pair of wheels attached to the one side for easy transport. Well, talking about the transportation, thanks to the handy carry bag that comes along, you can easily take the playard-bassinet combo on a trip or when visiting grandparents. It's super quick and easy to fold the product and then fix it inside the bag. In addition to that, there are straps to fit and tighten the Playpen in the bag securely.
Moreover, the bag is machine washable and is 35 H 12.5 W 12.5 D dimensions (in inches) weighing 30lbs, when folded. However, you are directed to hand wash the Playard, metal, and plastic parts with a wiping cloth. It requires a little bit of effort, but your kids need a non-toxic environment to play or sleep in, right?
Like any other Pack 'n Play beds for babies, this bassinet has cool walls guarded by the airy mesh. This feature ensures a peaceful sleep for your baby, providing the maximum airflow required. Needless to say, the Head Cover blocks the sun rays adding on to the safety feature and comfortability of the product.
With all these astounding features this bassinet proved to be among the best bassinets for twins. While some parents have given negative reviews due to wanting additional features, this bassinet for twins earns the Nest Top Pick award. Overall, this choice is safe, effective, and fits most budgets.
Pros
Quilted mattresses
Shielded canopy
Carry bag included
Removable bassinets for an easy transport
Check Price on Amazon
Related: The Best Pack n Plays and Playards for Babies and Toddlers
Joovy Room2 Twin Nursery Center
Before we dig into the details, let's clear one thing first, this Joovy Room2 Twin Nursery Center includes the accessories to go on top of the play yard, meaning, the play yard is sold separately. But it offers more than what you would expect in that price range and securing a position on the list of the best bassinets for twins.
Talk about the fantastic features presented by this product; the click-in attachment system and a flip-away option for the changing table make it an ideal accessory for your twins. With the 15.5-inch depth bassinet, the new mothers can easily reach the kids with not much pain.
Each bassinet can hold up to 15 pounds meaning the whole product can resist 30 pounds weight in total. Dimension 16.5 x 3 x 38 inches of the bassinet allows you to fit in your child inside perfectly. Moreover, the very lightweight (9.5 pounds) offers effortless portability. You can easily fix the bassinets on top of a Joovy playpen, placed either at your house or a grandparent's.
The removable center divider can be zipped in or out. You can take it out and use it as one bed for both the babies or set it inside, giving each kid a separate room to sleep in. Well, it's quite fascinating that this product though designed for twins, can be used for a single child as well. All you would have to do is to remove the divider and place the child in. That way, you can use it for a longer period till the little one crosses the required weight and height limit.
Need a diaper change? Not a problem.
The foldable changing station allows you to lay down your kid, one at a time as it can hold up to 25 pounds weight. With an easy flip-away mechanism, you can swing it on the side when not in use. The padded mattresses are machine washable, and so is the sheet covering the changing table.
While this option is a good choice for parents who may already have a playard on hand, it doesn't earn our top pick only because it does not include everything in a single product purchase. However, it's a good value and good quality standard bassinet for twins sleeping area during those first few months of life.
Pros
Quick and easy setup
Roomy
Water-resistant surface
Includes foldable changing tale
Removable divider
Check Price on Amazon
We earn a commission if you click this link and make a purchase at no additional cost to you.
HALO BassiNest Twin Sleeper Double Bassinet - Premiere Series
This square-shaped HALO BassiNest Twin Sleeper has the most fantastic feature in-store, and that is its 360-degree rotation ability. Hearing it for the first time? Maybe because this is the only bassinet on our list of best bassinets for twins that possess this property. The 360-degree swivel allows you to check up on each of the twins without getting up from the bed.
Wait, there is one more unique feature offered by this ideal bassinet for the kids. Nursing mothers would know how difficult it is to find the perfect position, and sometimes it just gets a little too uncomfortable. Well, not anymore, as the bedside walls of this bassinet can be rolled down meeting your needs perfectly.
You can keep your kid closer and even take him out with not much hassle of getting up or moving hands awkwardly. Don't worry; the walls will automatically set up straight once you have pulled out the child or done feeding the baby.
Furthermore, the meshed side walls and the netted divider enhances the airflow while making it possible for kids to see you and each other. There is plenty of room for both kids as the bed offers 35 x 23 x 12 inches dimensions with very soft mattresses and polyester sheets providing a peaceful nap time.
It doesn't end here. Since it's the bedside bassinet, the bottom is made to slide under most of the beds with an adjustable height range of 24 to 34 inches. The installed soothing center allows you to build an environment nearly similar to the womb. Additionally, you have an option to turn on the nightlights and a back-to-bed reminder for a proper sleeping schedule.
The bassinet can hold a baby of 20 pounds or a five-month-old child. Like any other bassinet for twins, it is recommended to discontinue the use as soon as your child learns to push up on knees or hands.
While the Halo bassinet is the Cadillac of our list of twin bassinets, it also currently costs significantly more than the other options. It is a fantastic product, but it does exceed many parents' budgets.
Pros
360-degree swivel
Includes soothing center with tons of options
Adjustable height
Features two storage pockets
Water-proof mattresses
Check Price on Amazon
We earn a commission if you click this link and make a purchase at no additional cost to you.
Related: The Best Twin Baby Shower Gift Ideas
Conclusion
Our recommendations would go for any product that fits well under your requirements. But one thing you should always keep in mind never compromises on the quality when you see the price tag exceeding your budget. For example, the HALO Twin Sleeper BassiNest is pretty pricey but offers incredible value for the money with advanced features.
Similarly, you might see a product costing you less, but misleading descriptions will lure you in spending dollars on that particular item. So rule number one is to check the product's specifications properly, once satisfied, only then invest in it.
Parents are more than happy to buy either of these best bassinets for twins we reviewed. You can make the right choice by jotting down your needs and then looking up on the internet to find the perfect match. We tried making it a little easier for you by reviewing some of the best bassinets for twins available in the market.
Hopefully, it is now simpler for you to pick the one product you have been looking for. Happy twin parenting!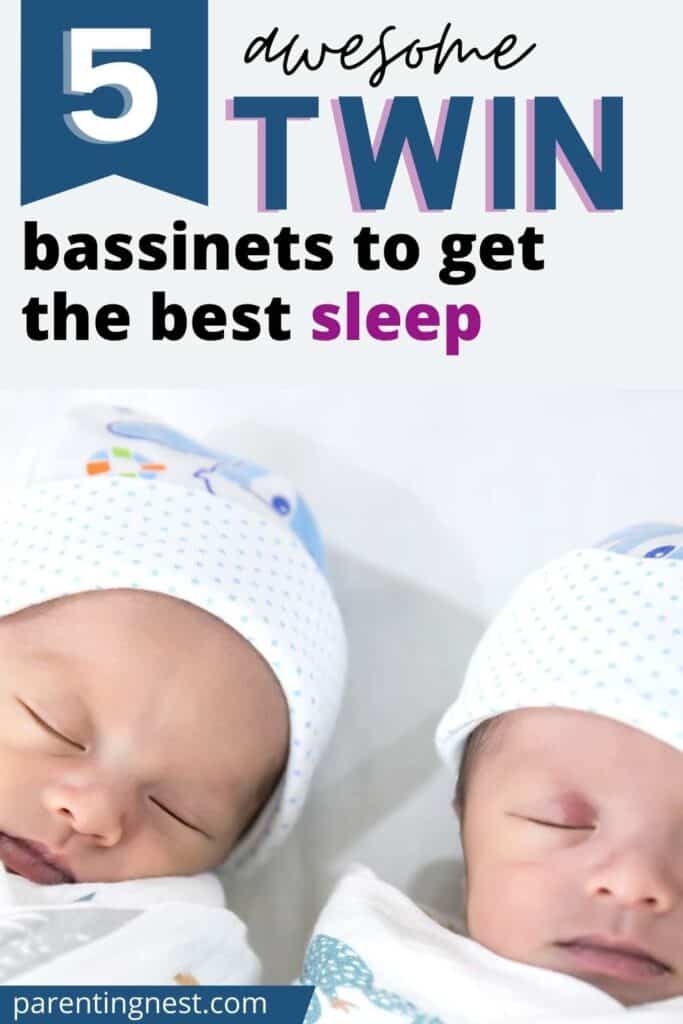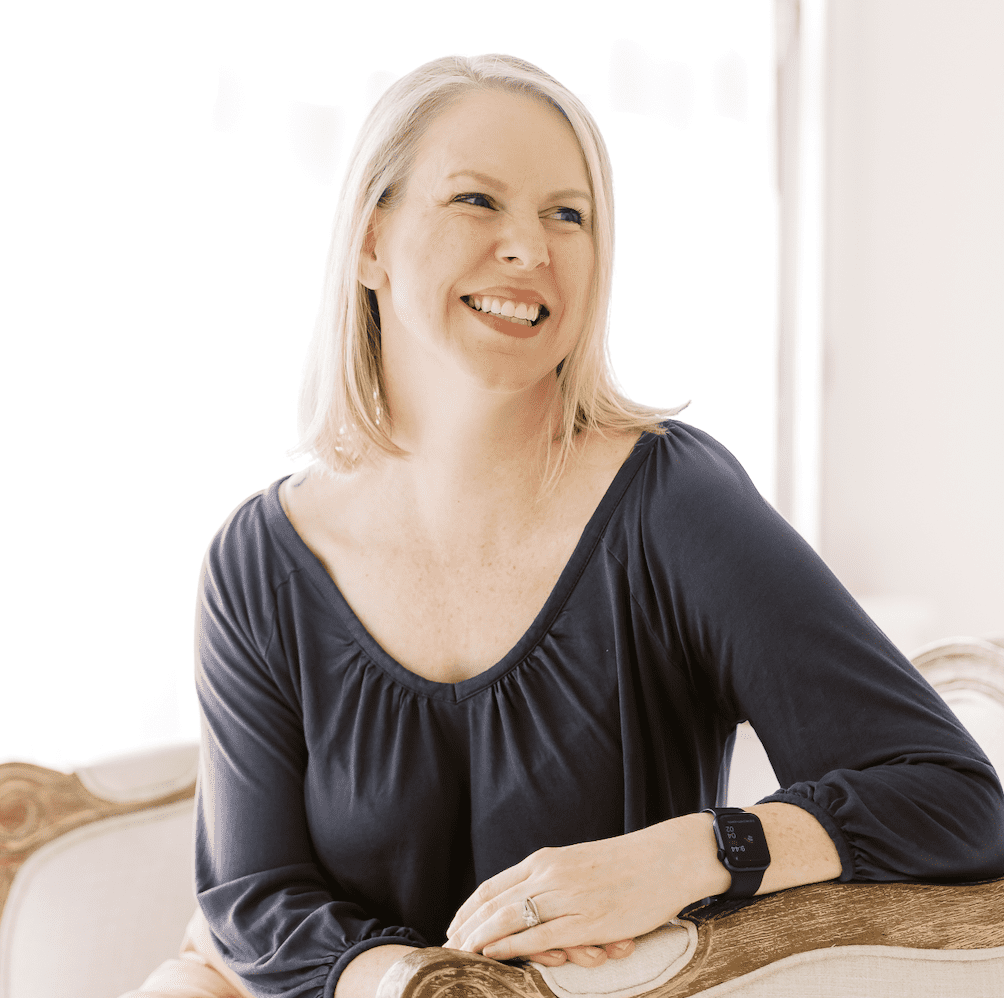 MEET THE AUTHOR
Amanda
As a mom of 4 kids (and the oldest of 4 kids herself), Amanda has over 30 years of parenting experience. A former special education teacher, Amanda has a Master's degree in Special Education and a second M. Ed. in Educational Leadership.
When she's not working, Amanda enjoys DIY projects, exercising, photography, and long walks through Target.
You can find Amanda on all social media at @parentingnestblog and @amandaseghetti