13 Best Gift Ideas for Babies 0-3 Months
Finding a gift for a baby 0-3 months old can feel impossible during the holidays! I mean, what is it that a newborn really needs? This mama has found the best toys and new things that new parents and their 0 to 3 month olds would love to get as Christmas gifts (or any other time of the year too!).
When shopping for the best gifts for newborns to 3-month-old babies, these are good to keep in mind:
toys with different textures to stimulate a baby's sense of touch
bulky, softer toys for little hands to explore
chewy items to soothe sore gums while teething
bright colors or patterns with high contrasts
practical needs like disposable diapers, baby clothes, or bath items are always needed
Ready to see what toys made the list of gift ideas for babies 0-3 months? Keep reading…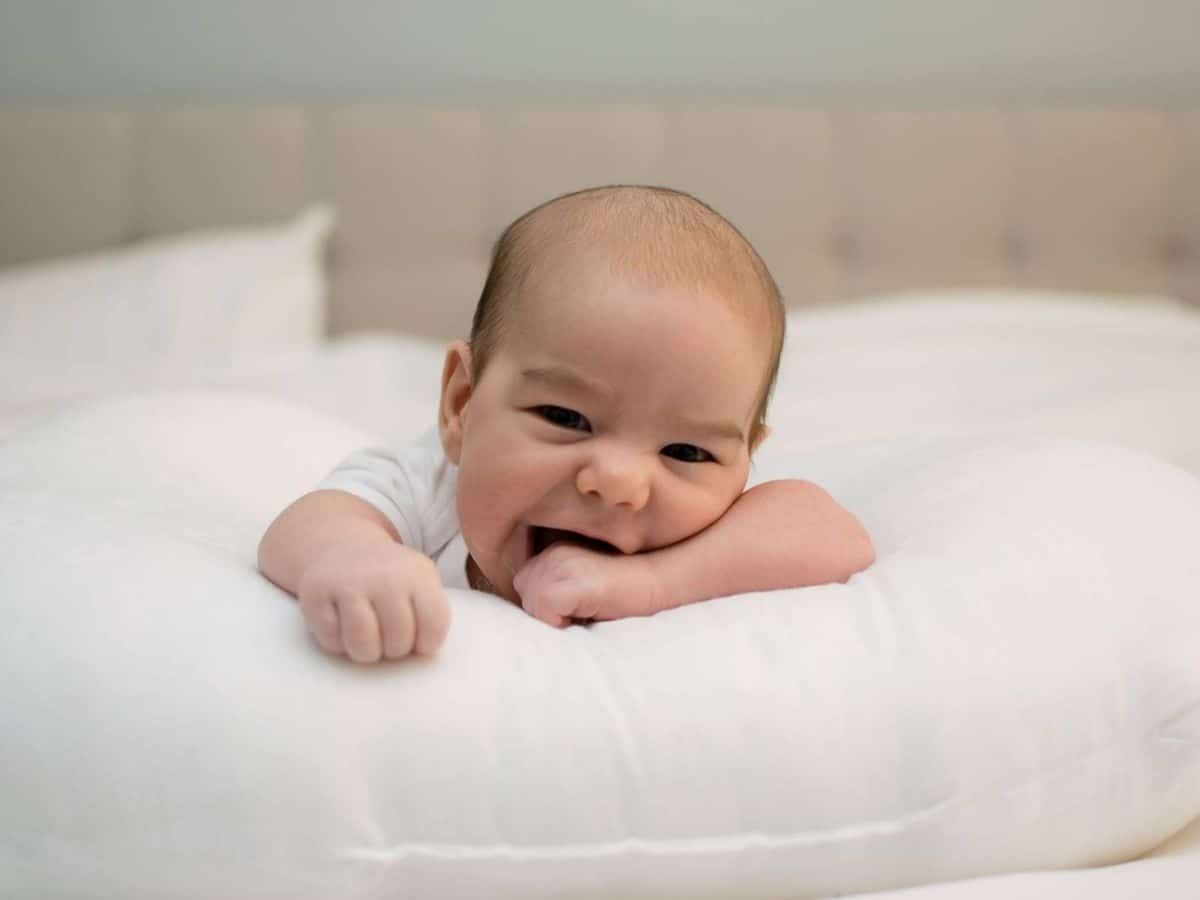 This post may contain affiliate links. If you make a purchase, I may earn a small commission at no extra cost to you. As an Amazon Associate, I earn from qualifying purchases. Read more about these links in my disclosure policy.
Best Baby Toys and Gift Ideas for 0-3 Month Olds
All-In-One Graco Car Seat
This All-In-One Car seat by Graco will last you for years. I mean, as your little one grows, you can take this carseat and move it in four different ways- we're talking backwards and forward facing! For under $200 you will be able to keep your baby safe driving around town no matter how many inches long they are!
Start with this car seat facing backward and easily adjust it as they grow. With awesome reviews, this is a great car seat for any newborn in your life.
For a smaller car, or a car with multiple car seats, see our recommendations for narrow car seats here.
Musical Caterpillar Toy 
This musical toy is adorable and is a great toy for a newborn. The caterpillar shape makes it easy for this age group to hold and the music will keep them engaged for a long time.
Baby Glowing Lullaby Elephant
This baby glowing lullaby elephant is an adorable gift this holiday season for any new baby. The calming glow and soothing sounds will help a newborn baby 0-3 months stay calm.
Simply press the Elephant's stomach button and choose from a variety of lullabies, loving phrases, and nature sounds. This elephant even comes with a heartbeat sound to help babies adjust to life outside of the womb.
VTech designed this fun toy and they truly thought of everything!
Visual Quiet Book 
This cloth book is designed specifically for young babies 0-3 months, making it the perfect gift! This book is designed with pictures to visually stimulate newborns. With bold designs and a lot of contrasting colors, any baby would love this book.
Cloth books are a great option for young children. I love how this book focuses on shapes and colors, helping develop strong foundation for a lifetime of learning.
Sea Animal 'Who Do You See?' Fabric Book
To help stimulate the touch senses of your sweet little one, this Sea Animal 'Who Do You See?' a fabric book was created. Each page has different animals with textured fabric that the baby will love to read over and over again.
Lovevery Play Gym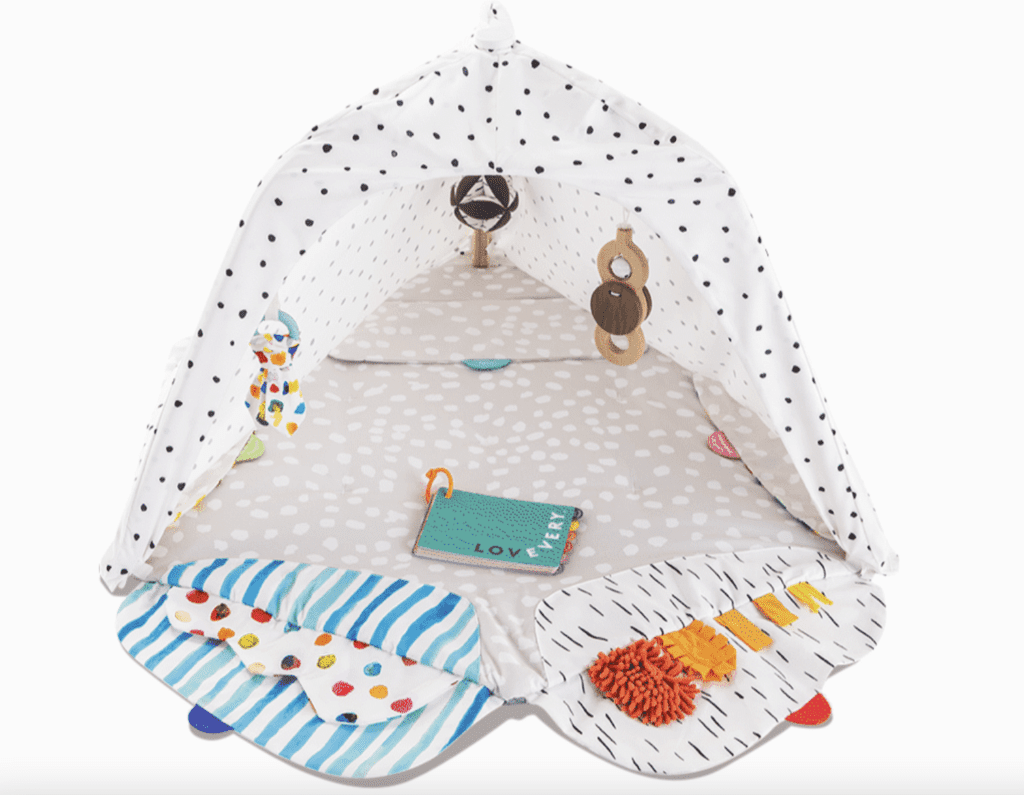 From batting to teething to learning to focus- this Lovevery play gym is loved by play experts around the world. This play mat was created for babies starting at 0 years and will work with them for the first few years of life. It's one of those newborn gifts that encourages child development and is a great gift idea because it can be passed down to younger siblings for years to come.
Made from durable and healthy materials, I couldn't possibly make a list of the best gift ideas for babies 0-3 without including it!
Baby Einstein 5-in-1 Activity Play Mat 
When it comes to babies under 3 months, a play mat is an excellent gift – especially the Baby Einstein 5-in-1 Activity Play Mat. Not only is it designed for new babies adjusting to their new world, but it can grow with the baby throughout their first year! That makes this the entertaining gift that keeps on giving.
Any new mom will love this gift and how much their kids will use it all year long!
Baby Tummy Time Water Mat
Tummy time is an essential activity for young kids. Not only does it develop essential muscles for later activities, but it helps them create essential neurological pathways in their brains.
One not so fun fact about young babies is that they typically hate tummy time. Luckily, there are gifts like this Baby Tummy Time Water Mat that is a great way to get babies to enjoy time on their stomach.
Simply fill the mat with water and lay the baby on it. The water will help move the toys inside and entertain them while they develop essential tools for the year.
Chewy, the Teeth-32 Airplane Teething Toy 
The Chewy is the cutest natural rubber teething toy on the market! This airplane shaped teething toy is designed with lots of eating points so the baby can hit any pain points on their gums.
The airplane design is perfect for tiny hands too. They will be able to hold it at an early age, so no matter when teeth decide to make their entrance, the parents will be prepared.
Pure Natural Rubber Baby Teether
With a toy designed to be in a baby's mouth, it's a wise decision to buy a baby teether made from pure, natural rubber. This one is one of Amazon's top sellers, and for good reason.
The shape is a fish, not only making it adorable and fun, but it's free of all nasty chemicals that can harm your baby.
Montessori Baby Blocks 
These bright, colorful soft blocks are so fun – I just love them!
Designed with the Montessori method in mind, this baby block kit is an excellent gift for babies 0-3 months this Holiday season.
Indestructibles Book Series: Hello Farm 
If you have young kids, then you need to invest in some Indestructible board books. Not only will the pages not tear, but the pages are easy to clean – you can even add them to the dishwasher.
This specific indestructible book, Hello Farm, was a favorite for all of my kids and I am convinced that the same will be true for any kids you know! The pictures are bright, friendly, and perfect for developing early vocabulary.
Hello, Baby Animals! A High Contrast Board Book
Another high contrast book, Hello Baby Animals! Is the perfect gift for babies ages 0-3.
As I am sure you know, young babies' brains light up with joy when they see high contrast images, making this book a guaranteed favorite.
This book helps develop connections between images and words, helping that communication foundation develop early for a successful life.
We have lots more great book recommendations for 1 year olds here!
---
Which is the best baby gift?
While it may feel overwhelming to find the perfect gift for a baby under 3 months, it doesn't need to be impossible! Grab any perfect toy from this list and the baby (and their parents!) will be thrilled.
What did I miss? If you have any must-have baby gifts for those under 3 months, tell me about them in the comments!