20 Best Books for 1 Year Olds
The moments when you pull your child onto your lap and read to them are sweet and special. Reading time develops a bond between you and your child while also modeling valuable language skills.
Reading books with your child can be fun and playful, or it can calm them before bed, but with so many books available, it can be difficult to know which books to choose.
We've gathered up this list of some of the best books for 1 year olds so your money is well spent and you know you are putting quality, parent-tested books on your bookshelf.
Choosing The Best Books for 1 Year Olds
Reading books with one-year-olds is incredibly important for helping your child develop language skills and early literacy skills that will one day help them learn to speak and read. There are many books out there, so how do you know which books are the best for 1 year olds? Keep these things in mind:
Simple – Long books with lots of words and busy pictures can be overwhelming. Look for children's book with simple text (simple words) and illustrations.
Colorful – 1 year olds love bright colors. Books that have bold, primary colors and bright illustrations are a good idea.
Large Pictures – Large pictures are easy to see and help your child to look at and learn the details of different objects. Choose picture books with large pictures to help keep their attention span during the first year.
Rhyming – Books with sing-song rhyming text will be fun and memorable for your child. Simple rhymes, nursery rhymes, or even silly rhymes are all a good choice.
Funny Books – Funny books for kids are perfect for encouraging an interest in reading. Funny books are actually a great choice for all age groups!
Board Books – Board books are designed to withstand grabby hands and drool that 1 year olds are known for. Many popular books come in a board book option, just for little hands to enjoy.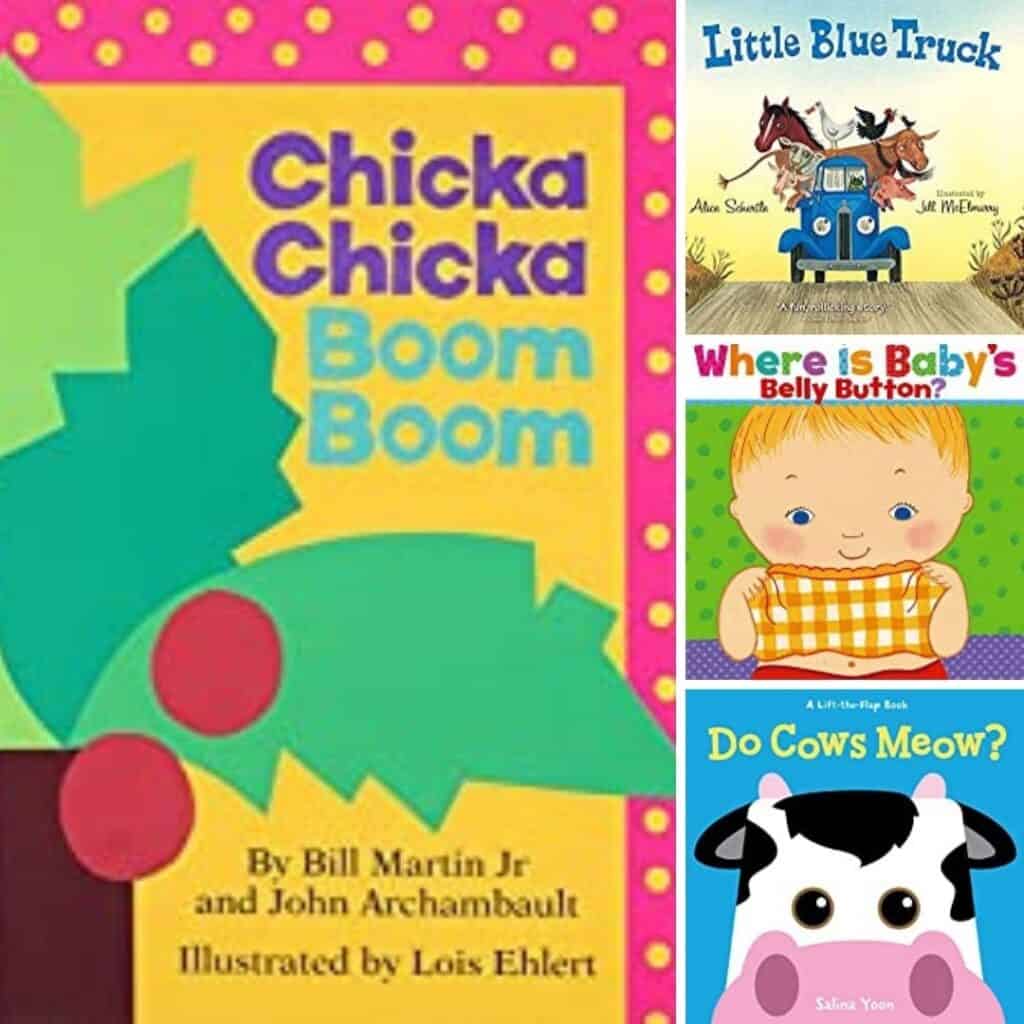 This post may contain affiliate links. If you make a purchase, I may earn a small commission at no extra cost to you. As an Amazon Associate, I earn from qualifying purchases. Read more about these links in my disclosure policy.
Lift The Flap and Interactive Books for 1 Year Olds
Books About My Body for 1 Year Olds
Skill Building Books for 1 Year Olds
Timeless Books That 1 Year Olds Will Love
Which of these books will you be adding to your nursery shelf? When you are ready, check out out list of great books for 2 year olds.