The Best Organic Baby Clothes
If you're looking for the best organic baby clothes for your little one, we've compiled a list of our favorite organic options so you can easily complete your baby's wardrobe without worry!
As a parent, you're probably always thinking about how you can keep your child safe. They're your little bundle of joy.
While you probably have already found the safest car seat, diapers and wipes, shampoos, and lotions, have you thought about your baby's clothing?
The clothing industry is huge and can be overwhelming – so you may be wondering, is organic baby clothing really worth it?
Organic baby clothing and organic materials can help protect your baby's skin by reducing the chances of your baby's skin becoming irritated, which is especially important if your child already is showing signs of or has eczema (like my youngest son). It can limit exposure to chemicals and pesticides (many of which are considered carcinogens!), plastics, toxic dyes (like azo dyes) or heavy metals, petrochemicals, or other toxic chemicals or harmful substances.
Did you know that standard, conventional cotton is heavily sprayed with pesticides – just so they can speed up the process of and reduce the cost of making clothing? YUCK!
Plus, organic cotton baby clothes are great for all weather conditions. They can both ventilate and wick away moisture, as well as retain thermal insulation – which means that you don't need to buy as many clothes to get through all the seasons!
We've put together a list of some of the best baby clothing from organic brands, including some more affordable options, so that you can reduce your baby's exposure to harmful chemicals and reduce your footprint on the environment.
This post may contain affiliate links. If you make a purchase, I may earn a small commission at no extra cost to you. As an Amazon Associate, I earn from qualifying purchases. Read more about these links in my disclosure policy.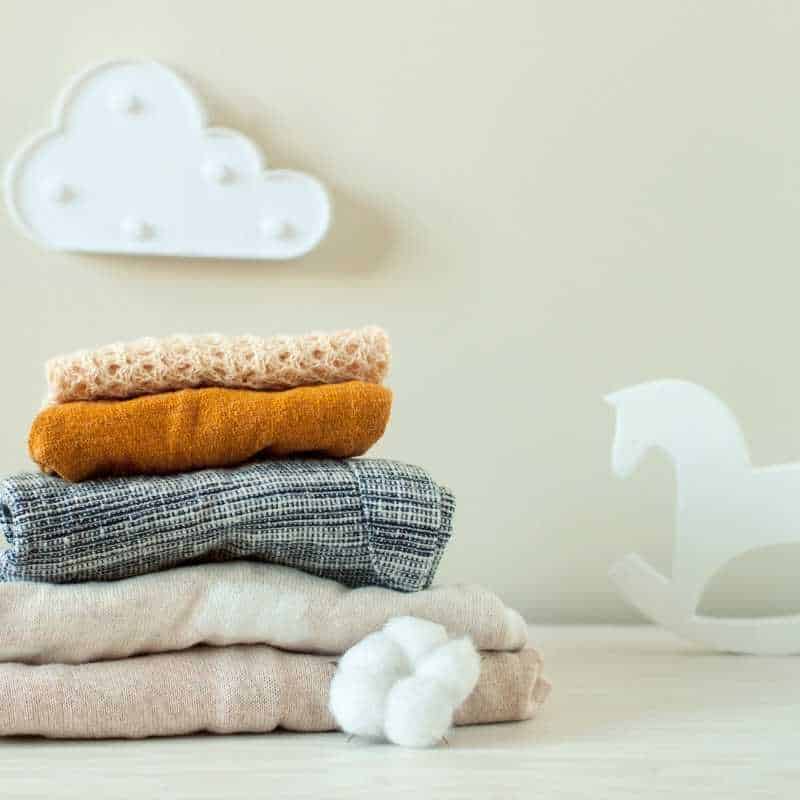 Best Organic Clothing Brands
Hanna Andersson
Hanna Andersson was started by Gun Denhart, a Swedish woman living in the United States, almost 40 years ago. It's probably one of the best brands when looking for organic clothes made from sustainable materials.
They have committed to making harm-free, 100% organic cotton materials and engage in fair trade practices. Hanna Andersson's organic cotton baby clothing is designed for durability and is made to be both comfortable and breathable. 
They sell clothing for your newborn baby through 12 year-olds, such as onesies, bodysuits, tops, bottoms, leggings, outwear, character clothing, and more. They even sell matching pajama sets for the whole family – perfect for holidays and family photos. (We've gotten our holiday pajama sets from Hanna Andersson for the past few years!)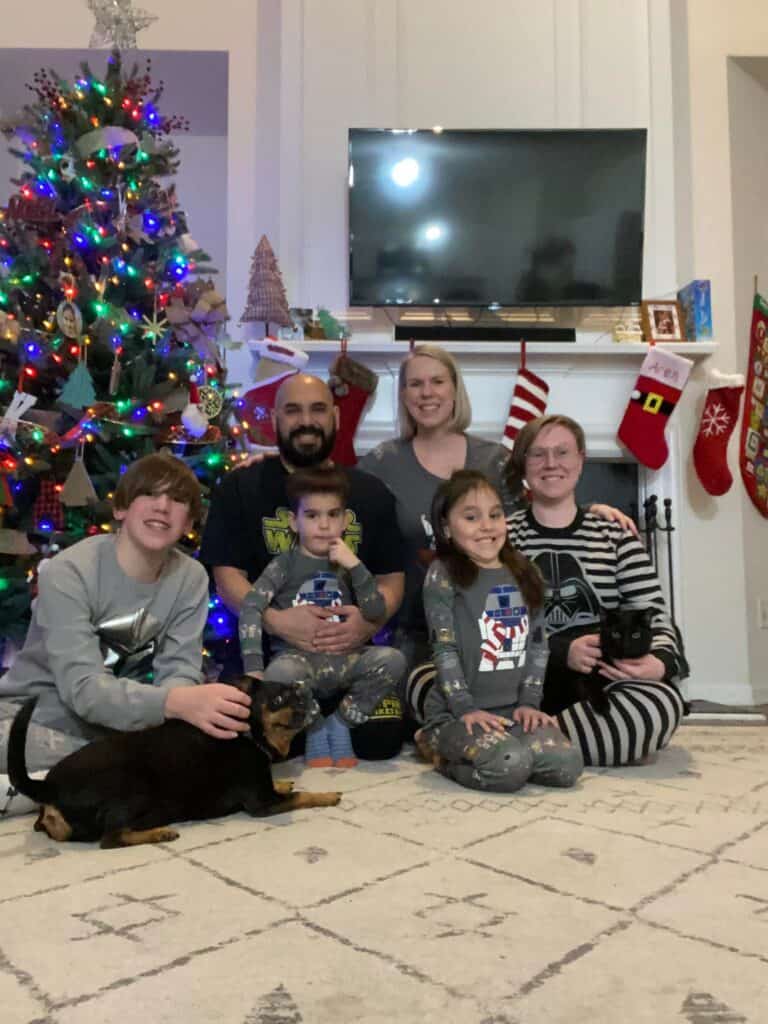 They have many different patterns and colors, so you're bound to find the perfect piece for your little one. Hanna Andersson clothing is pre-washed and pre-shrunk, so you don't have to worry about sizing after you buy it. 
While their prices are a little more on the higher-end, they frequently have sales on their products. They also have a limited selection of their clothing lines available for purchase through Amazon.
Jazzy Organics
Jazzy Organics was founded in 2015 in Miami Beach, Florida. They are committed to creating organic clothing to nurture your baby's sensitive skin, while still caring for our farmers and our earth.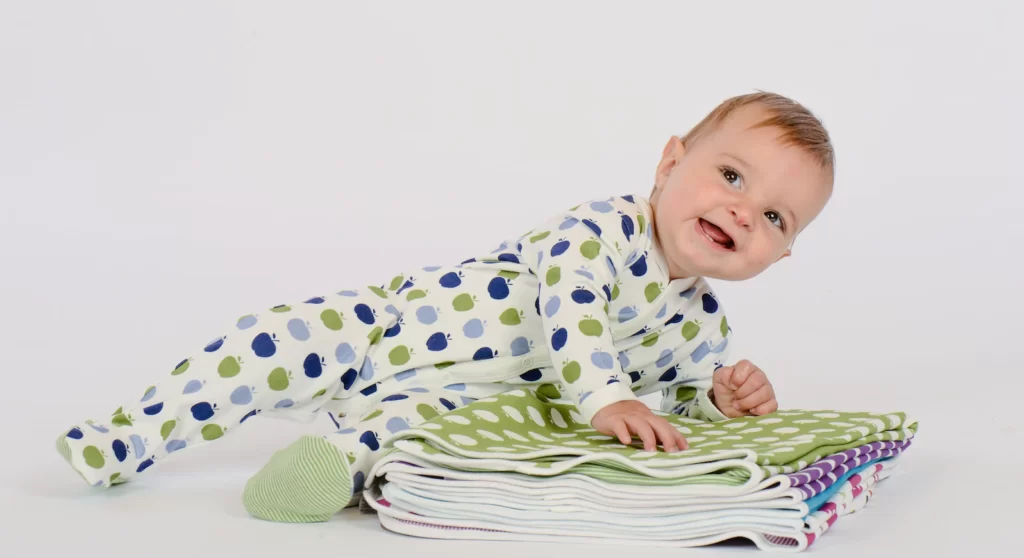 All of their clothing is made from 100% GOTS certified organic cotton and boast the softest fabrics. Jazzy Organics sells some newborn essentials, such as blankets and bibs, as well as rompers and bodysuits for your 0-12 month old and pajamas and playsets for your 1-4 year old. 
You can use coupon code AMANDASEGHETTI on the Jazzy Organics website and get 10% off your order!
Burt's Bees Baby
Burt's Bees Baby is a commonly known company, founded in 2012. They sell a variety of good quality pastels, neutral colors, and simple designs for the family (birth-14 years), as well as bedding (sheets, blankets, pad covers, etc.) and bath needs (towels, robes, washcloths).
Burt's Bees sells individual and family organic cotton pajama sets and collections organized by each season! 
All their clothing is 100% GOTS certified organic cotton and is guaranteed to be soft and gentle on your little one's skin. They do not use any synthetic pesticides or fertilizers, meaning they're earth and farmer friendly. Plus, they're set at a good price point and each piece of clothing is long-lasting.
You can find Burt's Bees baby clothes directly on their website, or in select stores. I happen to also know from my frequent trips to Target there are some good options available in store.
I do want to add that the first item I bought way back by Burt's Bees was some footie pjs and boy were they slim! I'd be conscious of the fit on pjs but other than that, this has been one of my favorite brands for my youngest.
Burt's Bees Baby also has a pretty wide range of clothing available on Amazon.com that are available for prime shipping. 
Related post:
Kate Quinn Organics
Founded in 2006, this boutique sells modern designs across the world, although they now only sell clothing on their website to reduce costs for their buyers.
Kate Quinn Organics has options for the whole family – birth – 8 years old and sizes XS – XXL for your older kids (or yourself) and sell plenty of basics, simple patterns, and fun designs with bright colors (I'm particularly drawn to their print called Sunflower Field right now!). They also have swaddles, bedding, blankets, playmats, and more. 
Kate Quinn has previously participated in women's projects, such as their program "With Love From Africa" which helped provide jobs to women in Kenya. Products in this line were hand-knit with organic cotton yarn and helped women in Kenya make a fair living wage and stable income. We are excited to see their upcoming projects! 
They have a variety of clothing made from one of four safe fabrics: organic cotton, 100% organic cotton gauze, bamboo (a non-organic semi-synthetic sustainable textile), or lenzing modal (synthetic fibers made from a renewable wood pulp sourced from a sustainable forest that is soft, lightweight, breathable, and durable). 
Monica + Andy
Monica + Andy was formed by Monica Royer, a mother who wanted soft and trustworthy fabrics for her own daughter's newborn skin – free of toxic, harsh chemicals. She creates limited-edition prints and some mix-and-match essentials using soft, 100 percent GOTS certified organic fabrics that do not shrink, fade, or pill.
Their blog provides guides and tips across a variety of topics – such as pregnancy, prenatal health, giving birth, first trimester anxiety, and stages of childhood. They also host several classes and events for mommas and mommas to be – pregnancy by trimesters, perinatal yoga, infant first aid and CPR, and potty training, just to name a few.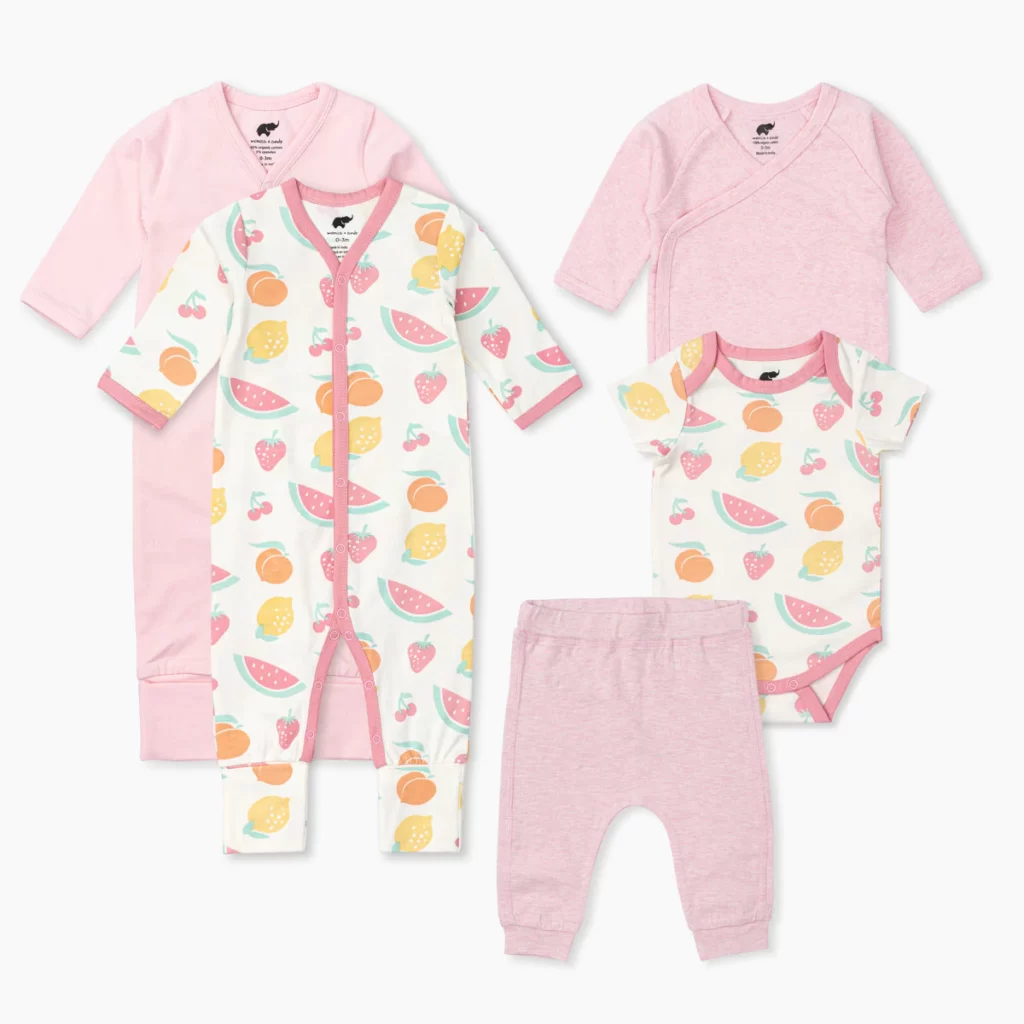 If you shop Monica + Andy online, you'll find super cute basics, fun patterns, and designs with vibrant colors for your baby, toddler, or young children (5-10 years old) – some with UPF 50+!
Plus, they have everything for your nursery, from furniture, cribs, mattresses and bedding, changing pads, high chairs, strollers, bouncers, toys, pacifiers, burp cloths, and more.
H&M
If you're looking for affordable organic baby clothes, H&M is one of the best options. Although their clothing is not 100% certified organic, at least 50% of each piece of their conscious choice products is made from more sustainable materials (organic cotton and recycled polyester).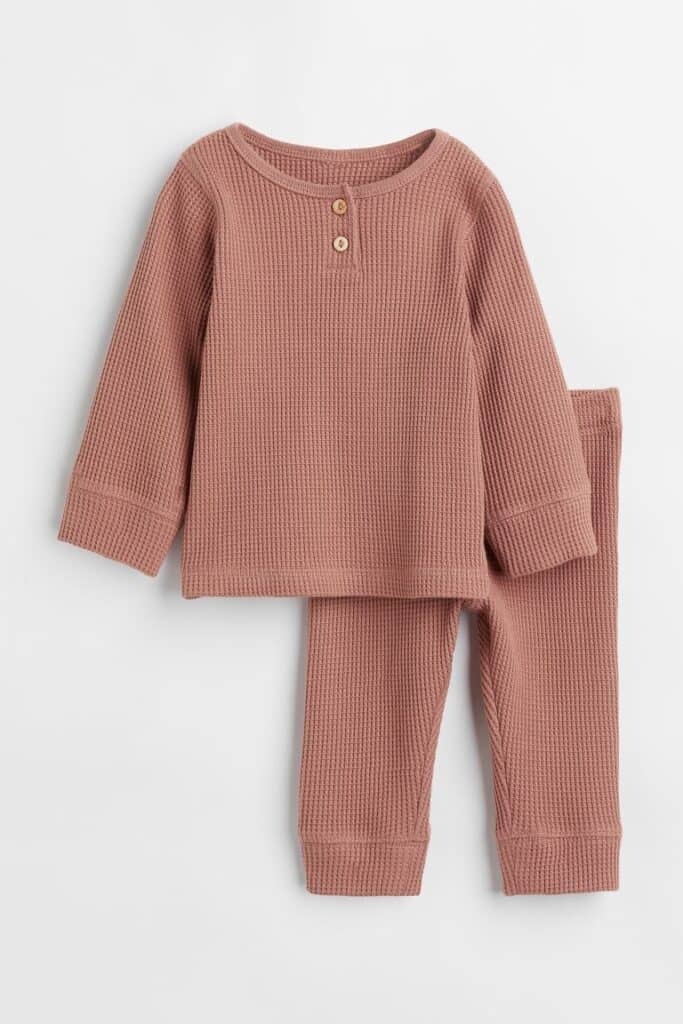 And, they're well on their way to increasing their sustainable practices. They have a goal to create 100% recycled or other sustainably-sourced materials and achieve toxic free fashion by 2030, among other things, which is exciting news! 
Parade Organics
Established in Vancouver in 2004, Parade Organics produces soft, durable, 100% GOTS certified organic cotton clothing. All of their products are made in India and they guarantee ethical practices and fair labor standards – a safe work environment, fair pay, and enforced labor standards.
They do not use any pesticides or harmful chemicals on their organic cotton to ensure that the farmer, and wearers, stay healthy. 
Parade Organics produces a variety of sleep-related clothing, accessories, nursery and feeding gear, bath, and toys. I particularly like that you can shop by size and by color.
While they are a little on the pricey end, they have a sale section marked down to more affordable prices. They are also on Amazon with free Prime shipping.
I would recommend checking out their sleep sacs – they're a lifesaver! 
Milkbarn Kids
Milkbarn Kids was started by Stacy Phillips in 2006. She started by sewing bibs for her 7-month-old that later developed into a business.
The company is now a collaboration between Stacy and her daughter, Haley and many of Milkbarn's one-of-a-kind prints and designs are based off of Haley's sketches, drawings, and watercolor paintings. Haley additionally illustrates all of Milkbarn's children's books. 
This company collaborates with Exile International. All purchases help Exile International, who helps children of war. Exile International strives to empower these children to become leaders for peace through trauma care and holistic rehabilitation.
Milkbarn Kids sells apparel from newborn to 24 months, blankets and bedding, bibs and accessories, and children's books. They use eco-friendly dyes with no heavy metals.
Some clothing items are 100% GOTS certified organic cotton and some products are made from both organic cotton and bamboo, so make sure you read the description. Plus, I must say, they have some of the cutest, cleanest looking prints – and you'd be helping a good cause! 
Mini Mioche
It's easy to find patterns and designs, but sometimes it can be tough to purchase just the basics. Mini Mioche is here for just that – super soft, simple basics in gender-neutral colors and styles. Based out of Toronto, Mini Mioche's products are all made ethically, locally, and sustainably using GOTS organic cotton (grown in Toronto just for Mini Mioche!).
Their products are dyed locally using non-toxic low-impact dyes from natural sources. From tops, bottoms, onesies, dresses, sleepwear, masks, socks, and more, they have you covered.
Mini Mioche is all for making the world a better place. They donate 1% of all sales to organizations and initiatives to support children's mental and physical well-being; they call it the "Kind Human Fund."
In addition, Mini Mioche collaborates with sustainable organizations, such as the Carbon Neutral Club, and Beeja May. Their goal is to increase access to eco-conscious brands for everyone and to reduce their own environmental footprint.
Wear PACT
PACT produces soft, breathable, organic cotton clothing for both you and your little one. They are focused on creating and promoting sustainable environments and therefore their organic fabrics originate from organic farms that use less water than conventional cotton farms, sustainable crops, no toxic chemicals, and chemical-free dyes.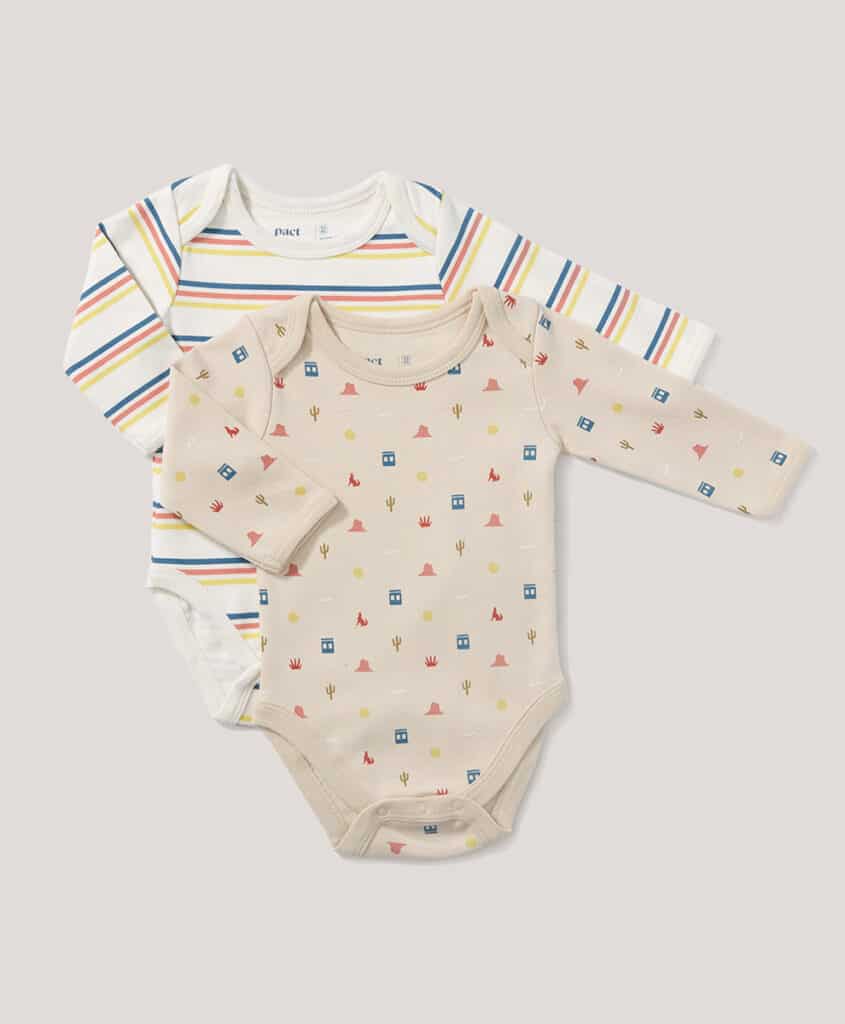 My favorite part is that they have a tagless back label – no more skin irritation or tantrums from that tiny tag scratching your neck. And their clothes are really soft. I have PACT leggings and a tank that I almost live in!
PACT guarantees use of Fair Trade Certified factories. They ensure safe working conditions for their factory workers and strive to empower employees and uplift local communities.
If you shop PACT, they ship your product using materials that minimizes the lifecycle footprint and you can even use their shipping boxes to donate your old clothes to nonprofits! 
What is GOTS certified and GOTS organic?
GOTS stands for Global Organic Textile Standard. This standard defines the organic status of products you purchase within the textile industry and requires that the labeled product is made through environmentally and socially responsible manufacturing. 
If a product has a GOTS certification, it means that the organic textiles product is made with at least 70% certified organic natural fibers.
On the other hand, if the product is labeled as GOTS organic, "no less than 95% of the fibre content of the products – including accessories – shall be of certified organic origin," meaning the product must be made from a minimum of 95% certified organic fibers.
What is the Oeko-Tex Standard 100?
The Oeko-Tex Standard 100 means that "every component of [the labeled] article, i.e., every thread, button, and other accessories, has been tested by harmful substances and that the article therefore is harmless for human health." 
I recommend looking for clothing with either a GOTS organic certification or that meets the Oeko-Tex Standard 100 to ensure that you are shopping for certified organic clothing for your little one. Happy shopping!