5 Best Dollhouses for Toddlers
As soon as your kids learn to start playing, all they want is new toys to add on to the collection. And as a parent, you want to make sure the toys you provide are the best – right?
But don't worry, we are here to save you some time. Here we have made a short list of the best dollhouses for toddlers. You can surprise your little ones with these adorable and dreamy dollhouses that they will truly love.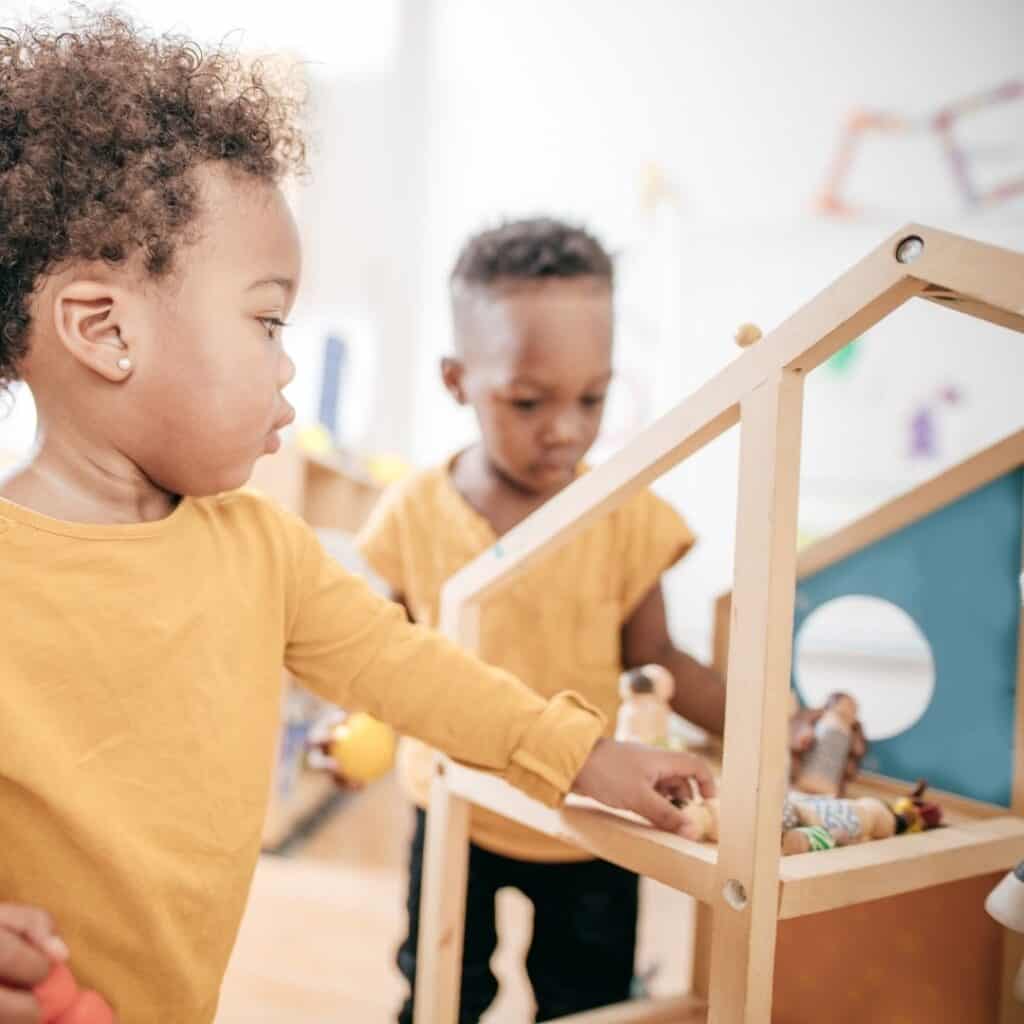 While hunting for the best dollhouse for toddlers, you might consider a compact size that will fit in a smaller space (like their bedroom) and various accessories that will keep your kid playing for hours. Don't forget that a durable construction material plays a significant role too. Dollhouse size can vary, and you can purchase extra accessories to go with it – but it's the quality that matters the most.
Here are some of the top-rated dollhouses for children that will enhance your kids' cognitive skills and expand their imaginations.
The 5 Best Dollhouses for Toddlers
This post may contain affiliate links. If you make a purchase, I may earn a small commission at no extra cost to you. As an Amazon Associate, I earn from qualifying purchases. Read more about these links in my disclosure policy.
Many of these items are available with Amazon Prime's fast free shipping (often arriving in just one or two days!). If you're not already a Prime member, you can get a 30-day FREE trial of Amazon Prime here!
---
PLAYMOBIL Take Along Modern Doll House
A toddler dollhouse that you can travel with? Sounds great! This suitcase designed PLAYMOBIL Take Along Modern Doll House with a carry handle is perfect for in-house and on-the-go play. With very light weight and 10.83 x 9.45 x 11.42 dimensions, it's the perfect size for your younger children to easily carry it around. The simple construction with all the accessions makes it one of the best dollhouses for toddlers.
Featuring a two-story house with four rooms and three to four inches action figures to play along with. The ground floor has a kitchen on one side with all the kitchen essentials, including, pots, pans, dishes, oven, stove, and even the food to cook for the little family. On the other side, it has a living room with chairs, coffee tables, of course, a television and other small accessories providing a great family time.
Moving on to the first floor that features a cute bedroom with the bathroom on the other side. The bedroom has two beds and a cradle which is perfect for a family of three. To complete the set, the bathroom contains a tub, toilet seat with a toilet-paper roll attached, a sink with an actual mirror, and a cute little brush helping kids to learn and grow with small details.
Apart from the mom, dad, and a baby, the family also has two pet dogs with food and several other tiny objects that your kid can set and style in whatever way she wants. However, if you are concerned about safety as these little accessories can cause a choking hazard for toddlers, you should keep an eye on them when they are playing to avoid any harmful events.
The easy latch design allows you to store all the things inside, making it a must-have travel accessory for young children.
Pros
Handle for easy transport
Extremely lightweight
Comes with many accessories
Great deal in a lesser price
Cons
Contains small pieces that may cause a choking hazard
No specifically designed place to hold all the pieces when traveling.
Check Price on Amazon
If you're looking for something not too fancy and easy on the wallet, this would be a perfect choice for young kids.
---
Barbie Dreamhouse Doll House
Oh hello childhood nostalgia! I don't know about you, but I LOVED my Barbie Dreamhouse when I was a kid. (We just won't talk about how long ago it was when I got this Christmas gift.)
This Barbie Dreamhouse Dollhouse is the best dollhouse ever that you can get for your kids. From little details to huge size (about three feet tall), this dream dollhouse allows your girls to enter into the elite Barbie world.
Featuring triple story construction and eight rooms that your kids can set up themselves with the essential accessories that come with the package. In addition to the rooms and cupboards, this dollhouse for toddlers also features a slide that starts from the second floor and descends to end into the pool fixed on the first floor.
On one side it has this huge slide while on the other corner a functional lift ideal for four Barbie dolls adds on to the luxury this dollhouse has to offer.
To take it to the next level, manufacturers added light and sound effects in it that require batteries for operation. These real-life sound effects of a sizzling pan, whistling kettle and the flushing of toilets give a unique and close to the real kind of experience to your kids.
Also, the oven lights up when opened or closed and makes a ticking sound when you set the timer on. All of this is worth drooling over. So if your kid points a finger to get them this toddler dollhouse, do not check the price instead think about the advanced features the house is blessed with.
There's more to it that enhances the impressive design of this dollhouse while promoting creativity among kids. Some of the pieces are two-sided, meaning you can turn them over to get another piece of furniture. Like the couch turns into a bunk bed or the refrigerator working as an outdoor food stand at the same time and much more.
The house is spacious enough with three feet in height and four feet wide dimensions. This large size offers easy movements of little hands inside the house and also makes it simpler for you to clean it if need be.
This dollhouse will take up some space and is undoubtedly a little more expensive than some of the others. However, the luxurious experience you are getting with it makes it worth every penny. (And you know you're going to enjoy playing with it too!
Pros
Encourages role-play among children
70 pieces in total to set and play
A luxurious experience
Play from any direction
Cons
Pricey
Tiny pieces can cause a choking hazard
Check Price on Amazon
As one of the best dollhouses for toddlers and young girls, this fantasy home is equipped with everything a child would want.
---
Nest Pick
All Seasons Kids Wooden Dollhouse by Hape
The award-winning, safe construction of this All Seasons Kids Wooden Dollhouse by Hape speaks for the excellent quality of this modern dollhouse. This fantastic toddler dollhouse is built with strong wood and high-quality material in bright colors that is safe for kids of all ages.
You know what makes this wooden house the best dollhouse for toddlers? The reversible season-themed roof. Okay, this is something new. So what you have is a double-sided roof with four seasons illustration on each side.
Your kid has an option to turn it over and create memorable, fun-filled stories on his own.
There are three stories and six rooms in total. A small garret on the top, a master bedroom for the doll family, a bathroom with all the essentials, a media room with a TV inside, a living room is providing quality time for the family, and a kitchen to cook meals. All these adorable rooms are packed with household appliances that your girls can use to style the whole house with their imagination.
The dimensions are generous, measuring 23.62 x 11.81 x 28.9 inches. However, you will have to buy a few dolls for girls to play with as the package only includes a house that you have to assemble. That's not too bad though, since it's pretty easy to assemble this wooden dollhouse. An award-winning model, customers are satisfied with this safe and the very best dollhouse for toddlers.
With all the different benefits of this high-quality wood dollhouse, this one is our top pick for dollhouses for toddlers!
Pros
Easy to assemble
Solid wooden material
Includes various pieces of wooden furniture
Boost up the imaginative and creative thoughts of the kids.
Cons
Several small parts that can cause a choking hazard
Staircases are not fixed
Check Price on Amazon
This ingenious design strengthens your child's imagination, helping them evolve and grow with friends of the same age.
---
TOP BRIGHT Wooden Dollhouse
This European design TOP BRIGHT Wooden Dollhouse made with natural wood, painted with vibrant colors is the best dollhouse for both younger kids and older girls. Tried and tested for safety according to the European safety standards.
So what does it have to offer apart from the colorful display? Well, it's a dream dollhouse for toddlers. From miniature furniture to the triple-story construction, this is truly the best dollhouse for toddlers. There are five fully furnished rooms. Your little girls aged 2-5 years can design the whole interior on their own. This encourages intellectual developments among kids and prepares them for future responsibilities.
One master bedroom on top with a classic terrace by the side fits Chelsea dolls pretty well. The middle floor features a huge living room with an adorable sofa set. Then on the ground level, we have a kitchen and a bathroom for a cleanup.
The working elevator between the first and the second story is the exceptional feature of this dollhouse for girls. And the plain white staircase making a way to go on the top story adds on to the beauty of this dream house.
This Top Bright dollhouse has received mostly positive reviews by other parents who have tried it. Some have had issues with assembly, but it all worked out in the end. To assemble it with perfection, you can follow the steps in the manual guide or watch the video for instructions. Either way, you will surely spend a good time decorating this dollhouse with your kids.
We chose this as one of the best traditional dollhouses for toddlers not only by the fascinating outlook but also the exceptional features that are integrated into it.
Pros
Attractive outlook
Includes 12 small furniture pieces in the package.
Pre-drilled holes and guide for the assembly.
Lasts for several years
Cons
It's good that this dollhouse comes with predrilled holes. But some of the holes do not line up; you may eventually have to drill it by yourself.
Heavyweight
Check Price on Amazon
---
KidKraft Chelsea Doll Cottage with Furniture
Kidkraft knows no boundaries when it comes to introducing updated and great quality products. We own quite a few Kidkraft products in our own home!
From Kidkraft dollhouse toddler bed to the best dollhouse for toddlers, this company has increasing demands from parents and kids. Just like that this Kidkraft Chelsea Doll Cottage With Furniture is a steal of a deal with an affordable price and supreme quality.
The walls of this toddler dollhouse are painted with adorable artwork. Moreover, it is made with all the durable materials; MDF, wood, and plastic staircases. Everything is outstanding quality-wise, and the wood is sturdy enough to last for years. This is a fantastic dollhouse for 2-year-olds as the accessories are not so small, so all the parts are safe to use.
Putting this dollhouse together is pretty quick and straightforward. You can guide your kid through it and let her do the rest. The house has three stories with five rooms containing all the furniture specified for each room. Starting from the first level that has a kitchen and a dining area, with fridge, stove, chairs and table, basically all the important stuff.
Moving up the stairs, the dolls can relax in the living room with a piano by the side. And can take a quick bath in the bathroom. The topmost floor has a master bedroom for a comfortable bedtime and an open to air balcony to enjoy the evening tea time. Your kid will enjoy decorating the bedroom with a bed set and a small dresser.
The cute little windows on the sidewall can be opened and closed, letting your kid explore their imaginative side. With dimensions, 24.5 x 13 x 28 inches this dollhouse for toddlers can fit 5-inch mini dolls inside.
Pros
Detailed artwork
Easy to assemble
Low price but excellent quality
17 pieces of furniture included in the package.
Cons
The furniture is not well manufactured
Not very durable
Check Price on Amazon
If you want a Kidkraft dollhouse that fits 12-inch Barbie sized dolls, you'll want to check out the Kidkraft Majestic Mansion Dollhouse instead!
Read more about the importance of dress up and pretend play here!
---
Conclusion
Dollhouses for children can inspire kids in creating domestic scenarios that they see and observe all day around them. They try to reenact life with the toys, which is an excellent exercise for their little brains.
Anyway, it's not that difficult to choose the best dollhouse for toddlers. When you know each of them has unique and remarkable features to offer, then what's left to worry about?
We have gathered all the best dollhouses from basic wooden houses to the extra dreamy ones. These best dollhouses for toddlers will make a great birthday present for your kids, or you can even gift it to someone to make their day even more special.
Hopefully, this review helped you in choosing the best birthday or Christmas present for your kids. Happy shopping!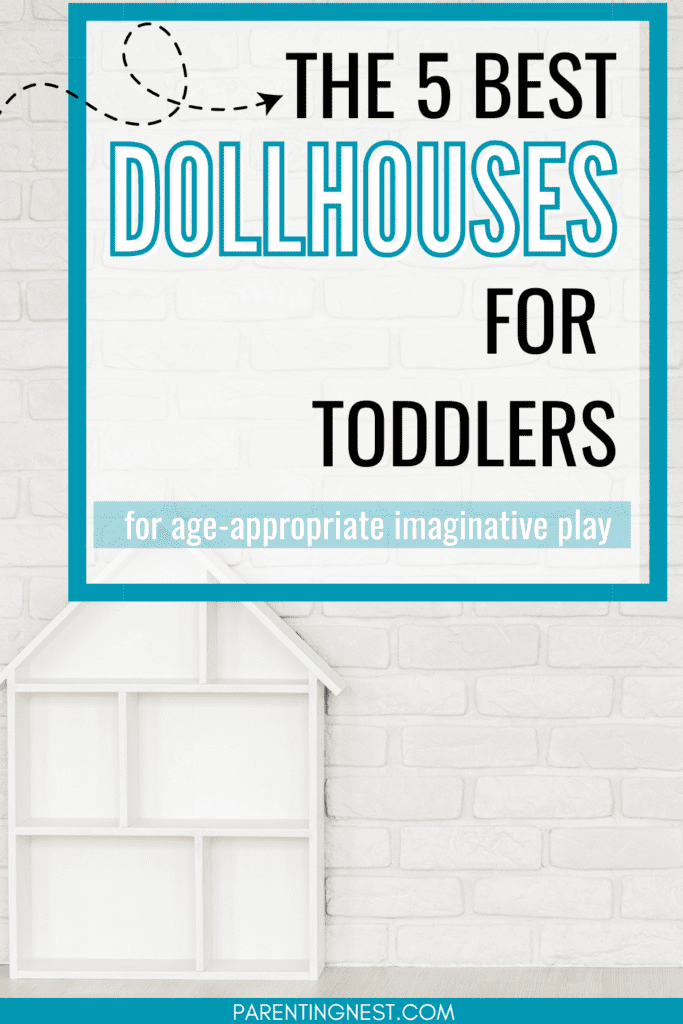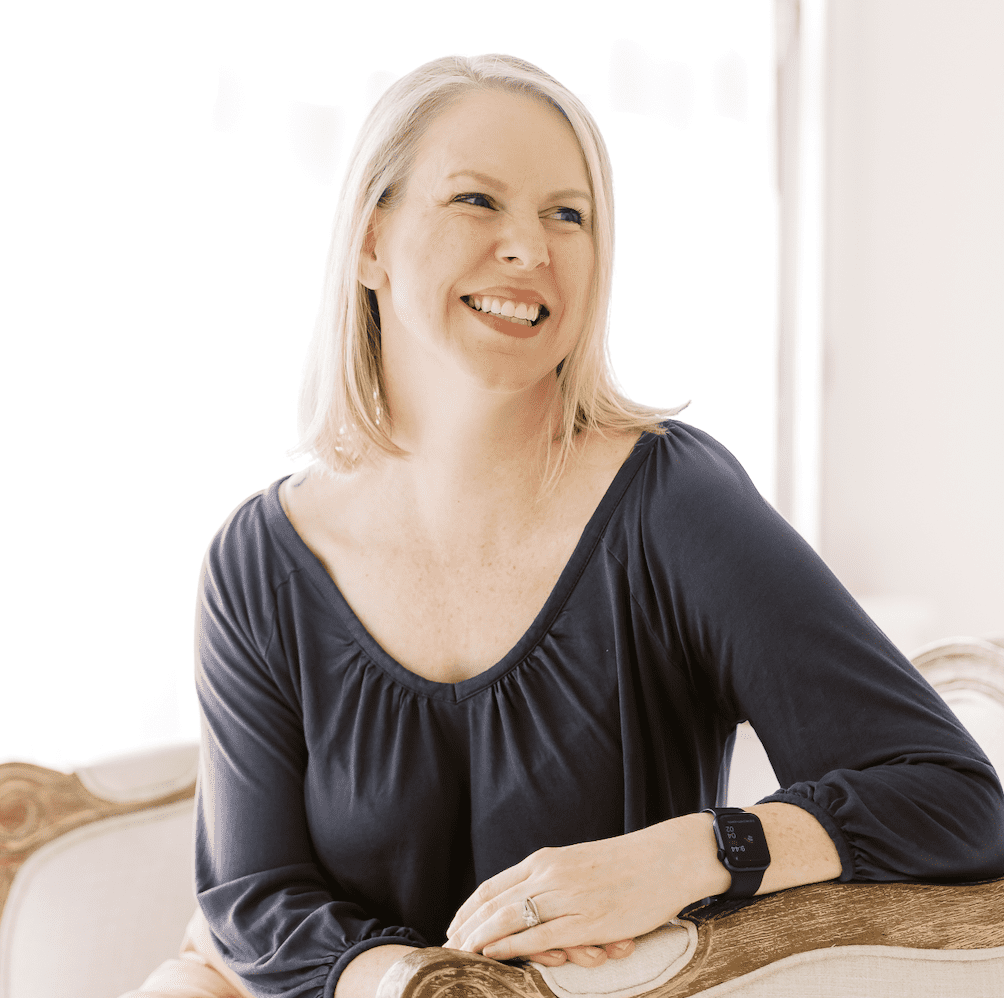 MEET THE AUTHOR
Amanda
As a mom of 4 kids (and the oldest of 4 kids herself), Amanda has over 30 years of parenting experience. A former special education teacher, Amanda has a Master's degree in Special Education and a second M. Ed. in Educational Leadership.
When she's not working, Amanda enjoys DIY projects, exercising, photography, and long walks through Target.
You can find Amanda on all social media at @parentingnestblog and @amandaseghetti