12 Best Books for 7th Graders
Right in the heart of middle school, seventh grade students often struggle with finding great books to read. No longer younger readers but not yet high school students, middle grade students still enjoy the occasional picture book (even though they may not admit it) but also love to explore modern classics and great literature that pulls on their critical thinking skills. Here we have a variety of books that will appeal to reluctant readers as well as students with a higher reading level. These books for 7th graders are our top picks for students to read this school year.
This post may contain affiliate links. If you make a purchase, I may earn a small commission at no extra cost to you. As an Amazon Associate, I earn from qualifying purchases. Read more about these links in my disclosure policy.
Best Books for 7th Graders
The Watsons Go to Birmingham – 1963 by Christopher Paul Curtis – The Watsons Go to Birmingham is about an African-American family that lives in the north. They go on a road trip down to Birmingham, Alabama, to see their grandmother, but they are met with a whole new world of discrimination. Middle schoolers will be amazed to see what life was really like in the South in the 1960s.
Tuck Everlasting by Natalie Babbitt – Tuck Everlasting is a book where a girl feels too restricted from the outside, and she runs away from home. She finds a person and talks to them, when another few people show up and take her away on their horse. I personally read this amazing book in sixth grade, but seventh graders like myself will love this one.
The Giver by Lois Lowry – This great read is about a twelve year old named Jonas who lived a normal life, before he started to search for the secrets around his community. This book received the Newbery Medal. Middle school students who love dystopian novels like The Hunger Games will enjoy reading The Giver.
Check out these awesome books for 6th graders too (trust us – 7th grade students will also love them!)
Anne Frank: The Diary of a Young Girl by Anne Frank – The Diary of Anne Frank is an eye-opening book on Anne Frank and her family's life in hiding. Seventh graders would love this educational story on what it was like for the Jewish during the Holocaust.
Percy Jackson: The Complete Set by Rick Riordan – This series has adventures about greek mythology. It tells the tale of a brave boy who finds out he is a demigod, and goes on a quest with his friends to save the world from a war of the gods.
I Am Malala: How One Girl Stood Up for Education and Changed the World by Malala Yousafzai – This is the story of how a young girl named Malala changed the world. She made girls in Pakistan able to go to school, against the Taliban's ruling. This is a good book for students learning what life is like in other countries outside the united states.
Click here for more great children's books on women's history!
New Kid by Jerry Craft – This award winning read is about a boy who is sent to a private school by his parents because he does too much drawing. This is great for seventh graders because it is relatable and shows how hard it is to fit in sometimes.
The Dollmaker of Krakow by R. M. Romero – This middle grade read is about a doll named Karolina. She is made by a dollmaker who has a special power. Set at the beginning of World War II in the year 1939 in Krakow, Poland, this book will engage seventh grade students with a mix of historical fiction and magical realism.
Holes by Louis Sachar – Holes is a classic mystery novel, that tells the tale of a boy named Stanley who was sent to a corrective juvenile boot camp for a crime he didn't commit. Young readers will be able to relate to him as many kids have gotten in trouble for things they didn't do as well. They will also enjoy reading as Stanley uncovers mysteries from his past as he attempts to deal with his present.
To Kill a Mockingbird by Harper Lee – To Kill a Mockingbird is a book about an African-American man that was accused of rape. The story is told through a young girl's eyes as her father defends the man's life. This is one of the classic books usually included on the 7th grade reading list, but it is definitely one of the best books that middle grade students shouldn't miss.
The Crossover by Kwame Alexander – The Crossover is a book about about a boy named Josh and his twin brother, Jordan. The brothers are amazing on the basketball court, but they have a hard time off the court. This book has the Newbery Medal and the Coretta Scott King Award, so I'm sure 7th graders will love it too.
Call of the Wild by Jack London – Call of the Wild is a book about a St. Bernard-Shepherd mix that is stolen from his owner and made into a sled dog in Alaska. The dog must learn the ways of the wilderness to survive. 7th Graders would love this book because of its character development, plus the storyline keeps you wanting to read more!
---
We hope this list of 7th grade books has given you a good start on finding some great reads for your middle schooler. Check your local library for these titles, or choose a few to add to your own home library. If there are other books that you think we should add to our list, please leave a comment below and let us know!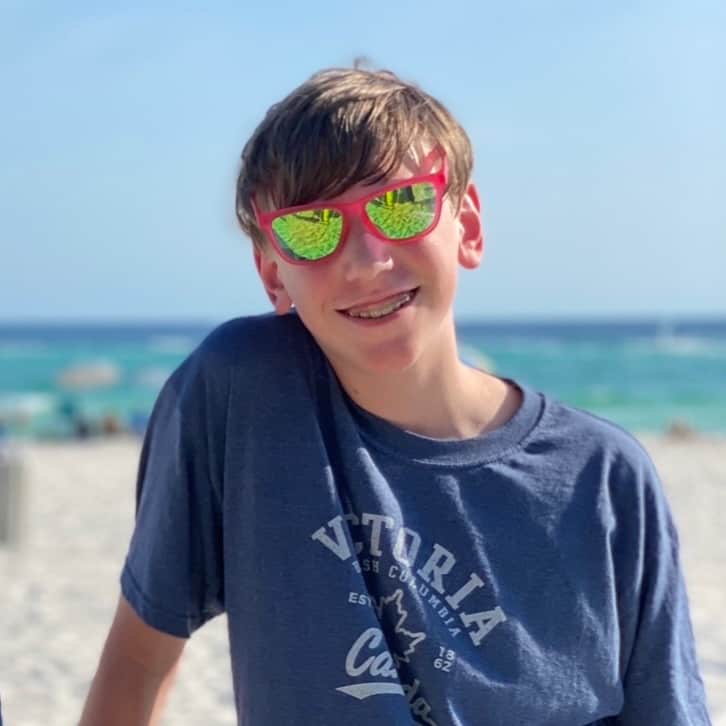 MEET THE AUTHOR
Kaiden
Teen. Gamer. Adventure seeker. Reader. Kaiden frequently writes book reviews and book recommendations that kids and teachers actually enjoy. He'd probably rather be hanging with friends, but he loves his mom so he helps her with articles for Parenting Nest.
You can also find Kaiden's gift ideas on our other site, Gift Brilliant.