25 Great Big Sister Gift Ideas from the New Baby
Congratulations! Whether you've just found out you're pregnant with your second child or you've been planning for a while, the arrival of a newborn sibling can be quite different from your first – you have an older daughter to worry about. It's a sweet tradition to get a new sibling gift for your little one from the new baby.
Why give a big sister gift from the new baby?
The transition of being an only child to becoming a sibling can be quite overwhelming and confusing.
While she's had most of the attention up until now, she will start seeing others give mom and baby more attention and her normal routines may start to differ for the first time. With all these changes, it may be hard for your little girl to understand this new addition to the family could possibly be her best friend in the future.
What better way to ease the arrival of a new baby than to give a little gift? Eventually, your big girl will discover that the best part isn't the gift, but the little baby to be! But in the meantime, gifts certainly won't hurt.
Big sibling gifts are a nice way to let your little one know they're about to be a new big brother or sister and set them up for success.
When should you give a big sister gift?
There are two different times you may want to give your little one their gift:
Giving the gift to your little girl early can be the perfect way to let her know the big news – she's going to be a big sister!
There are many educational gift options, like books, that can help teach your child how to be a great big sister and can help ease them into this new transition. This will help foster a positive sibling relationship from the start and hopefully help reduce some new sibling jealousy that may arise when the new baby is getting a significant amount of attention from the whole family.
Not only could you think about giving the new big girl of the house a gift, but if there is a baby shower or sprinkle, having big sis partake in the festivities and help a bit might go a long way in building her excitement, too.
Another option is to wait until the day your new baby is born so you can give your daughter one or more meaningful gifts from the baby.
Getting a little gift from the baby might make them excited to meet and get to know their new baby brother or sister. And it's a good way to make them feel special – since no one else is getting a gift from the baby, your daughter will love their first gift from their little brother or sister!
Y'all know I am running around trying to keep my head on straight to feed, cloth, and keep 4 kids alive and well. So, I am the first to understand how tough it is to find the time to do some research when you have a little one running around and when you're tired!
There's no shortage of products out there, so it can be overwhelming to know where to start. So, to make your life easier, I've put together a few of the best big sister gift ideas (including some that I've used with my own family) to help your little girl during this tough transition.
This post may contain affiliate links. If you make a purchase, I may earn a small commission at no extra cost to you. As an Amazon Associate, I earn from qualifying purchases. Read more about these links in my disclosure policy.
The 25 Best Big Sister Gift Ideas from the New Baby
Big Sister T-Shirt
A big sister t-shirt, or other piece of clothing (like a sweater), is the perfect opportunity to tell your little one they're about to be a big sibling. Not only can they wear their big sister outfit and feel pride in their new role, but it also makes for an Instagram worthy announcement!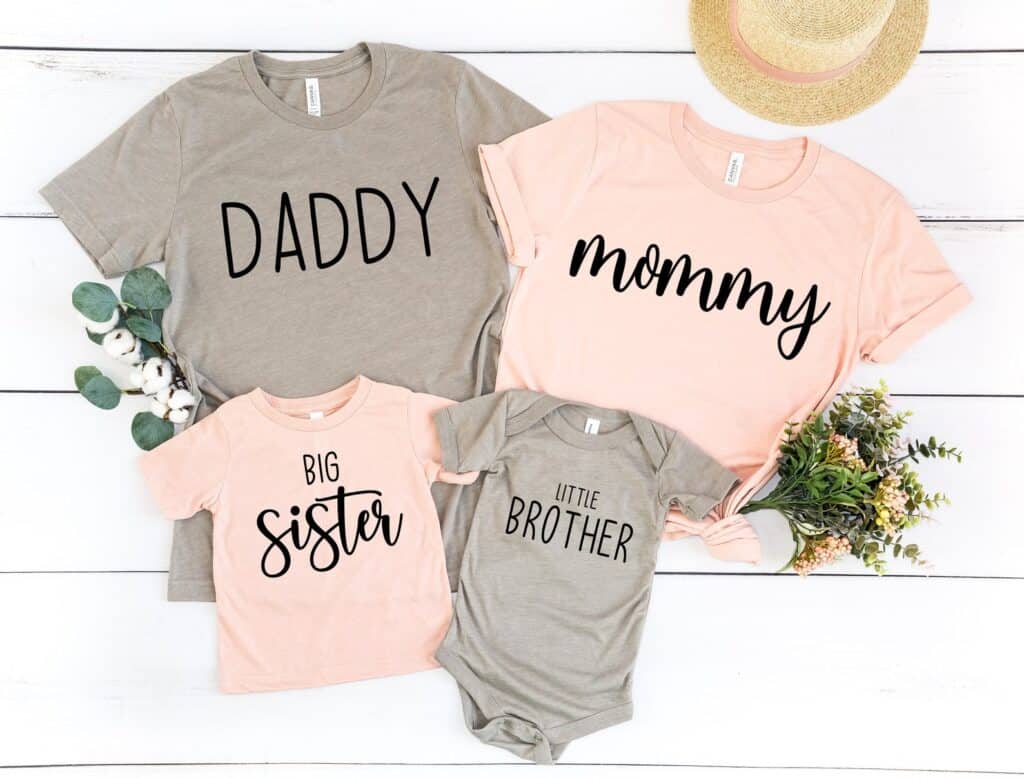 There are many options for matching shirts for all your family members, like these Family Matching Shirts (above) or these Spoiler Alert Pregnancy Family Matching T-shirts (below).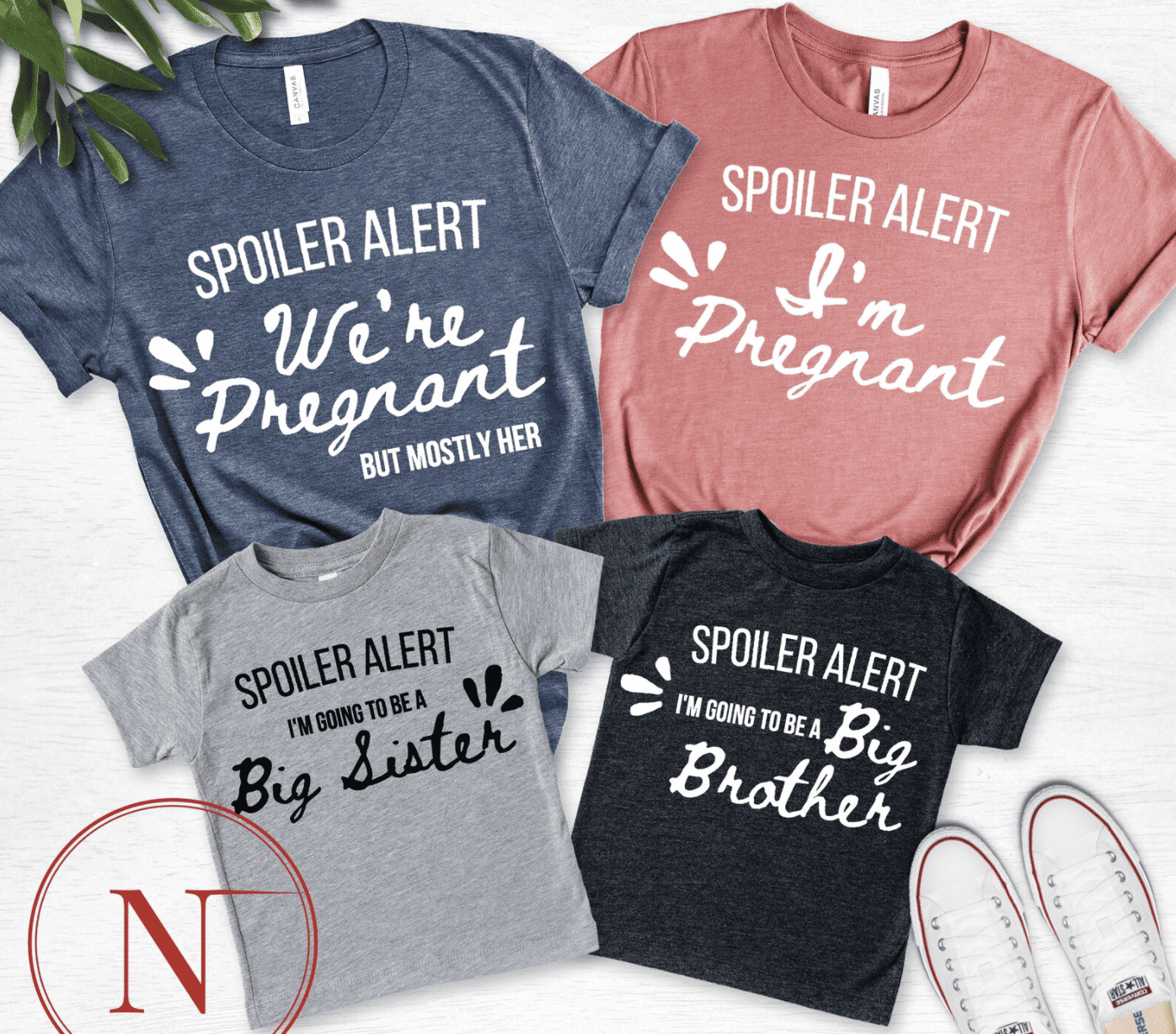 Or maybe just a matching outfit for your little girl and the new baby, like this Biggie and Smalls Matching Toddler Baby Set, to start building that special sibling relationship.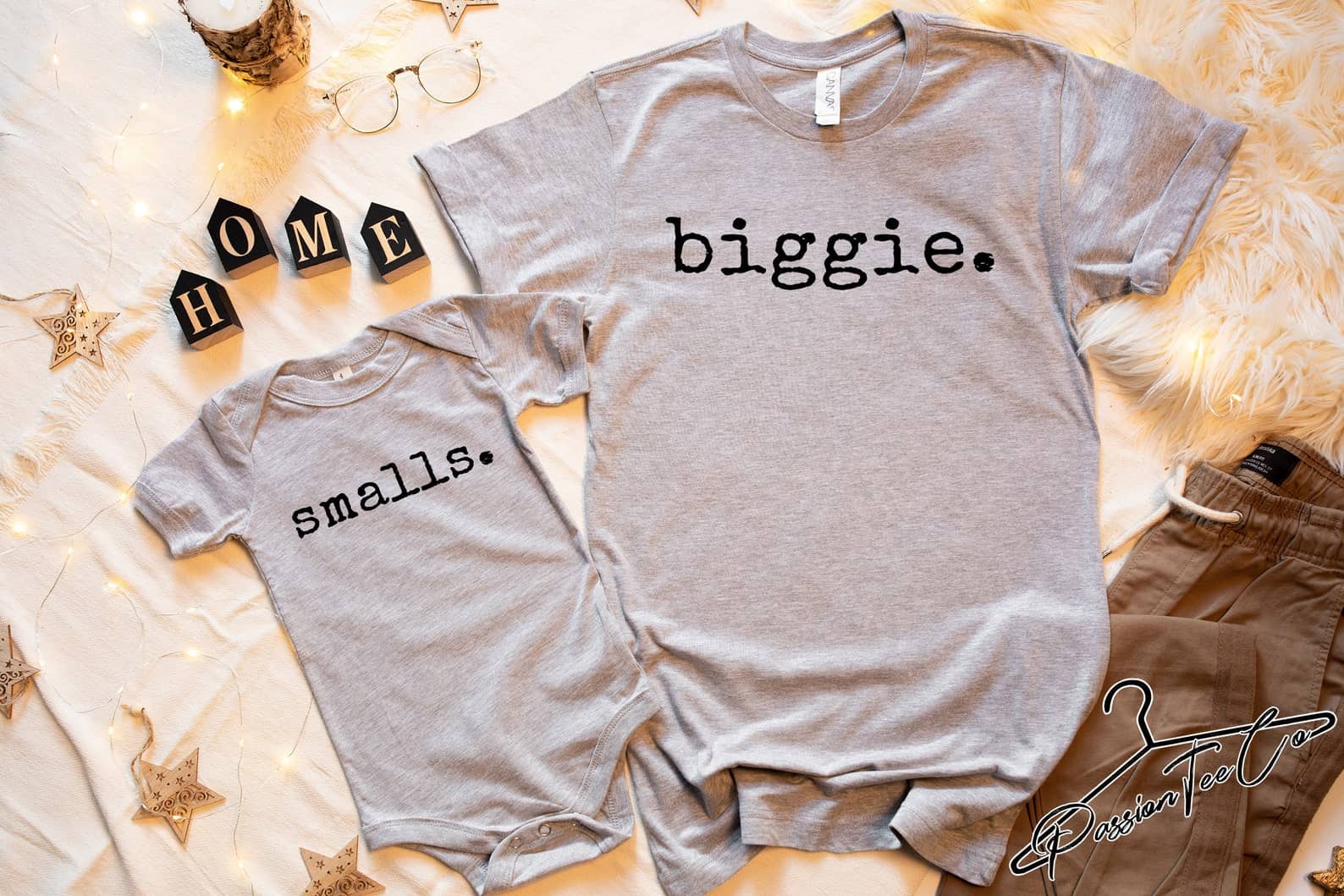 You could also get a matching crown for your big kid and little one to go with their outfits – how cute are these!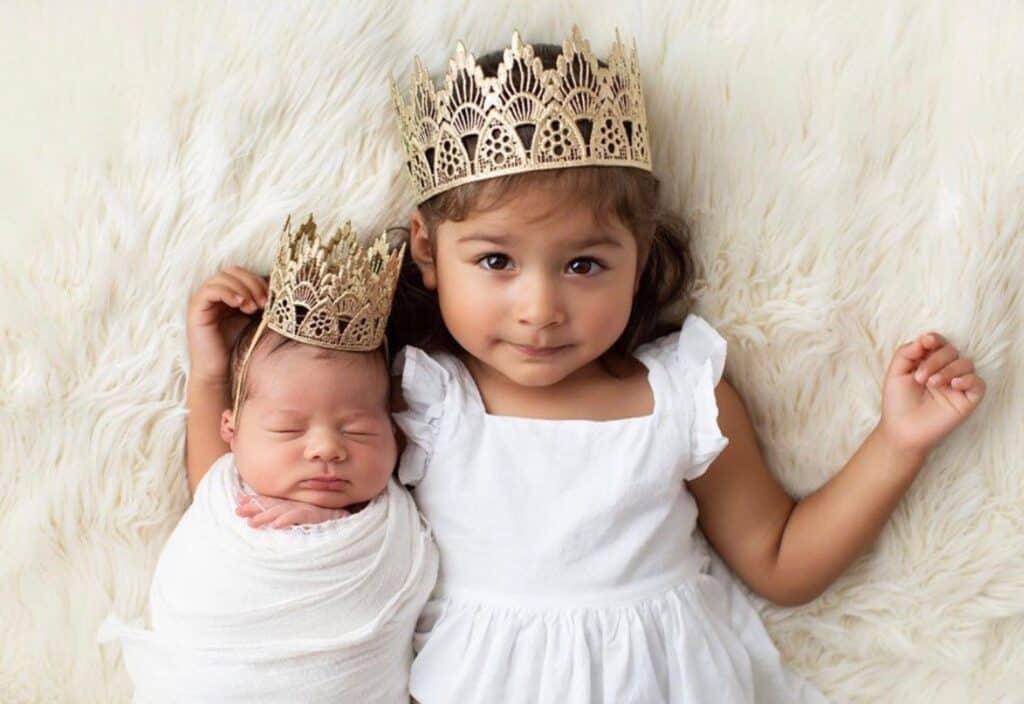 Big Sister Necklace or Bracelet
Big sister jewelry is a nice way to build a connection between older children and younger children. There are several options if you're just looking to get the older sibling something to let her know that she's going to be a big sister, like this Big Sister bangle bracelet.
I also really love these options for matching sets so your daughter has a special piece of jewelry to share with the new baby Best Sister Ever, Big Sister/Little Sister Pendant Necklaces.
Although we've been talking about gifts for one bigger sister, there are several jewelry options for families with multiple kids. Like this adorable three-piece gift set that has a stainless steel personalized necklace piece for the big, middle, and little siblings.
Or, if you want to remind your daughter she's extra special (since she's already going to have plenty of other reminders that her new baby sister or brother is coming), consider getting necklaces for mom and daughter. It will be something just for the two of you!
Related: The Best Gifts for Moms with Toddlers
Recordable Teddy Bear
A teddy bear is a great gift idea for an older sibling, especially a teddy bear where you can record a message. Having a recorded message can remind older sister that she is loved when you're there and when you can't be, like when you're in the hospital with the new member of your family!
Build-a-bear Workshop is a fun way for you and your little girl to spend some time together before little sister or brother comes along. She can choose from a variety of bears and different colors of clothing, then you can record your voice so your little one can listen to your voice whenever she wants. There is also an option for you to build a bear online and record your voice once the bear arrives. Check it out here at the Build a Bear website.
Another special gift could be a Teddy Mozart. This teddy bear has a Bluetooth speaker where you can pre-record stories, family songs or messages through an app so you can change the message your little one plays periodically.
Or, if you're looking for something you can order quickly, Amazon has several recordable bears, dogs, and bunny stuffed animals.
Big Sister Books
A big sister book is a perfect way to help your child understand the big change that's about to occur while making sure they know they are still special and loved. Big sister picture books use illustrations and stories to help explain what to expect and help get them ready to become a future big sister.
Plus, reading with your daughter is a great way to spend quality time with her.
There are many personalized book options for young kids expecting a new baby sibling where they'll be able to read a special story with their name in it.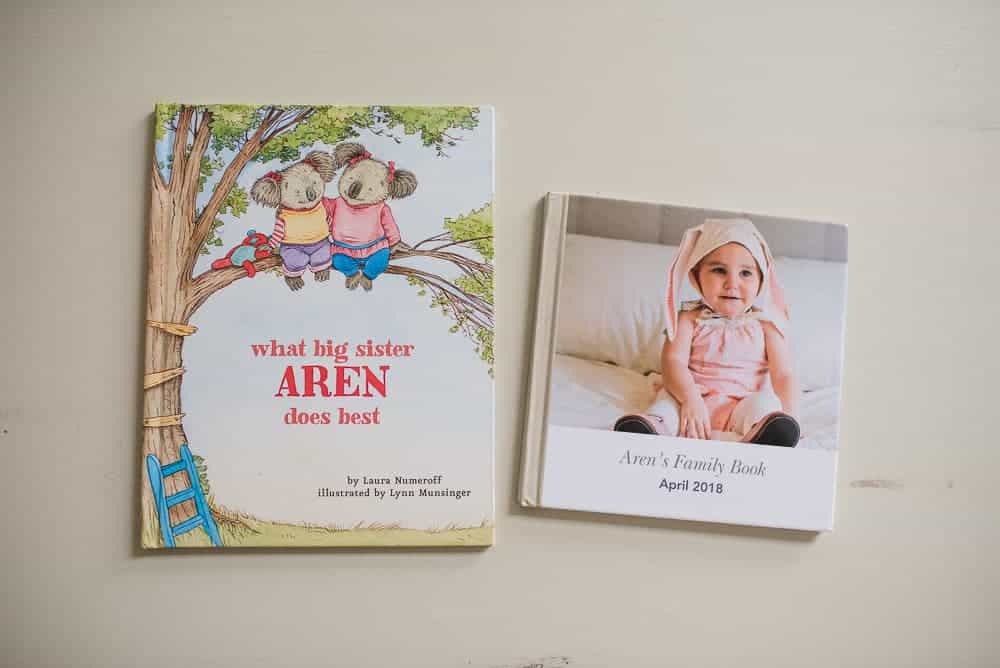 Here are a few ideas of books you can gift:
And then of course there are lots of non-personalized books about being a big sister or welcoming a new baby. Here are a few of our favorites:
Related: The Best Books for 2 Year Olds
Big Sister Doll
A new baby doll may be the perfect big sister gift. Baby dolls let your little one develop empathy and practice social interactions while they express themselves through play.
You can use the baby doll to help your little one learn how to interact with the new baby before he or she comes while spending quality time together. Plus, having a baby doll can help your little one adjust to having the new baby at home as they can care for their doll while mom cares for the baby – feeding the baby/doll, bath time, putting the baby/doll down for nap time.
I really like this Big Sister doll and book gift set from Joanna Cole (one of the books I recommended up there!).
Pair a new baby doll with a pretend diaper bag and baby doll stroller so they can help during even more activities – take the baby/doll for a walk or make sure their diapers are clean!
Photo Book
Another perfect gift is a special photo book accompanied by a kids' camera (we have the VTech KidiZoom camera and love it). Your little one can capture their favorite moments of them and their new younger sibling.
The best part is, they can keep this photo book to show their sibling how much fun they had together and the special places they visited later on.
Craft Kit
A craft kit may be a good idea for a new big sister gift, especially for older kids. There are many personalized coloring activity books that talk about becoming a big sister or brother, or general coloring books with various activities.
Some coloring books also have a journaling section, which can be beneficial for older brothers and sisters who need some time and space to get their emotions out on paper.
Whatever you choose, the best big sister gifts will be something that comes from the heart and reminds them they are special!